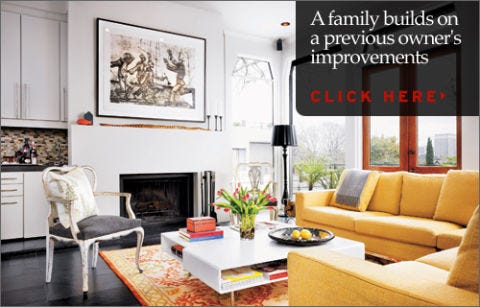 The story of the apartment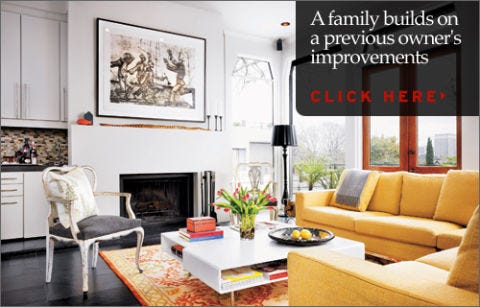 We had lived in a New York City high-rise," says Sally Strickland, "but when we moved to Austin, Texas, I hoped to have a house with a backyard. My husband, John, preferred an urban environment, so this condo is a kind of compromise." What they acquired in 2005 was a three-level unit with views of the state capitol. "It's a place where I can go outside barefoot in my bathrobe," adds Sally. "We have an 800-square-foot terrace that's larger than our entire Manhattan apartment had been, and there's also a tiny balcony off the master bedroom."
The Stricklands took advantage of improvements made by Rene Brown, the previous owner. "I removed the wall between the dining room and kitchen and actually gutted the kitchen, replacing all the cabinets and appliances," Brown recalls. "I also removed the wall that cut off the kitchen–dining room from the living room, which was three steps down." Says Sally: "That was a brilliant thing to do, as it gave everything on this level a brighter outlook. It's all so sunny and open. I think I'd have done this if the wall had been there when John and I bought the place."
The condo entrance and a spare room are on the ground floor. Stairs lead up to the living areas on the second floor: sunken living room, dining room, and kitchen. Another flight leads up to bedrooms and baths on the third floor. Sally and John were lucky they didn't have to waste time and money undoing the changes made to their home by Brown. The stage was set for the couple to get right to the work of stamping their new space with their particular taste and vision, using Sally's flair for design.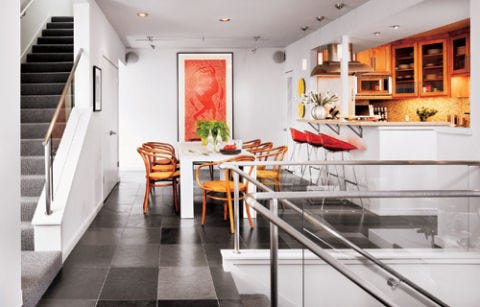 Photo: Casey Dunn
Where Rene Brown used poured concrete on floors and countertops, Sally Strickland chose slate, in giant 16524- inch slabs. Brown had done the panels along the stairway leading up to the top level, and those descending to the living room, in clear glass that she topped with a banister made of bronze-toned tubing. Strickland replaced the bronze with brushed aluminum, even replaced the wall-side handrails, which had been wood. Now all the rail treatments match, and the stair treads are carpeted.
A bar area to the left of the living room's contemporary-looking fireplace was refreshed with a multicolored mosaic tile backsplash as well as a slate countertop. New tile on the countertops in the guest bath was also installed—so the floor, counters, and shower would match. "I collect American pottery, all in bright primary colors," says Sally. "I wanted the colors in my home to be those I'm always drawn to."
Among the other furnishings Sally treasures is a set of original Thonet bent-wood chairs, which now surround the couple's new white matte-lacquered dining table. Another new acquisition is a trio of red-upholstered bar stools that carry out the simple, contemporary look that she prefers.
Ambient light throughout the condo was provided by track lighting, put in by Brown and retained and expanded by the Stricklands. "We added two more sections of track in the living room and one in our bedroom," she says. "John and I both like lots of light; I wanted to make sure we had it. My goal, from the beginning, was to create more open, contemporary spaces. This has always been a really pleasant place to be—now it's even more so."
You may also like