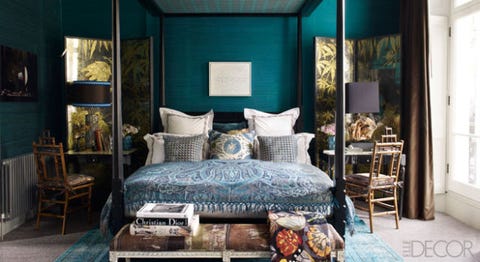 The London residence of fashion editor Kim Hersov (KIM HERSOV)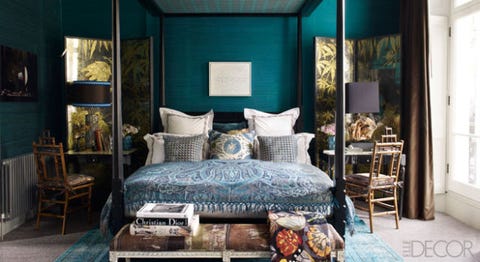 "This was a new start," says Kim Hersov of the London home she moved into a couple of years ago with her two sons from a previous marriage, her new partner, artist Barry Reigate, his teenage daughter, and the young son they had together. But "new" for Hersov is a far cry from the radical shift in decor that often accompanies dramatic life changes. Rather than jettisoning the past and everything associated with it, Hersov filled the house with memory-laden belongings, yet still managed to create a setting that feels completely fresh. It helped that Hersov, editor-at-large for Harper's Bazaar UK, worked with interior designer Hubert Zandberg, who is also a dear friend (he is the godfather of her and Reigate's child). They share a passion for flea-market shopping and eclectic finds. "Hubert can second-guess me," says Hersov. They had worked together on her previous home, which she describes as "proper," and he calls "quite sophisticated, grown-up, and very grand."
Hersov says of that earlier phase in her life, "A little bit of it was playing house. Like a lot of my friends, I got married really young—and you do the things you think you're supposed to do. Then you grow into yourself."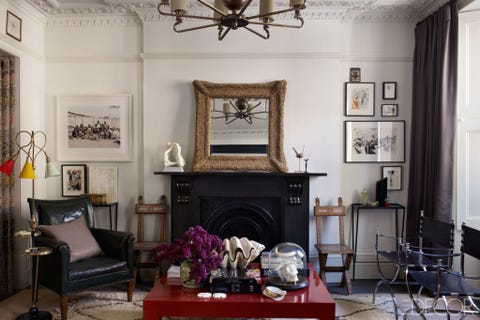 FASHION EDITOR KIM HERSOV'S LIVING ROOM
So when it came to designing the new place, Zandberg wanted to reflect the fact that Hersov has become "a bit of a rock chick," as he puts it. "She's still very elegant, but her style has developed." So he situated beloved old pieces in unexpected settings, creating eccentric juxtapositions. A mismatched collection of silver candlesticks is now clustered on a table in the dining area, which lies in a part of the house that has a raw, industrial feeling. A pair of chinoiserie demilune tables became bathroom vanities. And a hand-painted screen is now displayed in a sitting room filled with Reigate's edgy, Pop Art drawings. "That was a lovely screen, and we wanted to reuse it," says Zandberg. "In Kim's previous house, it just blended into the whole rest of the grand aesthetic perfection. But here, it gets a voice. It starts to become witty, it starts to become exotic. It gets a new personality."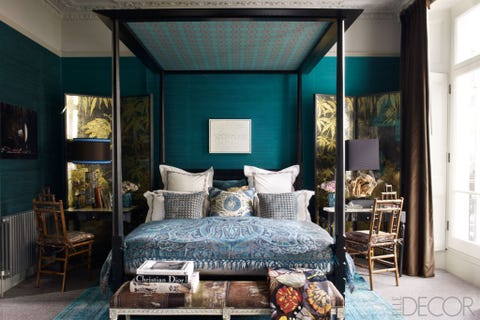 FASHION EDITOR KIM HERSOV'S MASTER BEDROOM
The African textiles, furnishings, and objects that are layered throughout the rooms reflect another piece of Hersov's backstory. Her older sons' father is South African, as is Zandberg, whom she met a decade ago in Cape Town.
For Hersov, repurposing things from her past was also an act of familial respect. Her grandmother, a San Francisco socialite and grande dame, had a strong influence on Hersov's life and taste. Her new house is filled with objects, including silver candlesticks, that were gifts from this venerable lady. And the shells and coral that appear throughout Hersov's rooms are an echo of her grandparents' beach house, which had a hallway lined with shells.
But history also exerted a more problematic influence over the design process. The structure, built in the mid-19th century, is Grade-II Listed, which means it has historic significance, and any changes or alterations must be approved by a planning board. When Hersov acquired the house, it was derelict and had no electricity. Yet despite the fact that it had to be completely gutted, she was on a tight leash when it came to the design of any new structural elements.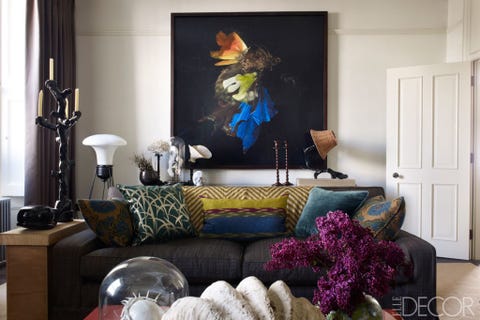 FASHION EDITOR KIM HERSOV'S LIVING ROOM
"Part of the prerequisite of a listed building is that you have to put things back," says Hersov with a sigh. "Even though they had been stripped out, we had to then make sure the original plaster moldings and ceilings were restored or replaced. And I couldn't do a double-door entrance into the living room or change the placement of the staircase because the board wanted me to keep it the way they thought the original would have been." The only part that is completely new is the double-height conservatory at the back of the house; and the ground-floor kitchen and dining room were opened up to create a more expansive space.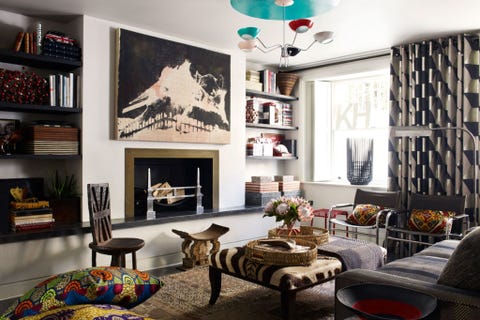 FASHION EDITOR KIM HERSOV'S FAMILY ROOM
Simply getting planning approval took a whole year, during which Reigate used the house as a painting studio, in part to keep out squatters, who have a habit of laying claim to London's uninhabited buildings. And while the finished rooms hardly feel like they belong to a contemporary art gallery, they nonetheless house an extensive collection of significant works, including a photograph by Mat Collishaw, a painting by Alastair Mackinven, photographs by Pieter Hugo, and numerous works by Reigate. "A lot of our friends are artists, so the art is quite personal," says Hersov.
The eclectic collection adds a new layer to Hersov's personal history, and feels completely at home among the assortment of objects that fills the rooms. "I don't think art should be put on a pedestal," explains Zandberg. "I'm a little bit slapdash about it. If the room is sincere, and the art is good, it will work. It's like people—if they're true to themselves, when they meet, it works."
It's equally true of old friends and new. In interior design, as in life, it's wonderful when they all get along.
You may also like