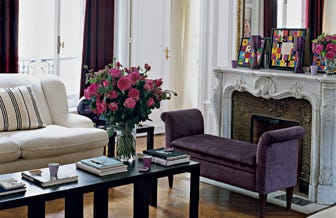 The art of a Parisian designer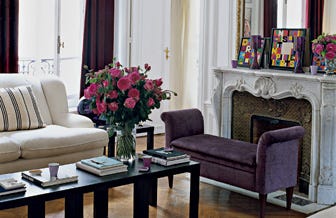 If Paris needed an It girl at the moment, Cordelia de Castellane would fit the bill. She is one of the city's reigning beauties: a former model with hazel eyes and thick dark hair that she swings perfectly as only a true Parisian can do. What's made this lissome daughter of Count Henri de Castellane one of the talks of the town, however, is her popular children's-wear company, CdeC.
"I wanted to do a kids' line that was affordable and refined, and sold in a beautiful boutique with luxurious packaging and good service," Castellane says over a cup of hot chocolate near her flagship store on rue du Bac in the 7th arrondissement. (She also has shops in Madrid, Geneva, Brussels, and her mother's hometown, Athens, and does a brisk business online.) Prices of CdeC's knit shifts, crisp white shirts, and smart cashmere-blend sweaters run from 25 to 40 euros apiece ($30 to $50), a fraction of what competitors Bonpoint and La Châtelaine charge. Which goes a long way to explain why sophisticated but cost-conscious parents have been flocking to Castellane's shops.
At the same time she and her business partner, Ségolène Gallienne, were getting the clothing business off the ground, the designer was also settling down in a 2,200-square-foot apartment in the 16th arrondissement with banker Igor de Limur, whom she married in December. In the hyperconnected world of high society, it's not a surprise that one of the things the couple has in common is a link to fashion designer Emanuel Ungaro: Limur's mother, Catherine, was the firm's director of couture for decades, and Castellane worked there as a model and public-relations executive. "I started at Ungaro when I was 16," Castellane remembers. "The seven years I spent there was the loveliest time of my life. It formed me for what I do today."
The designer's heritage played a part too: Her mother, Atalanta, was a decorator; she is a cousin of Victoire de Castellane, jewelry designer for Christian Dior; and she's a great-grandniece of Emilio Terry, an architect whose neoclassical extravagances kept midcentury France rapt with admiration. And not only did Castellane work in the couture business, she married into it—her former husband and father of her two sons is fashion scion Hubert Lanvin.
Given how Castellane and Limur have been steeped in chic since their respective childhoods, decorating the apartment was a cinch. The anchors are white linen sofas bought in Portugal, plastic reproductions of Henry Massonnet's classic Tam Tam stool, and crisp-looking floor lamps found at the Conran Shop. "Clean and modern" is how Castellane describes the place, located in one of those grand Haussmannian buildings that became a hallmark of Paris in the mid 19th century. But its aristocratically scaled rooms are not aloof, she says: "We like things to feel warm and lived-in."
And lively too. The newlyweds jazzed up the flowery Louis XV Revival architecture with sassy contemporary art, some of which was tracked down for them by Brussels gallerist Willem Vedovi. "We're completely obsessed by art and travel for it," Castellane says. Among the pieces in the growing collection are embroidered works composed of geometric shapes and letters by Italian conceptualist Alighiero Boetti and a comical Bearbrick statue customized by Karl Lagerfeld with a faux-Chanel suit. Castellane also bought several of Takashi Murakami's smiling-flower cushions last year after she toured the Japanese artist's exhibition at the Brooklyn Museum of Art. In the television room, which serves as sons Stanislas and Andreas's play area, hang four large Warhols of Marilyn Monroe. To accentuate the Pop portraits' vibrant colors, they are displayed against black walls (the shade is Down Pipe by Farrow & Ball) and above a sofa upholstered in dark aubergine velvet (purple is the designer's favorite color). The rest of the apartment, however, sports the girlish pastels that are the preferred palette of the lady of the house. As Castellane explains with a laugh, her husband puts up with the sugary tones "as long as there is not too much pink."
Artful furniture is another part of the package. In the entrance hall sparkles a mirror sculpture by Elizabeth Garouste and Mattia Bonetti, "one of the last pieces they did," notes Castellane, who owns a console by the pair too. She's also mad for anything to do with setting a table: "I buy glasses everywhere I turn." Her dinner service is a sentimental choice, Christian Dior's Muguet porcelain. Castellane bought it in honor of her father, who was born on May 1, the day the French traditionally give muguets (lilies of the valley) to friends and family. But these casual comforts may already be a thing of the past. The couple has been planning to move to a larger flat on the other side of the Seine, where the candy colors will be rarer—Limur, a fan of photographs of Africa, specifically the works of Peter Beard, has spoken. As his wife says with a grin, "It will be gray walls and black floors!"
You may also like