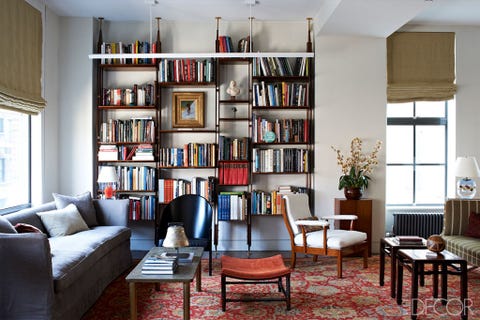 Tailor-made: LEN MORGAN's loft apartment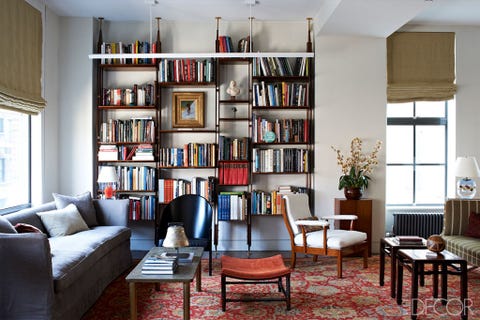 There are many reasons a New York-couple might want to move from the brownstone-lined streets of the Upper West Side to the funkier Flatiron district downtown, where converted industrial buildings rise above bustling shopping emporiums. To wit: A more central location. A profusion of loft spaces. Proximity to stylish Fifth Avenue.
It is the rare couple, however, that will move in pursuit of fresh vegetables.
For two men who purchased a floor-through apartment in the neighborhood seven years ago, a primary attraction was the year-round cornucopia at the nearby Union Square Greenmarket. One half of the pair is a high-profile figure in the art world, with access to some of the most important private collections around the globe. The other is a finance lawyer who has studied architecture and historic preservation, and who shares his partner's sophisticated tastes in art and design. Is it any surprise that they were seduced by the painterly pigments of tri-star strawberries, bicolor corn, and Tuscan kale only a few steps from their door?
Located on an upper floor of a former manufacturing building, the apartment was a structural blank canvas — a 30-by-85-foot loft with no interior columns — that proved an ideal backdrop for possessions. To help configure the space, the pair called upon their longtime friend Len Morgan, an architect and the co-owner of Cove Landing, a New York City antiques shop with a devoted following. (The store now operates by appointment and online.) "Completely open can be limiting," Morgan explains. "You need corners where you can sit on a rainy day."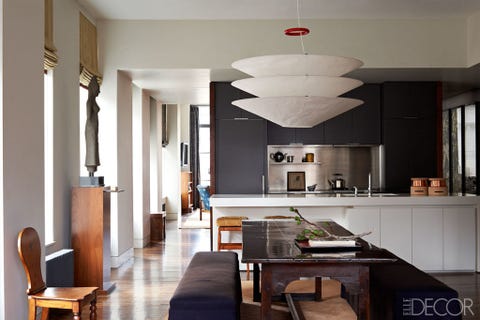 DINING AREA
To that end, the trio divided the apartment into north (the living and dining areas) and south (a sun-drenched bedroom and a plant-filled solarium) by building two floating parallel cabinets in the center of the space. They cannily hide the couple's wardrobe and provide art storage. "It's one unified space," says Morgan. "Anything that might be visually intrusive is off to the side." Evidence of the couple's discerning eye for color, pattern, and texture can be found in their intelligent and subtle collection of furnishings and art. No Warhols here, no Damien Hirsts. The American Expressionist Marsden Hartley might be the most famous name present. And there's not a Mies van der Rohe daybed in sight. Instead the hosts will proudly point out an elegantly asymmetrical walnut headboard by the underappreciated International Style architect William Lescaze.
Over the years, the homeowners have amassed a highly eclectic assortment of pieces, drawing from auction houses and galleries, as well as from Cove Landing's own stock of European antiques. "They have very definite ideas about what they're interested in and what they collect," Morgan says. "It was more a question of pulling their interests together than pulling things out of thin air and asking, What do you think of this?"
The couple showed a greater-than-the-average-client's interest in the process. The lawyer built a complete 1:8 scale model of the apartment, with miniature reproductions of furniture and artworks. His interest in English country homes influenced the open kitchen's deep-gray palette, inspired by a Scottish house he once visited. For the dining area they chose a long oak refectory table — so long that it had to be hoisted through the window.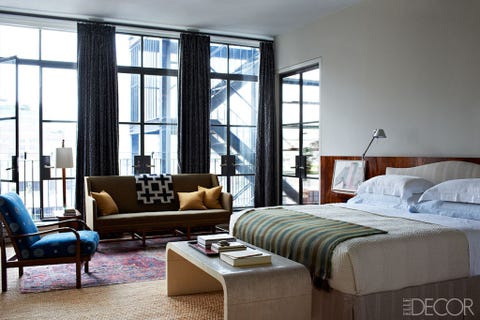 BEDROOM
What they weren't interested in was sticking to a particular time frame or decorating aesthetic. English country house decor — which Morgan points out is often not simply English but a layering of periods and styles — was a model. "We keep looking and buying in different fields," says the art world professional. "For instance, we hadn't anticipated that we would buy an Art Deco carpet. But it was so compelling that we built a library around it." Morgan adds, "We put things together that we found appealing, rather than worrying about the color palette."
The result is a series of harmonious juxtapositions. A delicate late-19th-century oil painting by George de Forest Brush, known for representing Native American subjects, is nestled within a framework of modular shelving by the Italian designer Franco Albini. A light fixture designed in 1927 by Erik Gunnar Asplund for his modernist masterpiece, the Stockholm Public Library, hangs above a 19th-century rosewood table. An ancient Cambodian statue of the goddess Prajnaparamita stands beside a 19th-century English chair. Despite their disparate origins, these pieces add up to an organic, coherent whole. "There's a sense of rigor here as well as relaxation," says Morgan.
But what you see on a visit to their apartment may not be what you see a month hence. "I like the way the Japanese use works of art," the art world professional says. "It's seasonal, like their cuisine. Since we don't have a garden, and we don't live in a city that's especially connected with the seasons, I buy botanical drawings and paintings, or cloud studies that are autumnal, or snow studies, and I rotate them throughout the year. This morning I was so happy to find a picture of irises in the closet."
You may also like