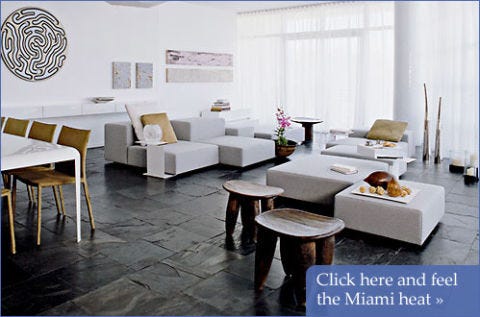 Space art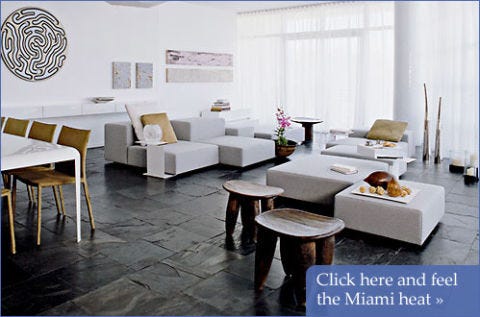 Start with the view, the alpha and omega of this penthouse on an island in the middle of Miami Beach's Indian Creek. "You sense the entire breadth of the city," says Rene Gonzalez, the architect the owners hired to contextualize and personalize their stunning space, with its panoramic views from the downtown skyline to Biscayne Bay. The apartment's owners, art collectors who divide their time between New York and Florida, laid down a double challenge: They asked Gonzalez for "a design that would take your breath away when you saw it but wouldn't constrain the view."
Gonzalez conceived the open-plan main room as an interior landscape with low and lean furniture that lets the eye roam freely from indoors to the horizon and then back. He selected modular pieces that can make any room feel either more capacious or, when pulled together, intimate for close conversation. The palette is pale and neutral (though splashes of vibrant color do pop up here and there — in hot-pink and purple cushions on the terrace and bright citrus hues of lime and orange in the bedroom).
Design, Gonzalez believes, is a process of discovery, and here he used subtle shifts in surface, texture and shade to achieve visual interest, contrasting matte finishes with high sheen, the opaque with the translucent. He clad the room's single structural column in shimmery one-inch opalescent glass tiles. The long shelf he designed to run through the apartment is lacquered to provide a more reflective contrast to the black Indian slate on the floor.
The owners had chosen the contemporary New Urbanist enclave of Aqua because they liked "both the concept of a village and the modern design." Their apartment is in one of three mid-rise apartment buildings that line the east side of the island, this one called the Gorlin (after its designer, New York architect Alex Gorlin, who is a part-time resident). Because it follows the narrowing contour of the land, the south-facing apartments of this building are what any seafarer might well call ship-shaped.
This particular penthouse (3,800 square feet, including outdoor spaces) has balconies along all three of its exposed sides, making it open and airy. The unorthodox layout — glass to the west and south and an interior wall that is "folded, like Issey Miyake fabric," Gonzalez says — gave the designer a chance to hang the couple's art in a dramatic fashion and at the same time focus the apartment's perspective on what he terms "the prow."
In good weather, the doors to the terrace are left open, allowing for dinner parties alfresco at small tables lined up side by side. Aqua is a sociable spot, so the lofty outdoor vantage is used frequently for sunset cocktails with the neighbors. The couple also maintain active civic and cultural ties to the city, so this ample terrace is also the venue for larger and more formal events. Still, there are many times when — in solitude — the homeowners simply watch the passing scene. "Sometimes," says the wife, "you look out over the lights and feel like you're in Île Saint-Louis in Paris."
What the Pros Know
Architect Rene Gonzalez is often hired by collectors who know that he draws no line between architecture and art. The lighting in this Aqua penthouse is a case in point. "In designing the lighting strategy for the room, we questioned how the space should be lit and how the art should be lit. We developed a creative solution that addressed both simultaneously," Gonzalez says. He commissioned the designer Robert Lewis (who is based in California's Venice Beach) to create two diaphanous lighting fixtures that seem to float overhead as if they are clouds (hence their name: Floats). They illuminate the art and the space, serving as ambient lighting and task lighting at the same time. One fixture swivels from its spot over the dining table into the larger living area. "They are poetically beautiful objects that feel connected to the bay that surrounds them," says Gonzalez. "They are lights and they are art!"
You may also like