Sound Thinking: AMAGANSETT Homepage by Athena and Victor Calderon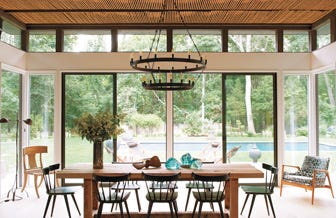 When Athena and Victor Calderone first saw the beach house in Amagansett, New York, that would eventually become their weekend retreat, it was love at first sight— but not for the reasons you might expect. "There were big bulbs of black mold hanging from the ceiling," says Victor, a house-music DJ and producer who has remixed songs by Madonna, Sting, Beyoncé, and others. "The roof was leaking in a number of places, and had almost collapsed near the fireplace."
"The smell was awful," adds Athena, cofounder of the interior design firm Rawlins Calderone Design. "And it was filled with mosquitoes." Not to mention the dead deer that had overwintered in the swimming pool. Nevertheless, the couple saw plenty of potential. After a year of fruitlessly searching for a Hamptons getaway, the Calderones, who live in Brooklyn's DUMBO neighborhood, hadn't come across anything like it—a 1960s house with clean lines and clerestory windows that let in plenty of natural light.
"We were never Hamptons people, had never done summer shares or spent time out here," says Athena. Victor spends almost every weekend performing in such places as Miami and Ibiza, so a part-time getaway didn't seem to be in the cards. But in 2008, Athena and their young son, Jivan, visited Montauk while Victor was away. "Jivan was rolling in the grass, running around, and climbing trees, and I felt that we needed that in our lives," she says.
They bought the property in May 2009, but rather than jumping in with sledgehammers, the entire family decided to spend one uncomfortable summer there to get a feel for the kinds of changes they wanted to make. "We literally painted everything white," explains Victor. "At least it felt clean that way." By the fall, they had made up their minds. The kitchen, which was tucked away in a cramped corner, would be moved closer to the main living space, so that Athena, an avid cook and hostess, would feel closer to the social center of the home. They would also expand the master bath. But their primary goal was to give the whole house a laid-back feel that walked a fine line between modern and rustic.
After finding the right place, they were determined to make it reflect their personalities. "Some friends said, 'You have to put midcentury-modern furniture in a midcentury-modern home,'" says Athena. "But why? The house was already so modern that I wanted to warm it up." She began collecting vintage and antique furniture and accessories from local sources like the Brooklyn Flea as well as from such dealers of antique oddities and industrial objects as Obsolete in Venice, California, and Factory 20 in Abingdon, Virginia. She created texture by installing reclaimed-pine boards on interior surfaces, repurposing wooden beams as kitchen shelves, and adding leather pulls to the kitchen and bathroom cabinetry.
To help with the structural changes, the Calderones hired Sag Harbor architect Paul Masi of Bates Masi & Architects, who expanded the four-bedroom home's footprint from 2,000 to 2,400 square feet. One of Masi's most welcome suggestions was to use thick woven Manila rope as a finishing treatment on the ceilings; the inspiration came from a photo Athena had given him of Danish designer Jørgen Høvelskov's woven-rope Harp chair. Installed by Amagansett fishermen, the rope offers more than a decorative element. Lengths of line hang from the ceiling to support major pieces, such as a light fixture above the dining table and a mirror in the master bath.
The result is a deeply comfortable home with layers of history as well as tactile pleasures. "It's very much a beach house, but it also feels like a cabin in the winter. It's cozy," says Athena. Completed in the summer of 2010, it has already had a significant impact on the lives of the Calderones—especially nine-year-old Jivan. "The quality of his life has changed so much from being here," says Athena. "He was afraid of water when he was five and six, but now he's obsessed with surfing."
You may also like