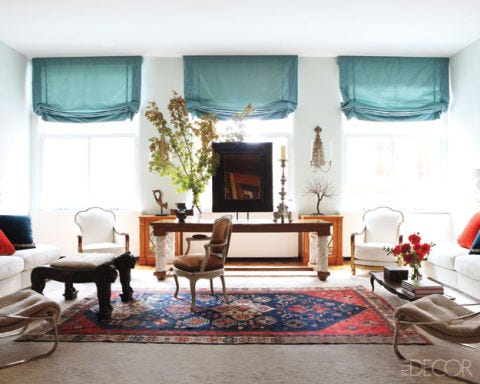 SOHO loft and French genius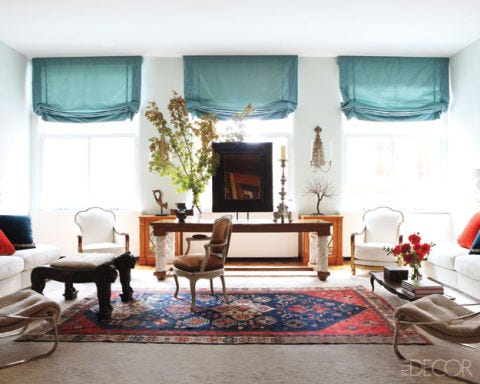 In the living room of designer Robert Couturier's Manhattan apartment, the oak-and-porcelain table is by Jacques Adnet and Maurice Savin, and the mirror is Louis XIV; a Louis XV armchair is upholstered in a Clarence House silk, an Egyptian throne serves as an ottoman, and a Turkish kilim is layered over a white rug.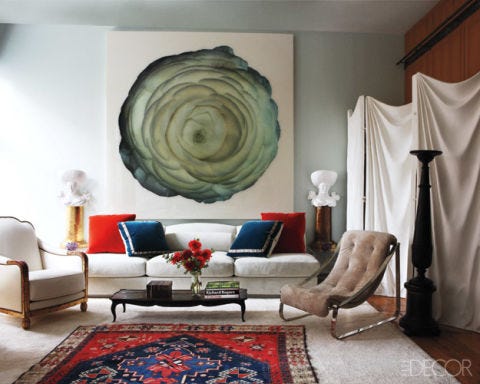 In the living room, Couturier designed the sofa, which is upholstered in a suede by Edelman Leather, and the photograph is by Ron Agam; the chrome-and-sheepskin chair is from the 1960s, the Frances Elkins cocktail table is circa 1930, and the plaster screen is by Marc Bankowsky.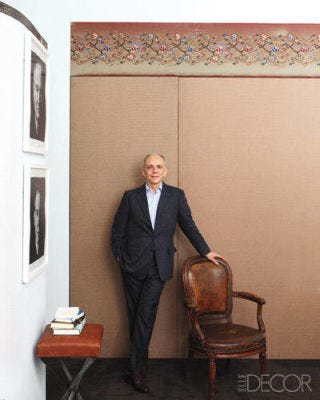 Couturier at home.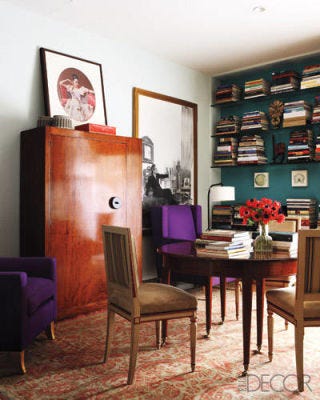 The library's Louis XVI table is surrounded by Louis XIV chairs, the glass shelves are custom made, and the cabinet is by André Sornay; the Couturier-designed armchairs are upholstered in a cashmere by Chapas Textiles.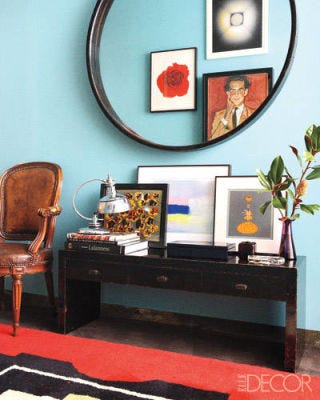 The console and mirror in the hallway are by Josef Hoffmann, and the rug is by Fernand Léger; a portrait by Sébastien de Ganay and photographs by Ron Agam and Adam Fuss are reflected in the mirror.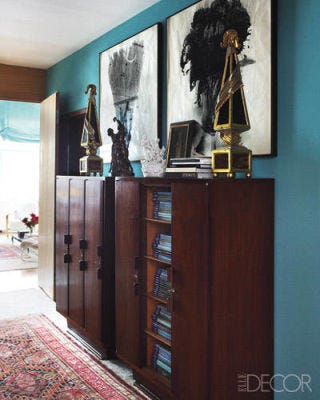 In the living room vestibule, works by Gerald Incandela hang above a pair of mahogany cabinets by Jean-Michel Frank; the Turkish kilim is antique.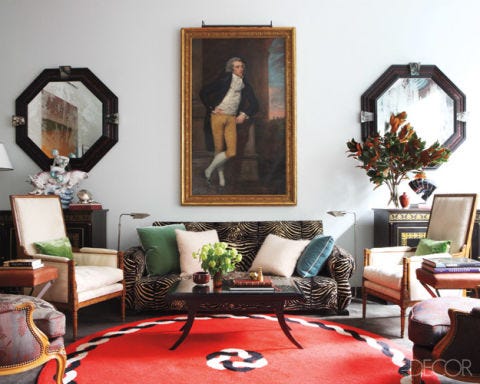 Ebony-and-tortoiseshell mirrors above 19th-century English cabinets flank a portrait by Richard Cosway in the office; a faux-zebra sofa from the '50s, English armchairs upholstered in a Clarence House linen, and a pair of Louis XV bergères upholstered in a Jagtar silk surround a vintage Ernest Boiceau rug.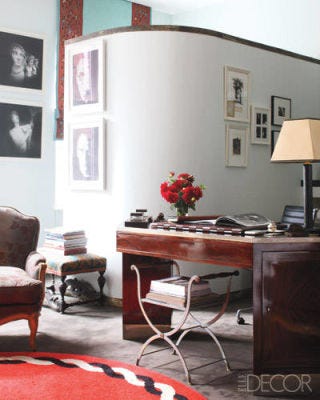 The desk and lamp are vintage, the circa-1920 iron stool is by Elsie de Wolfe, and a Spanish wood stool retains its original tapestry; the photographs, far left, are by Adam Fuss, the nearby portraits are by David Seidner, and the carpet is by AM Collections.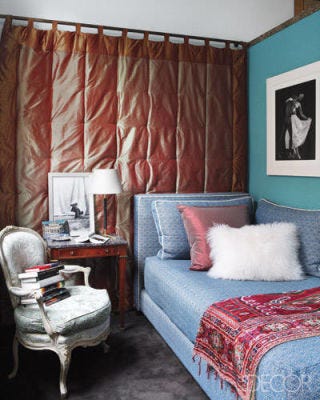 In the bedroom, a daybed upholstered in a fabric by Chapas Textiles is topped with an antique Asian throw; the curtain is of a Bergamo silk, the photograph is by Robert Mapple­thorpe, and the brocade on the Louis XV chair is original.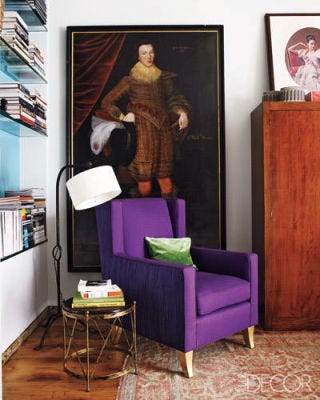 A corner in the library features a metal floor lamp, a Couturier-designed armchair, and a stool by Jean-Michel Frank; the portrait of Sir Richard Broke is by Gilbert Jackson.
You may also like