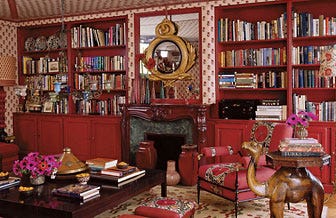 Self-portrait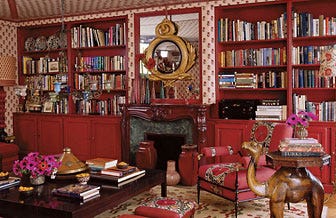 There are many stories of Americans moving to France, shedding their accents, and quoting Proust. Designer Lisa Fine is not among those protagonists, as witnessed by her unreconstructed Mississippi drawl and uniform of bell-bottom jeans and peasant tops. Fox News flickers on her bedroom television 24/7, and she rarely goes anywhere without Kashgar, a mutt she found abandoned on a roadside in China. The apartment Fine rents behind the Musée d'Orsay, however, is absolument parisien. "I walked in and fell in love," she says of the early-19th-century spot. "All I saw was the green of the courtyard and room upon room with no hallways."
A former magazine editor and coauthor of An Appetite for Passion, a lusty book about recipes and romance, Fine divides much of her time between New York and Paris, where she designs dhurries — her wool flat-weave rugs have a graphic 1960s flair — and is developing a Persian-inspired fabric line. She also spends several months of the year in India overseeing the enticingly exotic blouses, coats, and dresses she and her business partner, Carolina Irving, produce under the label Irving & Fine. "Our pieces are not about fashion," Fine says, "they are about textile, embroidery, and color."
The same can be said of her apartment, though she initially chose to keep its eight rooms "natural and clean," meaning white. After a month of unmitigated pallor, however, "I realized that I'm not a white person at all," Fine admits. "I couldn't bear not having color." It was a fortunate moment of self-awareness because what is so inviting about her abode now (after a year with little more than a silk headboard and a velvet banquette) is its panoply of dramatic pinks and oranges, all inspired by Indian and Persian miniatures.
Complementing the brilliant shades are furnishings that come with equally colorful stories, such as the mirror Fine bought in Istanbul during an earthquake. "It was bedlam, bedlam, bedlam!" she recalls. "Everyone was trying to leave but I wanted to stay to get my mirror packed up and couldn't." The Kara Walker ink drawing is the result of an arduous search for an example of the American artist's work that didn't have sex or violence as a theme. "Finally I found one with Scarlett O'Hara," Fine exults, "which must be every Southern girl's dream." Her healthy obsession with animals, a holdover from her Hattiesburg childhood, accounts for quite a few possessions. There is a wood table in the shape of a camel bought from Paris dealer Flore de Brantes, lots of naive Indian watercolors of tiger hunts, and a portrait of Malula, Fine's late dog.
Subcontinental touches rule in the soft-hued paradise of Fine's bedroom. The silk-lined walls evoke her time spent in a tent camp in Jaisalmer, and the headboard's motifs were embroidered by Indian artisans and inspired by the murals of a palace outside Jaipur. Though she had the furnishings' exquisite needlework done in India, Fine also relied on the Paris upholstery shop Decour Décoration to interpret her apartment fantasies "in a way I didn't know how to articulate." Case in point: the tented parlor. "They covered the entire room in fabric I bought on the street," she explains. The firm also copied a banquette it made for socialite São Schlumberger in the '70s and created cushions out of embroidered textiles Fine found in Morocco. And when she couldn't locate the perfect striped taffeta for curtains, Decour stitched together different-color stripes. "It's actually a good decorating tip," she confides.
The only contentious moment during the process concerned the length of a nearly 12-foot burgundy velvet sofa Decour was making for the living room. Fine had wanted it longer to accommodate more guests, but "I was told it wouldn't fit in the apartment." A compromise was reached, and, just as she predicted, the sofa is a magnet for visitors.
Entertaining is a big part of Fine's life, so she insisted on installing a kitchen with a professional stove — though in a cramped space most people would reserve for a broom closet. The room is so small the freezer had to be placed high overhead and can be reached only by a ladder. Dinners often start with ice-cold vodka shots and oysters fried in spiced-up cornmeal (her secret recipe), and a favorite menu is shrimp gumbo, flourless ginger-chocolate cake, and homemade yogurt ice cream. These hearty repasts are served in the mirrored dining room, at a '60s rolling table by Jansen in the glow of a crystal candle chandelier. "It's sort of romantic because everyone looks so beautiful in candlelight," Fine says before breaking the spell by adding, "but you have to be very careful of the dripping wax."
You may also like