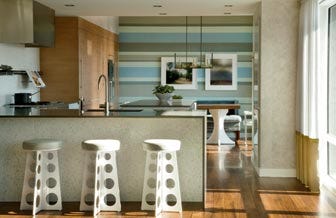 Plush palette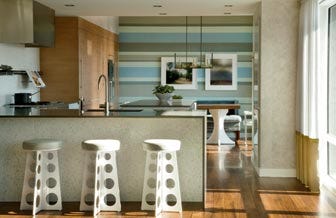 Nicole Polaski knows exactly what she likes when she sees it. And the moment she walked into her friend Sharon Roop's Back Bay duplex, she proclaimed, "I want a home just like this." Designed by Sharon's husband, Frank Roop, the 19th-century brownstone was a study in blues, golds and taupes.
Formerly a merchandiser at the high-end department store Louis Boston, Frank Roop regarded every surface as an opportunity to explore bespoke techniques and materials. Polaski's then-fiancée Judy Mencher adds, "We were dumbfounded when we saw Frank's work. It was breathtaking."
After marrying in November 2007, Mencher and Polaski unloaded all of the furniture, art and even towels they had accumulated separately, to start over as a couple. They hired Roop to brand their union, so to speak, as the designer of their first home together, a 2,400-square-foot condominium. The seventh-floor unit in a five-year-old building had been constructed as two separate apartments, before being hastily stitched together by the former owner, who left quirky vestiges of the original layout. Redesign and construction took almost 18 months.
"Judy and Nicole are into fashion, have really great taste and aren't afraid of anything, so they pushed me to do things I hadn't done before," says Roop. As a result, almost everything in Mencher and Polaski's unit is unique.
Throughout the project, Roop specified luxurious materials with a sensual touch, like cashmere and suede. He designed heavy bronze-and-glass interior doors and the upholstered furniture as well as the ceiling fixtures: The fixture in the TV room is silk and suede; that over the dining table is quartz, glass and black-oxidized steel. He also designed the powder-coated, stainless steel counter stools and installed a kitchen backsplash and breakfast bar of inch-square marble tiles. "When guests come over, I make them touch everything," says Polaski playfully.
The women spend their summers in Provincetown, on Cape Cod, and escape Massachusetts winters in Miami, where Roop is doing a condo for them, but Boston is their base. Polaski's family still lives nearby, and the couple's closest friends remain here. "Because this is their first place together," says Roop, "it was a huge responsibility for me. Designing a house—it's not like giving someone a sweater and, if she hates it, she can throw it in a drawer. I was responsible for giving them a space for their new lives."
Polaski adds, "Well, Frank did let us bring our old pots and pans. But he bought everything else for us, including dishes, sheets and towels. When the project was done, he showed us where our glasses were and handed over the keys. It was amazing."
What The Pros Know
High-gloss painted walls and ceilings add depth to a space, but are extremely difficult to achieve. That's because the more reflective the surface, the more obvious the flaws. "With high gloss, you see every little thing, which is why builders prefer matte paints. Even brand-new construction has its flaws," says designer Frank Roop. For the ceilings in this unit, Roop hired a master plasterer to sand, fill and prepare the surfaces to get the flattest possible substrate. Then a decorative painter carefully taped off Roop's graphic designs and applied several coats of high-gloss paint in grayed-out blue, celery green and sandy brown. "Don't use white," warns Roop. "When you add gloss, it brings depth to any color, so you want to exploit that." Finally, he spray-applied several coats of a water-based polyurethane usually used to finish floors. "It's a messy procedure," says Roop. "You have to do it before you do any other construction, because even with taping and masking, the polyurethane gets everywhere."
You may also like