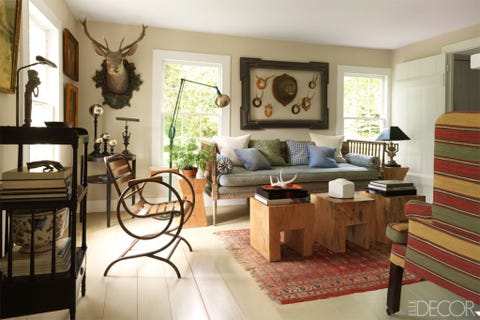 Paris on the Hudson: Nathaniel Goldberg's Hudson Valley House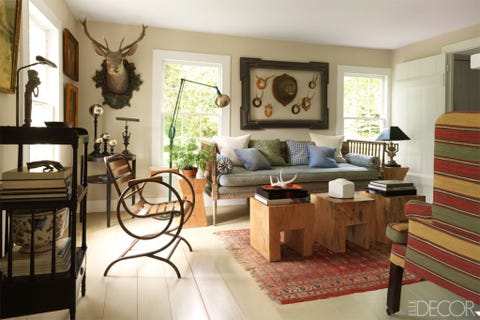 If there were a movie character based on Nathaniel Goldberg, the Paris-raised, New York-based fashion photographer whose work has graced countless magazine covers and ad campaigns for luxury products, the character's home would probably be a soaring loft in Chelsea overlooking the Hudson River. There would likely be the usual slabs of angular white furniture, walls covered with aggressively contemporary art, and nubile models swanning in and out.
But in the real world, Goldberg stands clad in jeans and a gray hoodie at the door of a cozy-yet-somehow-formal 1820s Greek Revival house two hours north of Manhattan in Columbia County, as his Labradors, Arthur and Henry, gambol in the garden. "I don't live a Hollywood life, a fast life," he says with a slight French accent, standing on a simple coir rug. "When I'm home, I like things to be comfortable. I like a lot of peace."
In the living room, the 18th-century Swedish sofa and trio of wood cocktail tables are from Galerie Stéphane Olivier in Paris; the wingback chair, 1940s French iron-and-wood armchair, 1930s étagère, and 1940s American floor lamp were all found in nearby Hudson, New York.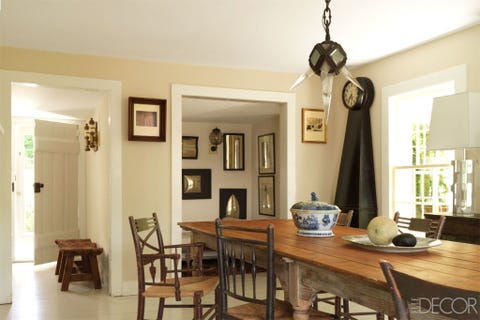 Goldberg devised the interior of the 2,000-square-foot home himself. He has bought furnishings at auction and from Paris antiques dealer Stéphane Olivier, but many of the objects were just "lugged back from my travels," he says. In the kitchen, he gestures toward one example, an assortment of large glass vessels that sits atop a weathered cabinet he bought for just a few hundred dollars. "It's really difficult," he acknowledges, "but when you see something and you love it, you make it work."
In the dining room, 19th-century American chairs found at auction surround a farm table of the same era; the Austrian iron-and-crystal light fixture is late 19th century, and the floors are painted in Farrow & Ball's Cornforth White.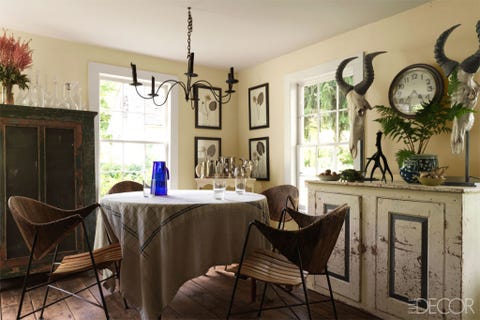 KITCHEN
Goldberg grew up in Paris's 1st arrondissement, near the majestic Meurice hotel, the son of an art-director-turned-artist father and a mother who, he says, "adored beautiful things, though perhaps with a bit too much chintz for my taste." As a boy, he roamed the city's labyrinthine streets, absorbing the unique Parisian sense of balance between history and modernity: "I poked my head into every corner of the city, looked at it from every angle." He came to New York at 17 and stayed, because, he explains, "In Europe, there's a distrust of youth. You have to make your reputation in New York, a city that loves newness, and then you are welcomed back to Europe." By his 30s, he was shooting covers for GQ and French Vogue.
In the kitchen, a lamp made from an African hunting trophy and a Japanese clock hang above a 19th-century Canadian cabinet; the midcentury chairs are by Arthur Umanoff.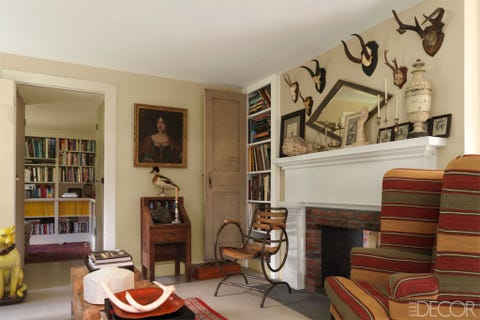 LIVING ROOM FIREPLACE
He found the house, in the town of Ancram, through his close pal David Bonnouvrier, the owner of DNA Models, who has a weekend place next door. Goldberg bought the property, which comprises 60 bucolic acres, in 2006, and for three years lived there full time. Because he has been traveling abroad so frequently, he now rents a studio apartment in still-rough Red Hook, Brooklyn, but he spends every minute he can upstate. In the summers, the doors are flung open; in the winter, he sits in a 1940s leather chair in front of the fire.
An 18th-century French portrait hangs above a 19th-century American desk in the living room; the Greek Revival mantel is circa 1840s.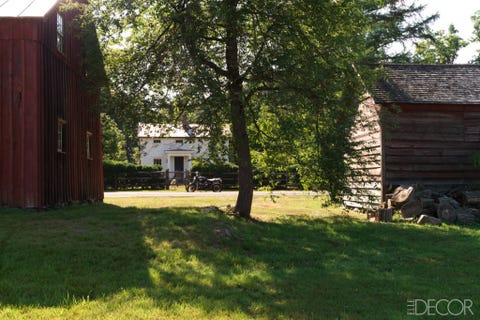 FRONT OF HOME
Throughout the house, art is as carefully placed as the props in his photos. In a stairwell hangs a Nan Goldin image of women in a communal shower. His father's work, mostly small black-and-white paintings, is everywhere. And-of course-there is an array of stunning photography, including the disturbing shots of dolls by postwar master Hans Bellmer. "I like borderline Surrealism," Goldberg says.
Late-19th-century barns flank the front of the house.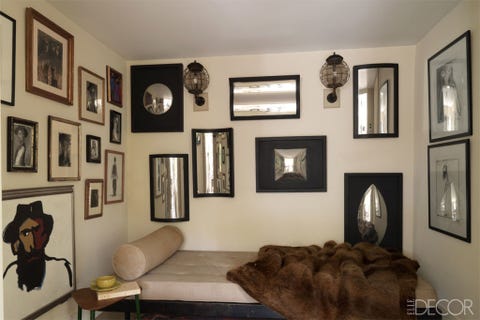 ALCOVE
He grows quiet when asked for advice on creating a home like this one, combining character, refinement, and comfort. Alas, like many visual artists who can't articulate their vision, he works on instinct. "The line between trashiness and elegance is sometimes rather thin," he says. "But when the thing is good and right, you just know it."
A daybed and side table, both by Jean Prouvé, in the alcove between the kitchen and dining room; the French carnival mirrors are circa 1900, and the sconces are 19th-century carriage-house lanterns; the large oil portrait and drawings of rabbis are by his father, Jean-Claude Goldberg.
You may also like