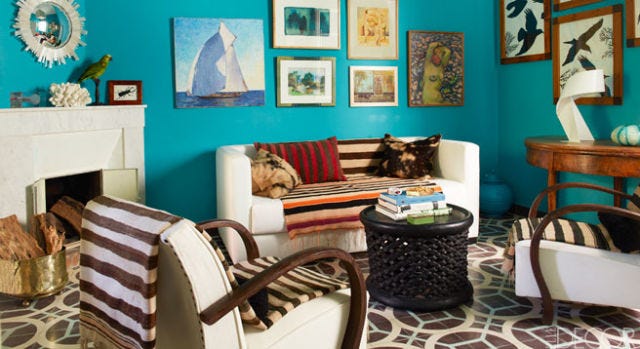 Moroccan modern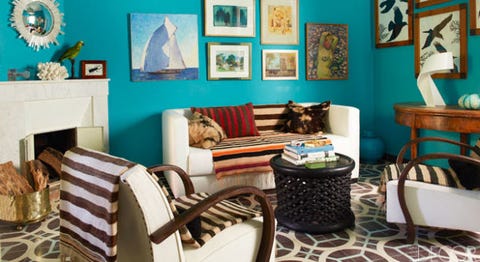 LIVING ROOM
Thanks to their design-related contacts in the city, in less than 24 hours they were able to put a team in place that could work on replacing the electricity and plumbing infrastructure while they were away. "The couple who had lived there for about 20 years before us hadn't done much, so it was in rough shape," says Caitlin. "But there was a great garden with bougainvillea and citrus trees. It felt like a little oasis even though it was in the middle of town."
In the living room, the side table is from the 1790s, a Bamileke stool serves as the cocktail table, the fireplace surround is Moroccan marble, and the mirror above it is by the Dowe-Sandeses; the sailboat painting is by Mondine, and the crow drawings are by Roger Sandes.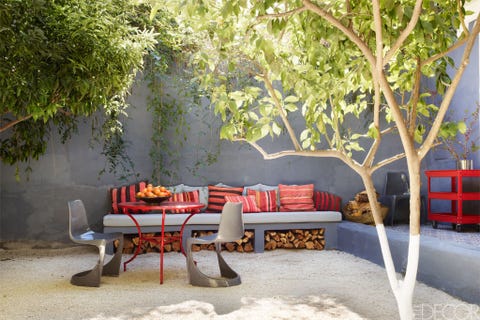 COURTYARD
One of the few spaces without a riot of tiles is the garden courtyard, which the couple kept spare with a gray palette and white marble gravel. In the heat of early summer and early fall it makes a fantastic outdoor dining room at night, and in the winter it's perfect for lunch. "It's the calm in the middle of the craziness," jokes Caitlin.
Samuel designed the courtyard table, the Steen Ostergaard chairs are a 1966 design, and the pillows are covered in repurposed kilim.
You may also like