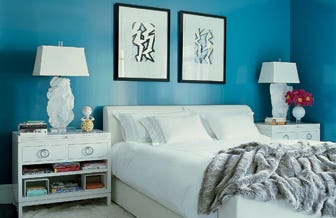 Manhattan MOD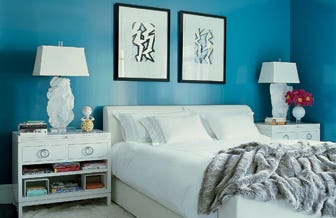 Julie Anne Quay has a habit of taking her work home with her. But since in her case work means stunning fashion photography by former colleagues Richard Avedon, Steven Klein, and Steven Meisel—which she mixes fearlessly with art by the likes of Takashi Murakami and Chuck Price—nobody is complaining. A former studio manager for Meisel, Quay has built an entire career around style and creativity, including stints as a fashion producer casting models for runway shows and executive editor of the highly chic V magazine, as well as her recent turn as a filmmaker (her first project, Fabulous Nobodies, is a coming-of-age story centering on an image-obsessed club kid in 1980s New York City).
It's no surprise then that edge and elegance collide in Quay's apartment, a modernist Manhattan aerie in the Upper East Side's Carnegie Hill neighborhood where she lives with her husband, their two young children, a pair of yellow Labradors, and a Norwich terrier. Since the place boasts high ceilings, capacious rooms, and windows galore, the challenge was to bring intimacy to the vast interiors. "The kids actually played soccer in the great room the first six months we lived here," Quay reports.
For help, she turned to interior designer and longtime friend Richard Mishaan, who collaborated with Quay on her previous residence. Mishaan also worked in fashion before opening his own design firm in 1993, and the decorator was immediately enthusiastic about Quay's project. "It looked like an uptown loft, which was fantastic, and I loved the light," he says. But to make the sprawling space feel homier, he first divided the great room into a dining and living area with sparkling screens composed of hundreds of linked metallic squares by fashion designer Paco Rabanne.
As Mishaan and Quay systematically decorated room after room, the apartment came alive with a cerebral sizzle. He relishes travel and wildly divergent stylistic periods. Quay loves photography and youth culture (think back to those '80s club kids). How does it all peacefully coexist in a family dwelling? Gorgeously, courageously. "She has a very definite sense of what she likes," say Mishaan of Quay's penchant for combining the refined with the raffish, the humorous with the serious—just as she's done in her work.
The original underused dining room became a cozy library that channels an old-school smoking den with moody grass-cloth walls and plush seating. Quay and her brood now curl up to watch movies there under a luminous gold-leaf ceiling, a glimmer of the glamour that resonates throughout the apartment. It helped that Mishaan was able to effortlessly interpret her sometimes cryptic directives. As Quay recalls, "I would tell Richard, 'I want this room to feel very cashmere-sweater-and-slick-raincoat'"—her sartorial speak for layered textures—"and he immediately got that."
Sumptuous touches show up everywhere. In the living area are golden William Haines chairs upholstered in vintage chinchilla and walls coated with an ivory strié glaze. "It gives off a pearlescent metallic gleam—especially at night when it catches the light—that is so sexy," Mishaan notes. In the master suite, the designer opted for bold teal-blue-lacquered walls. "You get the feeling you're sitting in an Art Deco box," he says. Their glossy sheen is balanced by tactile organic materials such as a fluffy white goatskin rug and velvety fur pillows tossed onto the tailored sofa in the room's sitting area.
But make no mistake: This posh lair is first and foremost a haven for a contemporary family—here highbrow mixes with humble, and anything goes. The soigné dining area often turns into a puzzle corner for kids, the wenge table pulled into its two halves and ringed with disparate chairs. Surfboards that reference the love of beaches shared by Quay and her husband—both born in Australia—are propped in unexpected spots such as the entrance hall, close to the high-backed midcentury chairs the dogs are fond of dozing on. "Every room is very livable," says Quay, noting that she moves the furniture around at will and keeps "old-lady lap blankets all over the place because you never know when it might be time for a nap."
All the while, contemporary art adds snap and crackle. In the living area, a jagged lightning-bolt sculpture by Quay's close friend Chuck Price rests atop a bronze side table from Homer, Mishaan's Manhattan showroom. Presiding over the space are images of Marilyn Monroe's legendary last sitting with photographer Bert Stern. The dining area features Murakami's wide-eyed anime characters alongside carved masks from Africa and photographs from the many shoots Quay has produced. "I have a personal relationship with a lot of what is on the walls," she says of her frequently rotated collection. The home's fashion-meets-family aesthetic, Mishaan says, "is really a set of contradictions"—a description that also applies to his client. "It's very informal and flexible, yet it's contained. Everything is just so."
You may also like