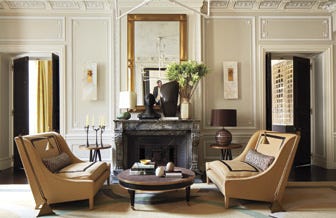 Luxury life on the left bank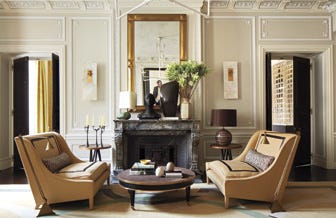 Jean-Louis Deniot likes a room to be versatile. "I love it when you have a space in which you can host a really great party with a DJ or a very elegant, formal dinner," declares the Paris-based decorator. One of Deniot's recent projects, the pied-à-terre of an American couple with two energetic young children, perfectly fits the bill. Its style, he says, is "Louis XVI in sneakers." By that he means traditional 18th-century grandeur laced with a dose of modern, laid-back chic.
The building that houses the apartment is certainly impressive. Situated on a quiet street near the church of Saint-Sulpice on the Left Bank, it was probably part of a much larger mansion built in the 1700s. The apartment itself is accessed via a private stone staircase that would not look out of place in a château in the Loire Valley.
The owners were particularly attracted to its quintessential Frenchness, and they loved the lofty ceilings and high windows. Otherwise, though, the place had little going for it. "It was ugly," says Deniot with characteristic bluntness. "Everything was badly laid out and asymmetrical. There's a theory in France that everything from the 18th century is automatically good. But this flat had been botched."
Deniot's mandate was not only to set things right, but also to update the apartment for 21st-century living. He moved the kitchen from the back and placed it just off the dining room. "It's the antithesis of service quarters," he explains. "Now the kitchen is more 'do it yourself.'" He got rid of a corridor that separated the living and dining rooms and connected these central spaces with gracious double doors. The result, he says, is like "an 18th-century loft. Everything is as open as possible."
Throughout, Deniot worked to retain the spirit of the original building. He added Versailles parquet and 18th-century fireplaces. He sourced distressed mirrors and vintage faucets and installed wainscoting in the dining room. One of the few original details worth keeping was a small portion of a cornice and elaborate paneling in the living room. Deniot simply duplicated these elements throughout the room: "The idea was to give the impression that everything has always been there."
Furniture-wise, the owners requested a 1940s French look. "The fun thing to do in Paris is to go to the flea market," says the husband, a financier and enthusiastic art collector. "We'd go religiously with Jean-Louis." They also hit the galleries of Paris. One particularly fortuitous find was a Jean-Michel Frank oak-and-parchment cabinet, which now stands in the guest room. A stately lacquered sideboard by Gilbert Poillerat was purchased from Yves Gastou, who specializes in 20th-century furnishings. And a smattering of contemporary creations by Parisian designer Hervé Van der Straeten looks right at home. "It's difficult to do a project without using some of Van der Straeten's things," Deniot says. "Someday he'll be as sought after as Frank."
You may also like