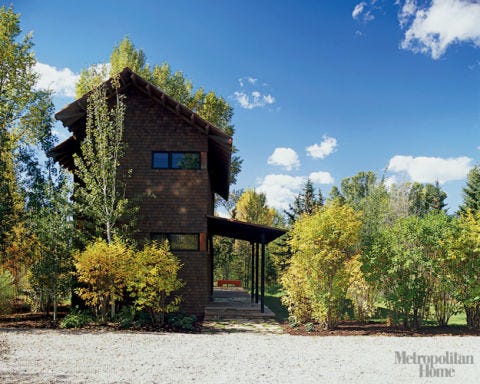 Low maintenance quick way
Textile designer Donna Gorman and Swedish-born financier Roger Johansson discovered the empty, pristine beaches and bucolic countryside of sleepy Vieques, Puerto Rico, in the mid '90s—back when two-thirds of the island was still used by the U.S. Navy as a site for live-ammo maneuvers. Five years ago, the couple having married and the Navy having decamped, the pair bought a one-and-a-half-acre parcel on the island's pastoral south side, overlooking grassy hillsides where wild horses graze and a sliver of the blue Caribbean beyond.
"We bought the land but didn't really have a plan for building a house," says Gorman, who spent more than two decades at the legendary Finnish design house Marimekko. "But we knew that whatever we built, John Hix would design it."
Hix, a Toronto-area architect who studied with master modernist Louis I. Kahn, spends part of the year on Vieques, where he and his wife, Neeva Gayle, own the small, eco-friendly Hix Island House. On regular visits to the hotel, Gorman, Johansson and their two daughters experienced the architect's environmentally conscious aesthetic firsthand: simple structures that are built of low-maintenance and hurricane-proof concrete, with rough-and-tumble finishes and not a pane of glass in sight—only rolling industrial steel doors and metal-louvered windows separating inside and out. Like most of Hix's houses, this one emphasizes indoor-outdoor living, with open-air showers and sweeping terraces that meld with interior spaces.
Gorman and Johansson gave Hix a very simple program: one large living space and two identical bedrooms. "The bedrooms are purposely small," admits Gorman. "The house is about being together in the living areas." To capture views of the Caribbean, Hix lifted the cast-concrete and concrete-covered masonry structure almost a full story above the bottom of the hillside site. (Doing so created plenty of room for storage, including space for a pair of massive cisterns that hold rainwater.)
Luckily, both the cooling trade winds (there is no mechanical air-conditioning) and the views were to the southeast, so Hix oriented large floor-to-ceiling openings in the rooms in that direction. "The property would potentially be surrounded by development, so the idea was to put 'blinders' on the east and west sides to emphasize the view toward the water," explains the architect of the two nearly windowless concrete facades.
Gorman added texture and tone to some concrete-plastered walls, blending paints herself for hues ranging from blue gray to bright orange. Vivid throw pillows from her textile collection brighten up already color-saturated furniture from Italian design house Paola Lenti—all of it outdoor-grade. "If you come out of the pool and want to sit on the sofa, it's not a problem. If you spill something, you can just hose it down," enthuses Gorman.
That mix of style and practicality runs through the entire house. "It's a very simple house, but everything works together to make it a magical place to live," Gorman says. "At night, it's absolutely amazing to see the stars almost in your face as you sit on the patio or lie in bed. When I'm here, I know I couldn't be anywhere else."
What The Pros Know
With abundant sunshine, much higher electricity rates than on the U.S. mainland and difficulty reaching existing utilities, Vieques is a perfect place for a solar-powered house. To avoid the long and costly connection to the nearest electrical lines, John Hix suggested that his clients go offgrid and power the house entirely with electricity generated by the sun. The architect mounted three sets of photovoltaic panels, tilted to catch maximum rays, on the roof. One powers a 50-gallon water heater, another the pool pump and filter system and the third generates enough power, stored in large batteries, to run lights, appliances and ceiling fans. To save additional energy, a small cascade that flows into the pool (part of the filtration system, typically a huge energy guzzler) runs only in full sunlight. "We live perfectly comfortably with full solar," says Gorman.
You may also like