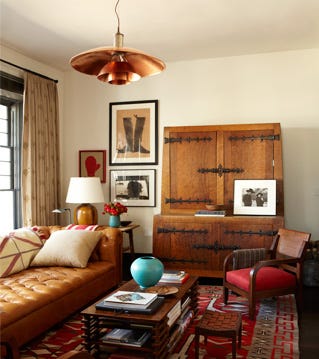 Lone Star Declaration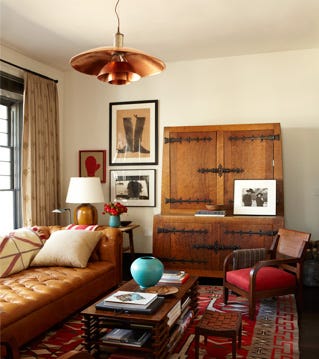 The tiny desert town of Marfa, Texas, became an unlikely oasis of spare, modular minimalism after sculptor Donald Judd moved there in the 1970s. The artists, writers, and design aficionados who gravitate to Marfa today—drawn by its paradoxical collision of remote solitude and vibrant cultural energy—tend to emulate the boxy, geometric look of Judd's work in their homes.
But when San Francisco residents Sam Hamilton and Jen Chaiken decided to buy a second home in Marfa after holding their destination wedding nearby, they knew they wanted a more lived-in, layered aesthetic. "I go into other people's homes in Marfa and love their austerity, but there's a side of me that appreciates an attic and things to uncover," says Hamilton, a former Ralph Lauren executive. "I love that this feels like a house in New England and a house in the Southwest."
Chaiken, a film producer, adds, "Our home in San Francisco is very modernist. The mandate here was color." To realize their vision, Hamilton and Chaiken collaborated with designer Mark Cunningham, with whom Hamilton founded the Bay Area shop March. (Hamilton is now sole owner of the former antique-furnishings store, which she recently refashioned as a kitchen and tableware emporium.) Cunningham, who designed the couple's San Francisco residence, was the one who first urged them to visit Marfa. When they fell in love with the town, he helped them shop for a second home there.
A two-story house with a warm Arts and Crafts feel and a large backyard had recently been put on the market. "We all immediately liked it," Cunningham says. "It's adobe, and it has a fireplace, high ceilings, and a whole wall of windows." (It was also unusual for the region—most houses in Marfa are single story.) Though the house was built in 1911, the second floor was a later addition ordered from Montgomery Ward. "In a sense, it was an early prefab," Hamilton says.
The couple bought it and began renovating, widening the front hall and painting the walls and rafters. The kitchen, state-of-the-art in the 1970s, was now "really depressing," Hamilton says, with a dropped ceiling and "icky, pickled-wood siding. We took it back to what it was." Cunningham installed tile walls that draw the eye upward to the newly raised ceiling. He also added back doors with windows, to let in the profuse desert light.
Hamilton and Chaiken spent two and a half years accumulating furniture for the house, with Cunningham's assistance—he and Hamilton picked up pieces on their regular European buying trips for March. The house has the same pleasingly curated quality as the objects at the shop: A pair of armchairs and a cocktail table once belonged to Richard Avedon, and a deliciously oversize chesterfield in the family room was originally part of the Stanford White estate.
The living spaces have a soothingly textured combination of modernist pieces—including a black-and-white print and a copper chair by Judd—and Southwestern accents, such as Native American baskets and blankets. "Mark is able to work in a lot of different vernaculars," says Hamilton. "He's really influenced by Southwestern art, which has very graphic, simple design, with texture and repetition. He likes to cultivate the personality within the interior. He was able to draw on things that spoke to Jen and me, and to him as well. Any good designer is going to leave his or her note in there."
As Cunningham puts it, "I wanted to retain what the house is, and when it was from. But they are, and I am, interested in a lot of different styles. We wanted it to feel like a casual, lived-in house, where things had accumulated over time." Their careful strategy paid off. The moment they moved in, Chaiken recalls, the house felt like someplace they'd lived for years. "We thought it should feel like the kind of home where you can open the kitchen drawer and find your favorite spoon," Hamilton adds.
The couple have seven-year-old twin girls, and the family's visits to Texas are restricted by their school schedule. Hamilton wants to retire to Marfa, but for now the clan spends August there, and sometimes Christmas. The home is first and foremost a space for them to retreat in comfort and recharge their batteries. "Mark put fabulous curtains in all the rooms," says Hamilton, "and they create great places for the kids to have plays; they love doing cabaret shows behind them. We painted the attic walls white, and the girls draw all over them. They can't do that back in San Francisco. Here, the kids can do leaps and turns on the sofa. I'm sure I'll regret it when the buttons start popping off, but I know I'll look at these rooms and have memories that can't be repeated."
You may also like