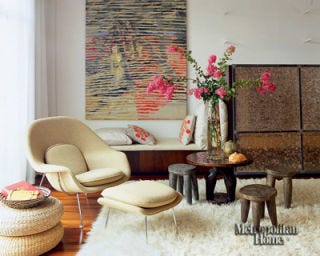 live together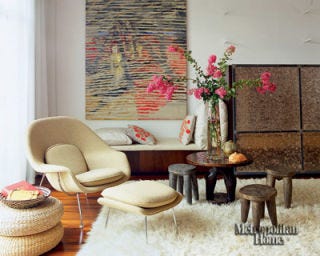 In the living room, a Saarinen Womb chair joins African stools and a micafronted media center built by Tavel; the painting is by Cummins.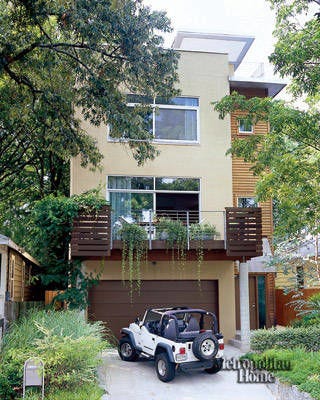 The house presents itself as a modest yet handsome building of cement stucco and mahogany.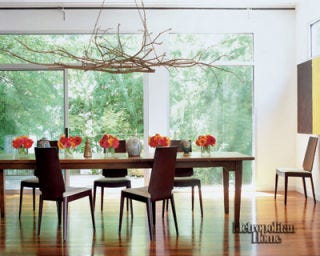 Beneath an installation made from a neighbor's tree cuttings, a reclaimed-teak dining table, acquired in a barter with PierceMartin, a former client, is ringed by dining chairs handed down from one of the couple's restaurant projects. Much of the duo's furniture is by anonymous Indonesian craftsmen.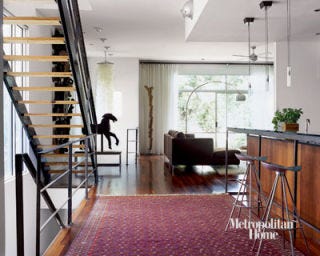 Perfect for large family gatherings, the kitchen opens into the living room, with its vintage carousel horse and Arco lamp; Jamaica bar stools are from Knoll.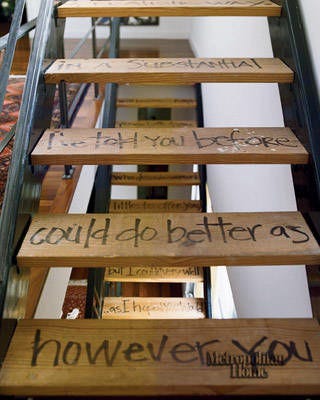 For a party celebrating their wedding, Tavel and Cummins scrawled lines from a love letter written by her grandfather to her grandmother onto the once-temporary stair treads.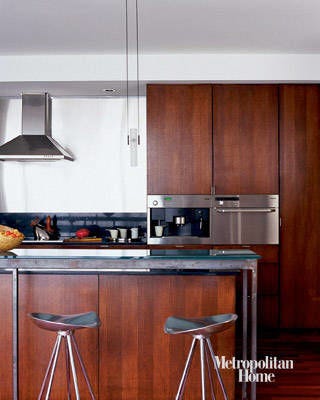 kitchen cabinets are veneered in rift-cut red oak.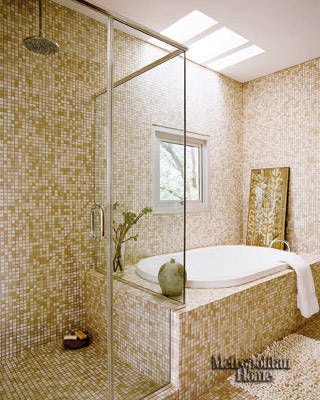 Sunlight filters into the 3/4-inch-mosaic-tiled master bath with its ample separate shower.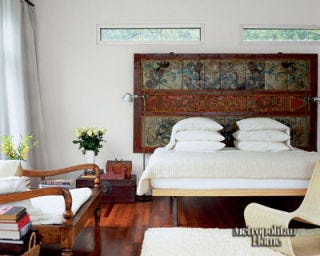 An antique Indonesian wall panel acts as a headboard in the master bedroom below a pair of high, horizontal slot windows.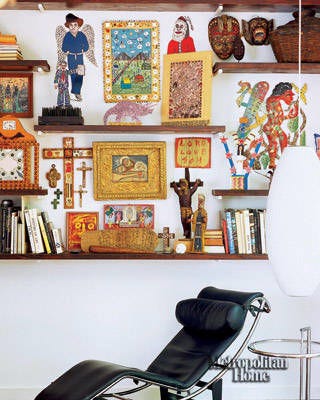 A Le Corbusier chaise, an Eileen Gray side table and the couple's collection of folk art.
Click here to see the resources.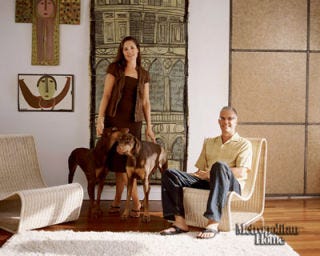 Cara Cummins and Jose Tavel—partners in TaC Studios—enjoy their bedroom with Aldo and Gin-Gin. The chairs are prototypes for a spring 2009 line by TaC in collaboration with Atlanta's renowned PierceMartin. On the wall (from left) are two small Mose Tolliver folk pieces, a Cummins canvas and Tavel's mica-covered sliding screen.
You may also like