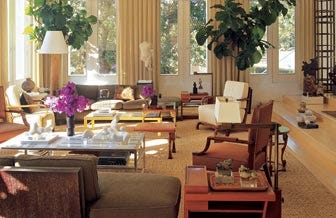 Leaving Las Vegas p2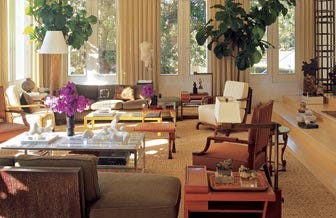 During the week, Roger Thomas is the creative force behind the most extravagant resort interiors in Las Vegas. Most Fridays, though, the Nevada native leaves behind the casinos, showgirls, and slot machines to commute to a getaway just north of San Francisco. Viewed from the leafy green Marin County suburbs below, the blocky modernist building of glass and snowy stucco rises mysteriously over eight steep acres of undeveloped hillside like an ancient Greek monument. In fact, the designer's house stands so white and stark that Thomas's neighbors refer to it as the Temple.
It is not what visitors expect in these surroundings, but neither is Roger Thomas. "I'm not a sit-on-the-beach-with-a-book kind of guy," he says. As the executive vice president of design for Wynn Design and Development, Thomas has supervised the interiors of the Mirage, Bellagio, and, most recently, the 2,700-room Wynn Resort, for which he travels the world acquiring luxury furnishings by the ton. He also designs a dizzying array of signature collections of furniture, garden accessories, mirrors, and carpets.
But at his California place, Thomas and his partner, Arthur Libera, a licensing agent for artists and manufacturers, cultivate a simpler but no less stylish life in a house that is smaller than some of the Wynn Hotel's accommodations. Well, the 7,000-square-foot villas, at any rate. "It's like living in a tree house," Thomas says. "It's magical and romantic. It induces serenity. And it's pretty hard to make me serene."
The couple didn't intend to set up housekeeping in Marin County. But two years ago, after a frustrating search for a home they could share in San Francisco—Libera lives in the Bay Area full-time—they crossed the Golden Gate Bridge and found, to their surprise, the perfect blank canvas.
The original owners of the house, a photographer and his wife, were self-avowed minimalist perfectionists who left behind interiors so architecturally pure and featureless that some potential buyers were left cold. The house was essentially a 5,000-square-foot live-in photography studio, with a bedroom suite attached to an otherwise open floor plan. Thomas and Libera, however, loved the 12-foot-high ceilings, skylights, banks of tall windows, and the indoor swimming pool that faces a wall of French doors opening to a stunning view of weathered trees and plunging hills. Their only decorating plan was to "redefine the house's purpose," Libera says, while leaving the architecture intact.
Basically, this boiled down to adding color and hanging curtains. Thomas's first impulse was to bring in strong shades to enliven the hospital-white surroundings. To achieve one hue that was dancing in his head, he took pains to precisely describe the greeny-brown tones of the property's grove of live oaks to decorative painters Mark Evans and Charley Brown. As Thomas delightedly recalls, the artisans suggested that the color their client was laboring to explain sounded like the same one the 19th-century artist Jacques-Louis David used in the backgrounds of his midcareer portraits of French nobles. Thomas and Libera were thrilled by the insight. "We hate two-word colors," the designer says. "We love paragraph colors." Further discussions ensued, resulting in an equally evocative panoply of custom shades, such as the lavender-gray Monet Pastel Portraits Background and an earthy red that ended up being dubbed Pompeii's Villa of the Mysteries.
Curtains in soft, muted colors were installed over bare windows, light-filtering shades over skylights, and rugs on top of the white-maple floors. And as Thomas and Libera's mash-up of antiques and contemporary furniture, art, and objects began to define the living spaces, the last of the previous owners' white fetish—like the white door hardware and white basketball hoop—gradually disappeared.
Curiously, it is not the material additions but the property's scores of gnarled oaks that seem to have most enhanced the couple's sense of calm. "The windows frame views of the trees like works of art," Thomas says. "There is a magic to looking outside the house and a magic to looking inside." The trees also provide the designer with inspiration when he is lounging on the terrace, sketchbook in hand. "I find forms, color gestures I want to use, lessons in scale," he explains. "Las Vegas is still where the big work gets done. But Marin is where the inspiration and research goes on."
And, truth be told, a little more decorating too. According to Libera, Thomas finds nothing more relaxing than to rearrange the furniture every weekend. The designer admits he does the same thing when he walks through the lobby at the Wynn Hotel. Here in California, however, the compulsive furniture-shifting is something of a peaceful Zen exercise (Libera calls it object therapy). But in Vegas, it is a price of doing business on a gargantuan scale. "With 6,000 employees," Thomas says with a sigh, "it's difficult to make sure everybody puts everything back in the right place."
You may also like