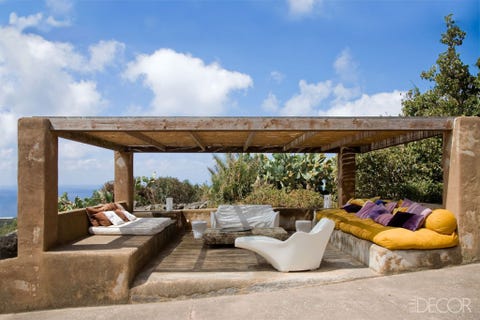 Idyllic Poems in the Sun: PANTELLERIA's Home by FLAVIO ALBANESE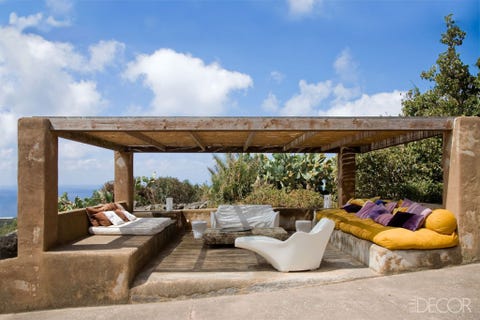 The Italian island of Pantelleria lies between Sicily and Tunisia, closer to Africa than Europe. Scarcely known in the U.S., the Mediterranean outpost has had its share of celebrity residents, including French film icon Gérard Depardieu and Calypso, the nymph of Homer's Odyssey. Since the late 1970s Pantelleria has also been home, at least some of the time, to the internationally renowned Italian architect and designer Flavio Albanese.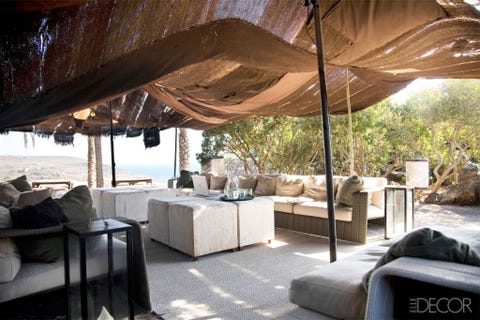 He filled his rooms, his pergolas, and tented terraces with a mix of antiques and tribal carvings from around the world, as well as with contemporary furnishings from Milan. Hand-hewn chairs from the South Pacific sit beside sleek sofas and rotating works from his collection of photography and paintings. On the magical island of Pantelleria, Albanese is a contented curator with a touch of Prospero in him.
An outdoor living room with furniture by Paola Lenti under a linen tent from Kurdistan.
ORIGINAL TEXT BY LUCA SELVI. Originally published in ELLE DECORATION Netherlands.
You may also like