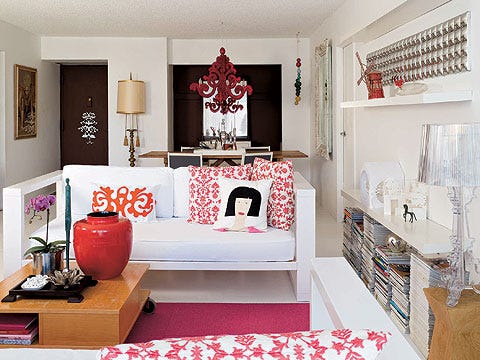 Home of Love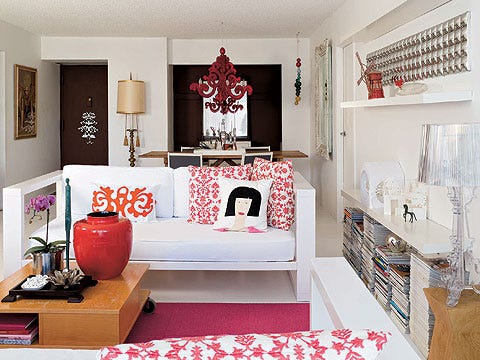 Photo: Ken Hayden
For starters, you know that Rita Motta is not afraid of color. Nor is she one to let anything go to waste when it can be transformed into upholstery, a pillow or a decorative object. A scrap of fabric or a sliver of wood can be put to good (re)use given some imagination and the right tools. "I'm very handy," she says.
A few years back, Motta and her husband, Michael Perez, found this once-drab two-bedroom apartment that they now occupy with their ebullient, sociable five-year-old son, Oliver. Together they have turned it into a full-fledged celebration of a joyous life, filled with flea market finds that coexist happily with high-design furniture and accoutrements handmade by the designing homeowners.
"The idea," says Motta, "was to avoid having everything be white. I wanted to make it look lively and for it to be fun." It's clear that project is a family affair. Perez is the seeker of delicious bargains. Motta is the hands-on designer with her own line of pillows (sold at Holly Hunt) and an array of other projects including customdesigned children's furniture. The apartment also features lamps by Madra, the company her brother, Ricardo Motta, founded. Italian-bred and educated, Rita Motta worked in the Miami offices of architect Alison Spear before heading out on her own. Perez, who was born in Cuba and reared in New York, works in the Miami Design District's Holly Hunt showroom by day and, by night, at MRO Design (the name references the initials of the family members—Michael, Rita and Oliver).
When the couple first saw their 1,100-square-foot apartment, Motta recalls, "It was in horrible condition, with dirty beige carpet and a ceiling that was dark with smoke." But they loved the light that flowed in through expanses of glass. The apartment is a rental, which meant they could not do any actual construction. Motta pulled up carpet and tile and replaced closet doors and kitchen cabinets (fairly radical for a rental, even if you plan to stay a while). She painted every possible surface. "Sometimes I worked until two in the morning," she remembers. The floors—some plain and others patterned—were redone with Behr Ultrawhite porch paint. A whiz with both the jigsaw and the sewing machine, Motta made the baroque red chandelier that hangs over the dining room table. She sewed pillows that adorn the duo's bed and the two daybeds in the living room, including the fanciful "inkblot" patterned prototypes she hopes to put into production. High-end pieces from such designers as Philippe Starck and Tord Boontje share the billing with selections from Anthropologie, West Elm and Crate and Barrel. All are intermingled with Perez and Motta's ingenious transformations of their thrift finds. Motta has lately been collecting cuckoo clocks. She is fascinated by their silhouettes, a starting point for new work. Ever the explorer, she explains, "I like the iconographic shapes of things, and so far I feel like I'm just scratching the surface."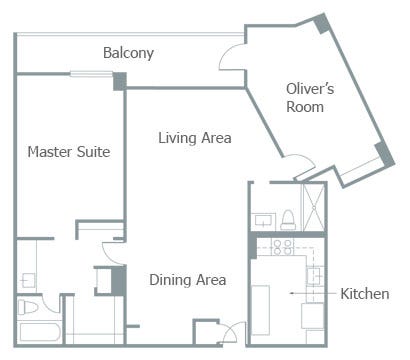 What the Pros Know
That Rita Motta and her husband, Michael Perez, are renters hasn't prevented them from developing a full lexicon of renovation ideas. First and foremost, says Motta, find a space you really like. Many otherwise drab rental properties have good bones. "You can do a lot with paint," she says. "Don't be afraid of color." Most dealers will customize paint based on a color sample, which—according to Motta—can be almost anything, even pottery or a piece of clothing. The primary accent color in her own living room, which she calls "red-coral-pink," was copied from fabric she used to make accent pillows for her sofa. Other small interventions—changing handles on kitchen cabinets—can make a big difference, Motta says. Even fabric remnants can be used to create colorful accents, such as pillows. Always check with the landlord, she says, but few will say no to improvements. "My advice," Motta says, "is don't be afraid to make changes, and always keep it personal."
You may also like