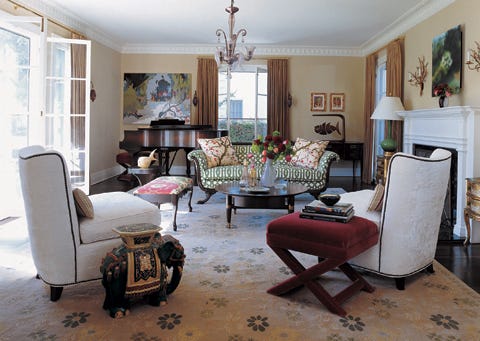 Happy fusion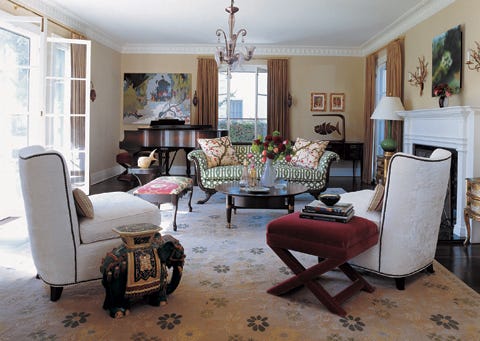 When Carolyn Bernstein and Nicholas Grad, TV execs and parents of two, moved from a midcentury house to this classic 1922 villa, the couple— working with designer Sasha Emerson—were clear about what they wanted in a family home: luxuriant comfort and a confident mix of period styles. It had to be a cozy place that could embrace a sense of amused sophistication. For Grad, who had grown up in the old Beverly Hills of towering palms and elegant variations on traditional architecture, their new Hancock Park neighborhood—with its vintage homes, quiet sidewalks and verdant gardens—was familiar territory.
Bernstein grew up on the Upper East Side of Manhattan. "Every Park Avenue family I knew had a red-lacquered library," she says winsomely. "I thought that was the height of glamour. That was the one specific request I had for Sasha: I wanted a red room." Based in Santa Monica, Emerson grew up in New York City too and was equally versed in those crimson salons with their deep, voluptuous sofas, patterns ranging deliriously from leopard to chintz and globetrotters' troves of objets d'art.
Photo: John Ellis
"We wanted to translate Nick and Carolyn's backgrounds into a more modern idiom," remarks Emerson, who worked with colorist Philippa Radon to find the right shade of Pompeii red for the new library—coral without a trace of orange, ripe tomato infused with cream. "I'm very happy with this red," says Bernstein. "It wasn't the red in my memory; it was something much more surprising." Radon also selected a pale, cool blue paint for the library ceiling. "Philippa came up with that idea and it's genius," Bernstein effuses. "It makes the room feel much more modern and inspired."
At first glance, the sunroom— an addition dating back to the 1920s—wasn't a space the homeowners could envision using: With old linoleum floors, skylights and no electricity, the room felt disconnected from the rest of the house. "It was hot in the summer and cold in the winter," explains Bernstein. "And we'd even discussed chopping it off entirely and expanding the backyard." Happily, Bernstein and Grad agree, they chose renovation over demolition. Once the original home's hardwood floors had been refinished with a dark stain, the sunroom floor was replaced to match. The ceiling was lowered to accommodate new wiring, and French doors were installed, creating easy access to the outdoors. "Now it's a room we use all the time," Bernstein sighs appreciatively.
An easy flow occurs between the sunroom, the adjoining breakfast room and the large, light-drenched kitchen, a family-friendly renovation completed by the previous homeowner. Furnishings from Bernstein and Grad's old house—also designed by Emerson— were transplanted; viewed in this radically different architectural context, the familiar objects generated plenty of new design ideas. Emerson, who received an M.F.A. from the Yale School of Drama, has a quick-witted visual sense and a flair for improvisation.
"Nick and Carolyn own a great collection of outsider art," explains Emerson. The core of their collection—paintings and ceramics created at LA Goal, a community-based program for developmentally disabled adults—celebrates a fearless enthusiasm for bold colors and rhythmic patterns. Emerson encouraged Bernstein to display her own childhood drawings as well.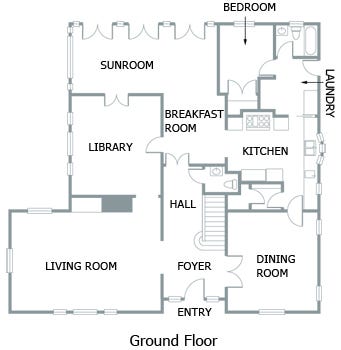 What the Pros Know
Sometimes a totally simpatico designer is the key to personal style. Collaborating on a house was practically a natural progression in designer Sasha Emerson and homeowner Carolyn Bernstein's long friendship: In addition to sharing a hometown (New York) and an alma mater (Brown), they are sharp-eyed flea market devotees. When Emerson gave Bernstein two pieces of Raymor pottery—Italian ceramics designed by Aldo Londi between 1957 and 1962—the seed for an ever-expanding collection was planted. Bernstein and Emerson were inspired by the pottery's turquoise glaze (Rimini Blu) and handmade charm. Remembering a particular New York time—when Amish quilts first appeared on Bleecker Street, Marimekko fabrics and op art arrived and Park Avenue hostesses still set out cigarettes—they recognized a complex theme worthy of design improvisation. "I loved our old house, but the architecture dictated what was needed," says Bernstein. "This house is more my natural aesthetic."
You may also like