Good year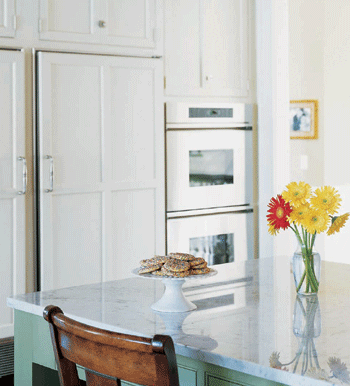 I wanted it to feel like a grandma's house," says Judy Hoepker of her kitchen, which makes use of materials and finishes that hark back to the early 20th century. The traditional decor is consistent with the other rooms in the newly constructed Orlando home designed by local architect Geoffrey Mouen that Hoepker shares with her husband, Todd, and their four young children. "Judy wanted a real period kitchen and bath, and our tastes clicked right away," Mouen says.
It was his idea to stretch decorative box beams across the kitchen ceiling, and Judy suggested painting a contrasting color in the middle. "I took a Victorian approach by keeping everything white, but added an element of surprise with a deep red ceiling," says Judy, a law-firm administrator. She used a brighter shade of red on the master bathroom walls. "Red makes me feel happy," she says.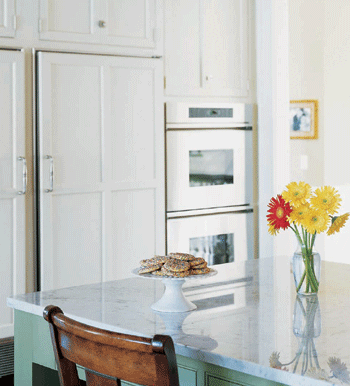 The island is topped with Carrara marble, which looks clean and beautiful but does require a little TLC. It's not stain resistant, so homeowner Judy Hoepker is careful to keep acidic things like tomatoes or red wine away from the surface. "But spills happen, so you can't put marble in your kitchen if you're not prepared to accept the etching," she says. "You have to look at it as character."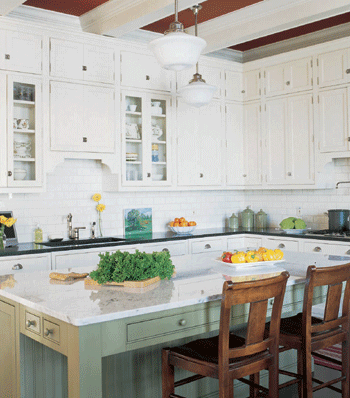 Cabinetry sets the tone for any kitchen, and in this case the simple, painted doors with recessed panels create an authentic-looking backdrop for a room inspired by the past. They're coated in milk paint and equipped with covered-latch hardware on the doors and bin pulls on the drawers. Judy didn't want everything in the kitchen to be too white or too "matchy-matchy," so the beadboard-faced center island seemed like an obvious opportunity to add a splash of color to the room. "I love the avocado green, and it's very popular right now so it's easy to find coordinating accessories like cookie jars," she says.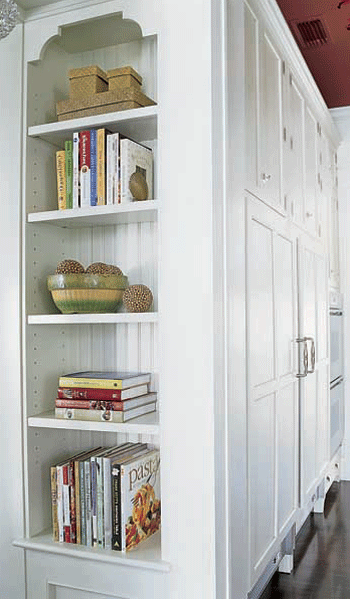 Although she opted for top-of-the-line appliances, Judy chose to camouflage them as part of the overall vintage theme. "They're hidden, where possible," she says of the two dishwashers and two refrigerators that have wood panels on their fronts, and the microwave that's housed behind a door in the island. The only exception is the stainless steel double wall oven. Cookbooks and decorative items are neatly stowed on a built-in bookshelf.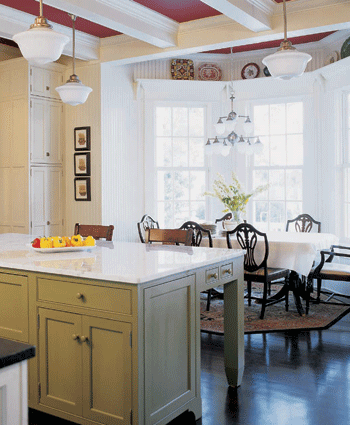 The breakfast nook is situated in a bay of three double-hung windows surrounded by 3/4-inch planks of beadboard wainscot on the walls. And although the furniture-look center island serves as a work space and an eating bar, the Hoepkers share most of their meals at the kitchen table. "We love looking out at the lake," says Judy. The schoolhouse-style pendants and chandelier brighten the space and contribute to the old-fashioned look. "I didn't want to hide the lighting, I wanted it to make a decorative statement," she says.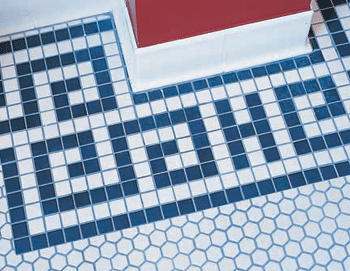 Upstairs, a classic white hexagonal tile pattern covers the master bathroom floor. Architect Geoffrey Mouen designed a dark gray tile border that combines a classic Greek key pattern and an H, the first letter of the homeowners' last name. "It's a very custom look," he says.
You may also like