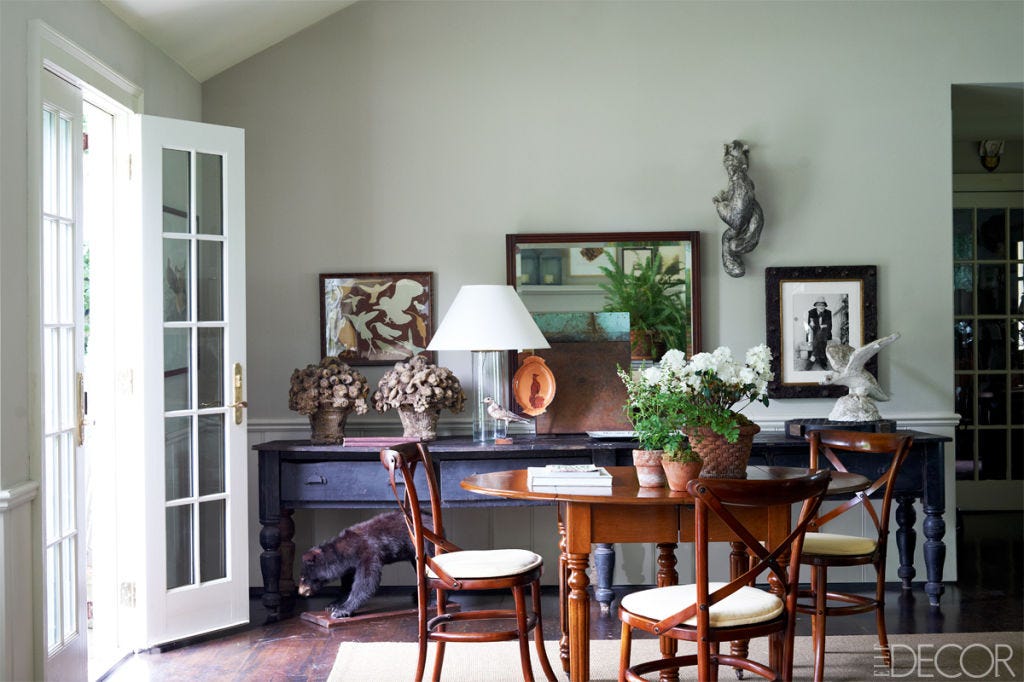 Go with the flow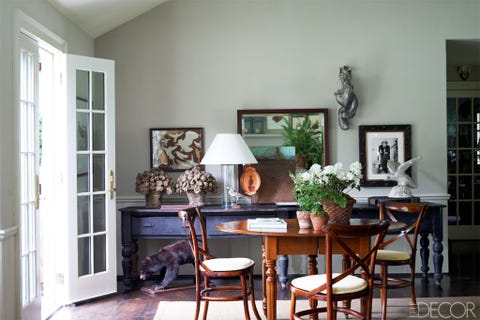 DINING ROOM
In 1974, the descendants of the area's founder and one of its most respected preservationists, Henry White Belcher, transformed the building into a private home. Tucked into an enclave of charming Carpenter Gothic structures, Burback and Hofmann's place has a quaint, patrician look and feel. And it's practical too: The post office, train station, art center, theater, and bookshop are all minutes away.
The walnut dining table belonged to Burback's grandmother, the painted work table is vintage, and the artworks above it include, from left, a collage by Mike Miller, a painting by Stephen Spaccarelli, a wall sculpture by Rune Olsen, and a photograph of David Hockney by Dmitri Kasterine; the sisal rug is from Pottery Barn.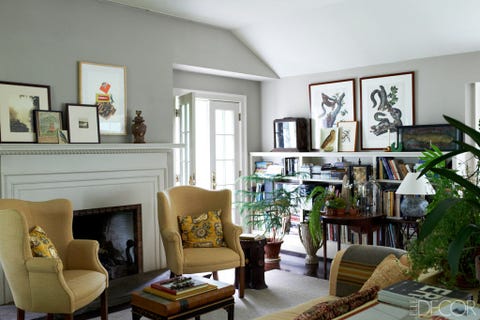 LIVING ROOM
Hofmann, an internist affiliated with New York-Presbyterian Hospital, and Burback, an art curator and collector, bought the property from the Belcher family in 1997. For some 17 years prior to that, they had been spending weekends in a log cabin in Garrison, commuting back and forth from their Upper East Side Manhattan apartment. "We loved the area, and were on the lookout for a bigger place near the river," Burback recalls. "In the middle of my birthday party at a local inn, a friend mentioned that the Belcher family was selling their property. We left our guests, ran to the real estate office, then ran to the house, and bought it on the spot."
A 2004 collage by Ivan Chermayeff hangs above the living room's fireplace; the Audubon squirrel prints were bought at auction, the Pembroke table was a gift from Burback's mother, and the sofa was a gift from friends; French doors lead to a terrace with a view of the Hudson.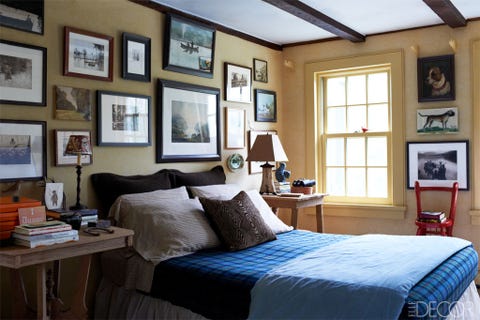 GUEST BEDROOM
"Doing this house up was like creating a collage," Burback explains. "Things move around from place to place. This house is our canvas."
In a guest room, the archival print of the Hudson River over the bed is by James Renwick from the Highland Studio.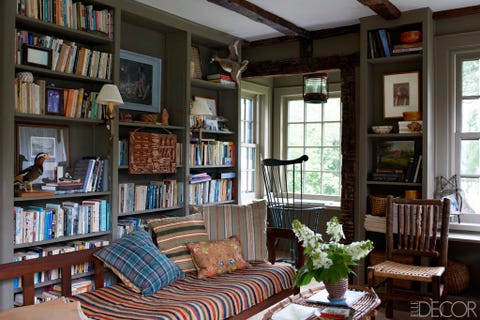 LIBRARY
The plantings are romantic and unfussy. "When the Garden Conservancy asked us to put our garden on one of their tours, I was surprised," says Burback. "I told them that we don't have a garden, we have a yard. There's nothing precious here. I prefer our big old willows and plain mowed lawn to rare-specimen planting."
A rug from Ruby Beets covers a daybed in the library; the cocktail table is a flea-market find, and the bookcase is painted in California Paints' Milkweed.
You may also like