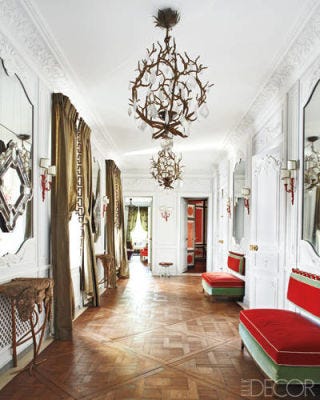 FRANCOPHILE FANTASY in New York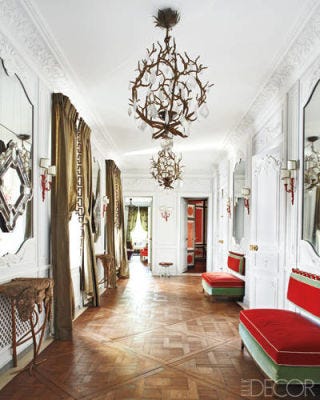 In a Manhattan apartment designed by Robert Couturier, the entrance hall features bronze-and-crystal light fixtures by Hervé Van der Straeten and custom-made benches upholstered in a Prelle velvet; the silk curtains are custom embroidered. The boiseries and wall moldings throughout the apartment are by Féau & Cie, and the flooring is Versailles parquet.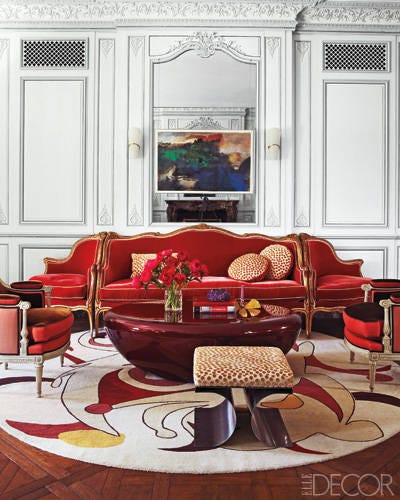 In the living room, the canapé à confident is Louis XV and the bergères are Louis XVI; the cocktail table is by Mattia Bonetti, the stool is by Michel Boyer, the sconces are 1950s Italian, and the rug is by Diurne.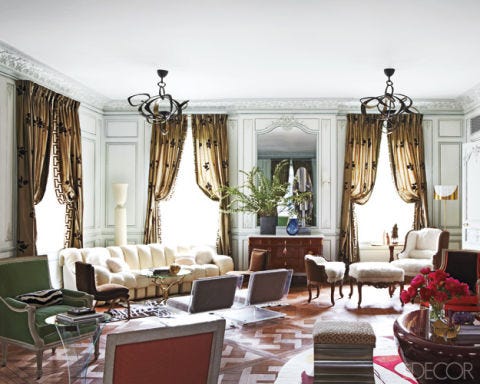 In the living room, a sofa by Ueli Berger is flanked by a pair of Eugene Printz chairs and faces a pair of 1970s French Plexiglas chairs; the bronze light fixtures are by Hervé Van der Straeten, the mahogany cabinet is Louis XVI, and a Philippe Hiquily floor lamp stands behind a 1740s Louis XV duchesse en bateau.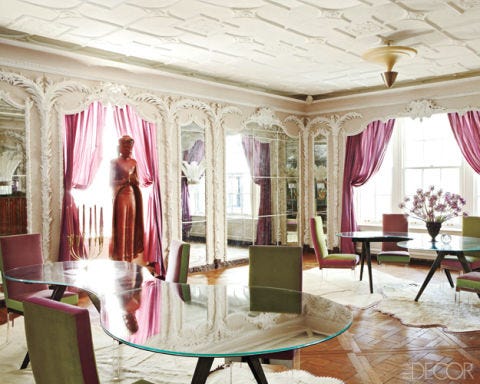 Stainless steel tables by Ron Arad in the dining room are surrounded by Charles Hollis Jones chairs from the '70s; the sconces are 1940s Italian, the '30s light fixture is by Eugene Printz, and the plaster ceiling is original.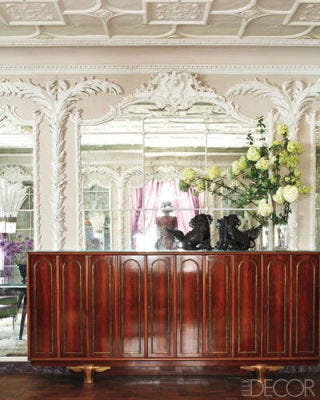 A Eugene Printz cabinet from the '40s.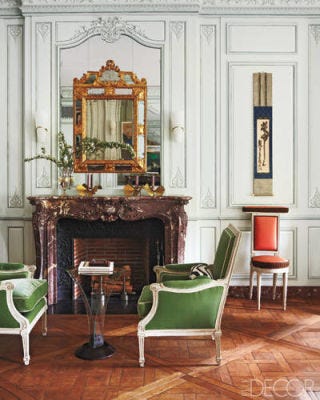 A pair of 1760s Louis XVI bergères à la reine upholstered in a Prelle silk velvet flanks a 1950s French side table in the living room; the Louis XVI chair is upholstered in a silk from Donghia.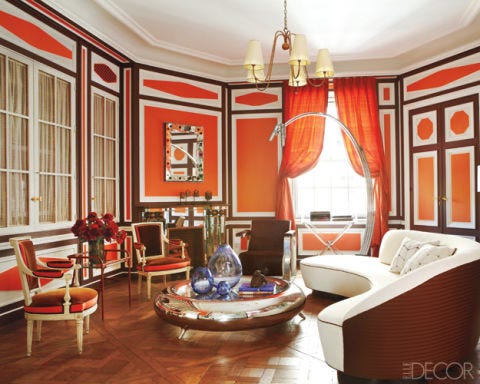 In the study, a Ring cocktail table by Garouste & Bonetti is surrounded by a pair of painted-wood Louis XVI chairs upholstered in silk velvet, a Felix Aublet armchair upholstered in cowhide from Edelman Leather, a 1980s floor lamp by Studio Tetrarch, and a sofa covered in a Chapas Textiles mohair bouclé; the Jean Royère chandelier is from the '50s, and the curtains are of a Clarence House silk.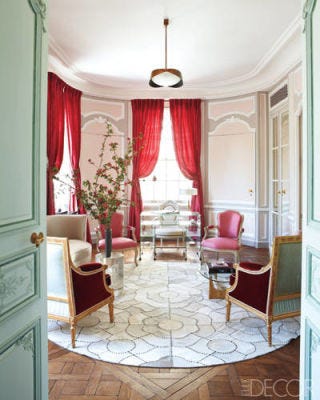 A FontanaArte light fixture from the 1950s and a '30s glass desk by René-André Coulon in the wife's office; the crystal side table is by Martin Szekely, the gilded chairs are Louis XVI, and the rug is by the Rug Company.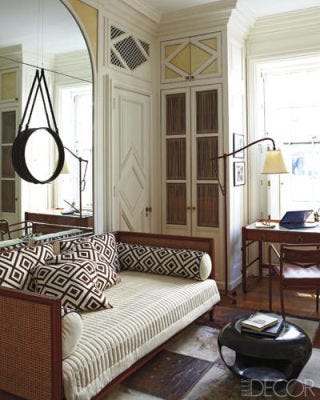 In the husband's dressing room, a custom-made sofa is upholstered in a Lee Jofa fabric and dressed with a Pratesi quilt; the cocktail table is by Hervé Van der Straeten, and the chair, floor lamp, and '40s desk are all by Jacques Adnet.
You may also like