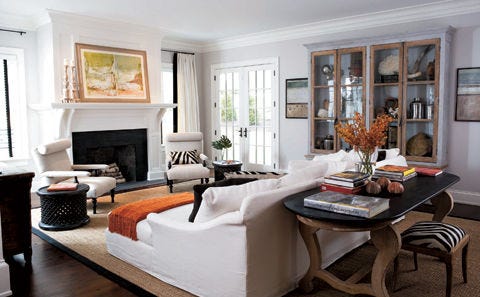 Family Dream House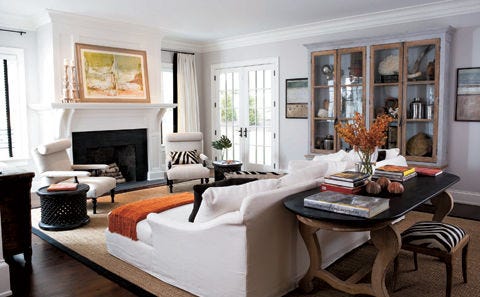 Relaxed and open, as our focus group requested, the eclectic family room at the home's rear features a large cabinet made of reclaimed wood, with vintage glass doors. A sisal rug grounds the seating area, which is dominated by a sectional sofa covered in natural linen.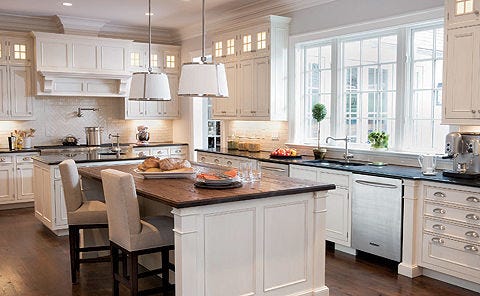 The 17-by-23-foot kitchen's two islands afford easy traffic flow. The smaller one (4 feet square), with a built-in sink and a quartz work surface, is ideal for food prep; the larger one (7 by 4 feet), with a dark-stained oak top, is great as a buffet. Two side-by-side gas ranges enable efficient cooking for large groups.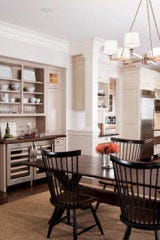 Half-walls with columns define the kitchen and the informal eating zone without closing them in. A built-in hutch with open shelving is tucked into the wall; its beadboard back lends it the look of unfitted furniture. A custom, taupe-colored paint sets the piece apart from the other woodwork. The oak countertop above dual wine coolers serves as a bar. Kirby furnished the space with a sisal rug, a modern farm table, and Windsor chairs with contemporary-looking fan backs. Just above the table, a chandelier plays off the kitchen island's shaded pendants.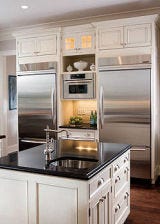 Opposite the sink wall, two 36-inch stainless steel refrigerators flank a built-in microwave. To tie in with the home's traditional crown molding, Berkemeyer topped the cabinets with detailing that echoes it. Lighted glass fronts in the center section of the upper area give a warm glow.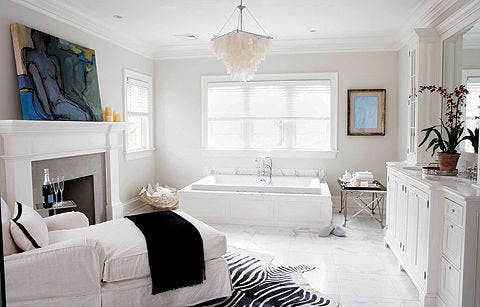 The master bathroom was a popular topic with our focus-group members, who wanted both a generous grooming area for two people and a lavishly appointed retreat. We granted their wishes, creating a 14-by-22 foot space accented with satin-finished Calcutta Gold marble—in squares on the floor, and in a brick pattern on the walls of the glass-enclosed walk-in shower, next page. A limestone fireplace warms up the marble, as does the cushy, natural linen–covered chaise that's perfect for lounging. A shell chandelier and zebra-skin rug rev up the wow factor and echo some of the upholstery in the family room.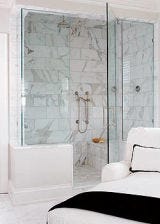 No spa-like shower would be complete without a wide bench seat and multiple showerheads. This enclosure has a wall-mounted water source, another overhead, and a hand sprayer.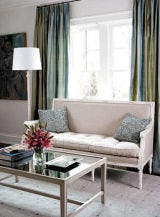 The adjacent sitting room with blue-and-green silk drapes, a stylish linen settee, and a mirrored coffee table, is markedly feminine in style. It's a perfect place for the lady of the house to relax and get away from it all.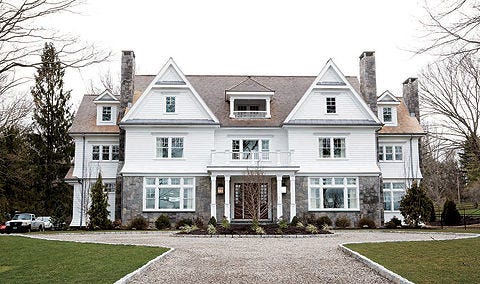 The classic colonial style is grand and perfectly symmetrical. With a mix of natural stone and cedar shingle cladding, the home harmonizes with its wooded setting. A gracious, circular, gravel driveway allows cars to enter and exit easily—and with great panache.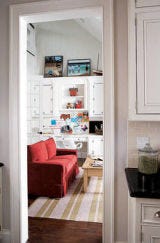 Our panel wanted a flexible space just off the kitchen, above. The 12-by-15-foot zone could be a play area for small children, a homework station, or a craft project–center. A built-in desk-and-storage unit covers one wall, and a pair of French doors leads to the mudroom. A red love seat, a striped cotton rug, and a vintage coffee table make for a welcoming spot that multitasks efficiently.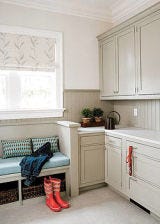 This 11-by-15-foot übermudroom, above right, boasts ample storage for everything from boots and cleaning supplies to recycling and sports equipment. Since looks were as important as function, the cabinets and built-in bench were painted a soothing green to complement the limestone floor tiles. A pale blue seat cushion and Roman shades with a leaf motif complete the tailored decor.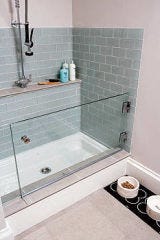 The shower in the dog's grooming-and-gear-storage area was finished with a glass door and classic subway tiles.
You may also like