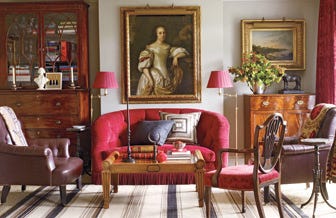 English accent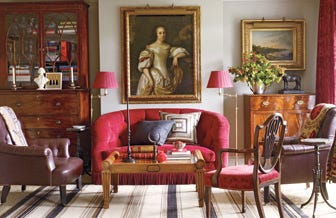 Interior Designer Broosk Saib lives in Putney, a peaceful, leafy suburb in southwest London, but his early childhood was spent under the shadow of war. He was born in Baghdad into an elegant Kurdish family; his father was a provincial governor. "There was constant political pressure," he remembers.
Respite came every summer, when the family would decamp to Putney. "I adored London," he says. "I loved riding my bicycle, shopping, the freedom and security, and the feeling of being respected as a human being." When Saib was 13, the threat of a coup back home became so intense that the family stayed in England for good. "The day we moved to London," he continues, "was the day I felt like I was born."
His Anglophile side soon emerged. The teenage Saib spent his spare time trawling the antiques markets of Portobello and Bermondsey and sifting through Christie's and Sotheby's auction catalogues. "My bedroom was the smallest room in the house," he explains, "but I filled it with rugs, pictures, and vases. Whenever we had guests, they all wanted to hang out in my room." After studying interior design, he began decorating the properties that his father was buying and renting out. "It was the late 1970s, and frog-green-carpeted bathrooms were in vogue," he says with amusement. "Instead, I would make fabulous bathrooms with marble imported from Italy."
Since then, Saib has honed a masculine yet cozy look that has attracted clients from around the world. The blueprint for that style, though, can be found in his own home. It's lodged in a somewhat institutional brown-brick tower built in 1936 by the Ministry of Defence to house war widows, but his apartment looks as far from the building's dowdy origins as can be imagined. In fact, Saib's interiors are the sort you might expect to find in a smart country house.
"When I bought this flat 12 years ago," he says, "it was like something out of a Jeeves and Wooster novel. Every room had a butler's pull, and there was a staff lavatory." Saib straightened some of the curved Art Deco walls to maximize square footage, but left intact a unique oval-shaped entrance hall. Two of the original four bedrooms were sacrificed to create a dining room and dressing room.
You may also like