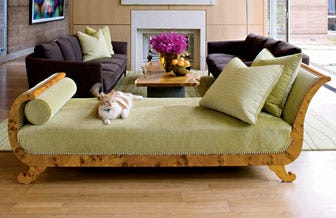 Elegant Colorado House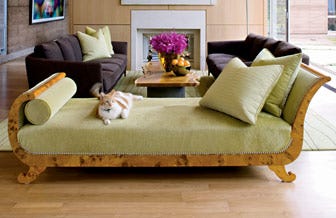 "I wasn't going to do antlers or cowboy claptrap," says Larry Laslo, a New York City-based designer, of the house he just finished in Aspen. "We wanted rustic, not corny."
The house, owned by Courtney and Karen Lord, stands on the main road into town. The couple chose the location partly for its convenience ("We could foresee our children taking public transportation," says Courtney, a real-estate developer). But the site is so prominent that the Lords felt responsible for making sure their new house didn't detract from the majestic views.
One way to achieve that end, they realized, was to build it from eco-friendly rammed earth—soil mixed with concrete and then poured into wooden forms (see "What the Pros Know"). Because the main ingredient comes right out of the ground, the house was guaranteed to blend in with its site. In fact, architect Scott Lindenau, of Studio B in Aspen, designed a house whose 22-inch-thick rammed-earth wall facing the road has just a few small windows. By contrast, the opposite wall (facing the mountains) is almost entirely glass—which meant that Laslo's job, as he puts it, was to design "half of each room; the other half is the view."
As for the rammed-earth construction, Laslo was all for it, in part because he knew he'd be adding materials like the lime-green hide that covers a burl-veneer chaise in the living room. "It's the contrast that keeps things interesting," the designer says.
After Courtney Lord sold his real-estate business in Michigan, he and Karen were free to move to Aspen with Rachel and Max, their two children. Courtney threw himself into the building project, which was fine with Karen, who devotes her time to volunteer work. The couple agreed that it was important to hire a designer, in addition to an architect, to work with them to personalize their home. "Our concern," says Courtney, "is that sometimes when an architect also does interiors, they become predictable, with the same Mies van der Rohe chairs that every other architect uses. We wanted a modern house," he says, "but we wanted the furniture to be comfortable."
For Laslo, comfortable furniture is fine, as long as it's not slouchy. These days, he points out, sounding only slightly horrified, "when people watch TV, they want to spread out, lie down, put their feet up." A sectional sofa was the obvious choice; luckily, he says, "sectionals can be elegant." He covered this one, of his own design, in chenille with leather piping, dressing it up with pillows made with classic Jack Lenor Larsen prints from the 1960s. Instead of a coffee table (which people don't want to put their feet on, he notes), Laslo designed a leather ottoman that, thanks to its large wooden tray, can also serve as a table.
The kitchen, which is separated from the living/dining room by a partial wall made of wenge, features custom wenge cabinetry with Hafele pulls that echo the stainless-steel tiles used for a backsplash behind the Wolf range. To light the room, with its two counters (one for prep, one for informal meals), Laslo chose Imperial fixtures, by Doyle Crosby from Boyd, in polished copper.
"Bathrooms," pronounces designer Larry Laslo, "should be one of two things. Either very old-world, romantic and nostalgic or very clean and efficient. This one, obviously, is very efficient," he says. But it hardly lacks luxury. It is clad in two types of marble—travertine and suede-finish—as well as back-painted glass tiles. Fixtures are chrome (Citterio from Hansgrohe), but elsewhere in the house, he used copper, bronze and stainless steel. "Saying you can use only one metal is like saying you'll wear only one metal," says the veteran designer. "It's ludicrous."
Clearly, Laslo isn't wed to just a few materials. Most of the floors in the house are beech, although those in the hallway are poured concrete. And in the master bedroom, he went with wall-to-wall carpeting because it "is cozy to wake up to." The carpet complements dark-stained wenge walls and a pebbled-leather headboard. The bed and the night tables (his own designs) are cantilevered and lit from below, so "you won't stub your toes at night," he says.
For all the work that went into the house, Courtney's favorite spot may be outside, in an award-winning Japanese-inspired garden adjacent to the master bedroom and his office. From his perch on a rock, he can look back at the house. "It's interesting, but it doesn't scream, 'Look at me,'" he says with satisfaction.
What the Pros Know
To build the first-ever rammed-earth house in Aspen, a crew drove up from Arizona, where the method is in wider use. First the workers sifted soil to remove stones and other debris. Then they mixed the soil with concrete and water and poured the mixture into wooden formwork, adding about eight inches of the mixture at a time. (That's what gives the finished wall its painterly striations.) Next they used machines that vibrate the formwork so that air bubbles escaped and the mixture settled. Eventually, the forms (which, like most molds, are first coated in a waxy substance) were pulled away; the bit of wax remaining on the walls helps give them their unique lustrous patina. The rammed-earth walls not only block sound, but they serve as a "heat sink"—radiating warmth after the sun goes down and thus reducing power usage. All in all, a rammed-earth wall costs about as much as a conventional masonry wall, but the Lords got a material that, in Scott Lindenau's words, "evokes the site itself."
You may also like