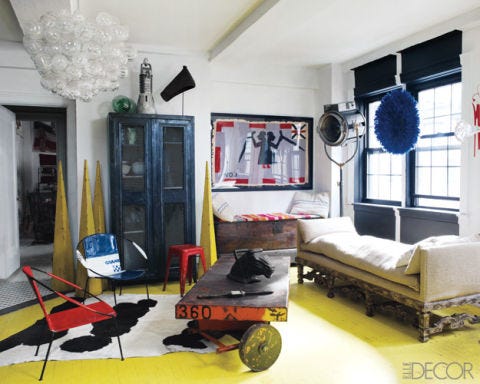 Eclectic combination of Manhattan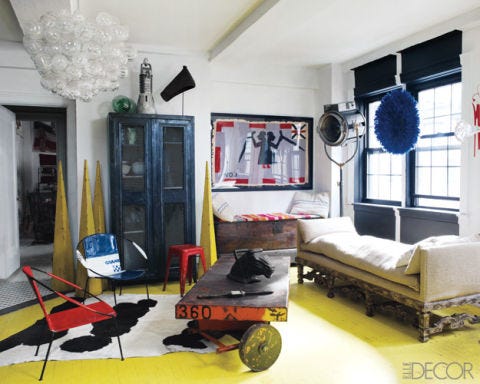 The living area of antiques dealer Liza Sherman's Manhattan apartment includes a light fixture of handblown glass bubbles, an Italian carved-wood daybed upholstered in burlap, and a Hollywood stage light from the 1950s; an industrial rail cart serves as a ­cocktail table, the chairs are made from African oil barrels, an African tribal flag from the '50s hangs in the niche, and a Cameroonian juju hat is mounted between the windows.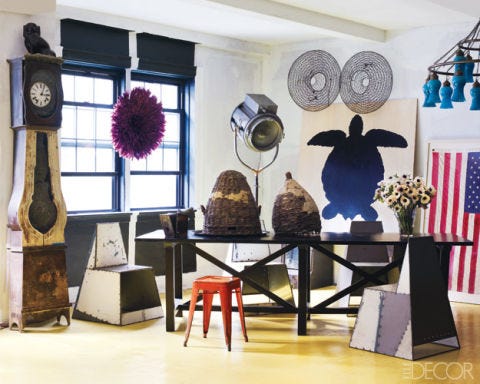 The living area of her apartment includes a turtle painting by an unknown artist, a reclaimed-wood dining table, chairs made from washing machines, and a 19th-century clock from Normandy; Portuguese wire eel traps hang on the wall, and the light fixture is Egyptian.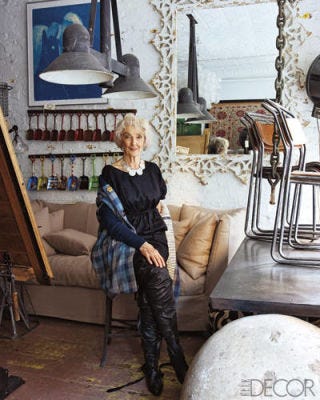 Liza Sherman in her New York antiques shop.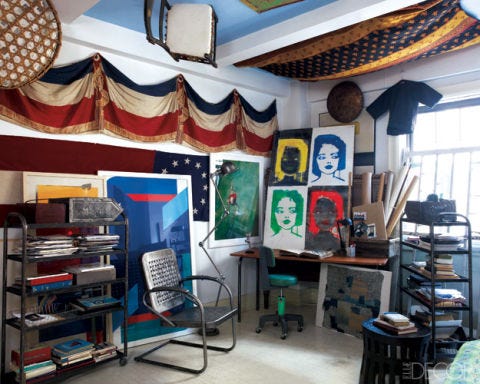 In the study, a French banner, an Anglo-Raj cotton quilt hanging from the ceiling, and a French floor lamp are all from the 1940s; the painting on the desk is by Linda Mason, and the metal spring chair is from the '50s.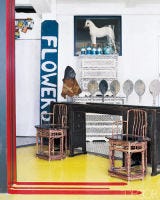 A flower-market sign, Indian bone-and-ebony-inlaid dressers, vintage metal balloon molds, and 18th-century Chinese bamboo chairs in the entry; the art installation is by Mint & Serf.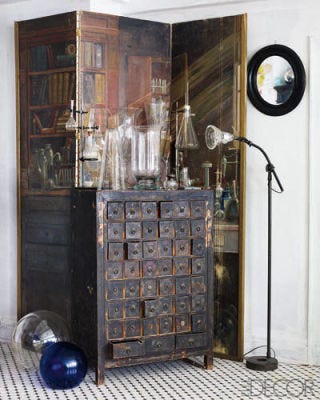 A painted screen and midcentury laboratory beakers in the entry; the French mirror and Chinese opium chest are from the 19th century.


In the master bedroom, a portrait of Sherman by Liam Ritt hangs above a fireplace mantel that serves as a headboard, an Anglo-Raj quilt dresses the bed, and the bone-and-ebony-inlaid dresser is from India. The crochet light fixture is Indonesian, the bench is covered in Tibetan lambs­wool, and the wall is decorated with framed 1920s bathing suits and a Jasper Johns poster.
You may also like