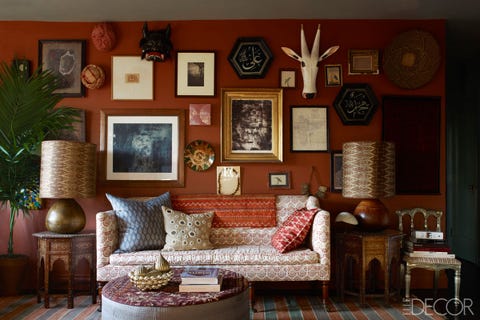 Domestic and international: John Robshaw's home in New York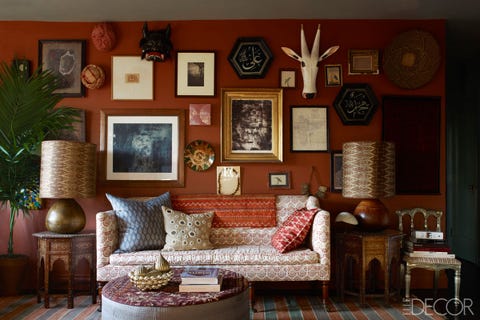 The textiles designer John Robshaw has a knack for finding unique and affordable spaces in which to live and work. In the mid-1990s, fresh out of art school, he set up his painting studio in the squash court of an abandoned Wall Street men's club. He then moved to Bangkok, where he rented a traditional Thai wood house. By 2001, he was back in Manhattan, residing in an East Village tenement walk-up, and designing hand-block-printed Indian bedding out of a 1920s office building in Chelsea.
Robshaw, who has matinée-idol looks and a low-key demeanor, travels to places like Vietnam, Bolivia, and Zimbabwe to collaborate with local artisans on fabrics that combine traditional techniques with fresh pattern and color. But he is also a sharp businessman. His indigo bedding, Afghan tribal pillows, and cotton ikats have become status symbols for the fashionable set—including the California decorator Michael S. Smith, who used Robshaw's bedding in Sasha's and Malia's bedrooms in the Obama White House.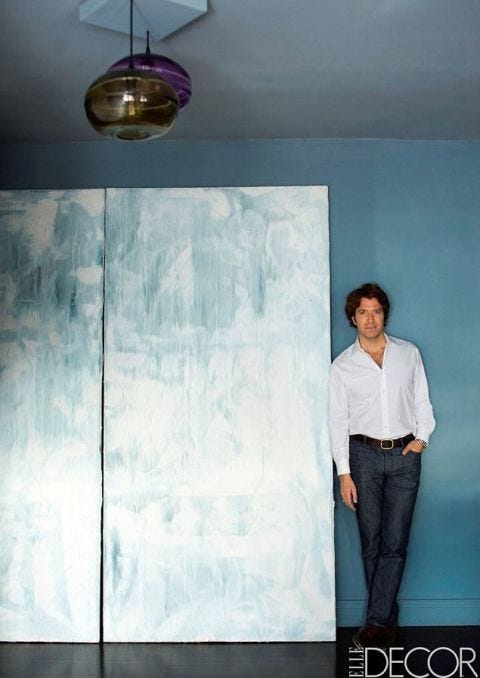 Robshaw contacted a real-estate broker who led him to a unique complex—the Amalgamated Dwellings, one of the oldest housing cooperatives in the country. Built in 1931, the six-story Art Deco apartment building, which occupies an entire city block, was originally sponsored by the Amalgamated Clothing Workers of America. Back in the 1930s, the union's garment workers were allowed to buy their apartments at a cost of $500 a room, while sharing such amenities as a library and gym.
Over the years, many of the original tenants have moved out, and the co-op apartment that Robshaw came to inspect was occupied by messy college students. Still, he says, "I could see it had great light and it was a corner unit." His first bid was rejected, but when the listing reappeared in The New York Times a few months later, he returned with the same offer. This time it was accepted.
Robshaw asked a friend, interior designer Thu Do, to help reconfigure the two-bedroom space with a new layout and improved lighting. The wall between the old galley kitchen and the living room was removed (though the plumbing pipes remained), and the dingy built-ins were replaced with a hand-carved sheesham-wood cabinet made by an artisan in India. "The apartment is very bachelor," Robshaw says. "I have a half-size refrigerator but no freezer. I can buy a bag of ice across the street."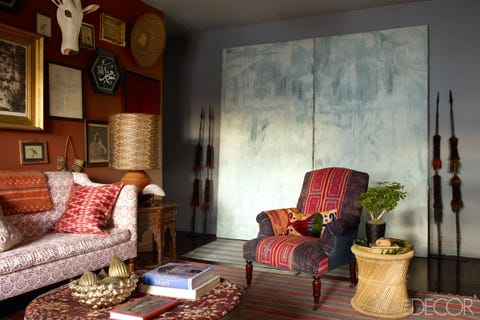 DESIGNER JOHN ROBSHAW'S NEW YORK HOME
An antique Indian chandelier hangs above a Syrian table in the dining room, and the bleach-on-denim painting and chairs are by Robshaw; the statue is from India, the bust is from Cambodia, and the walls are painted in Benjamin Moore's Bachelor Blue.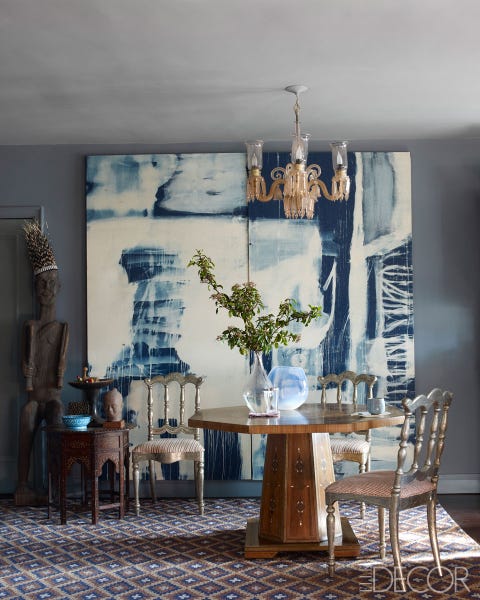 DESIGNER JOHN ROBSHAW'S NEW YORK HOME
Robshaw commissioned an artisan in India to make the kitchen's wood-and-marble cabinet, the light fixture is by Harry Allen, and the appliances are by GE; the printed-cloth artwork is by Robshaw, and the dhurrie is vintage.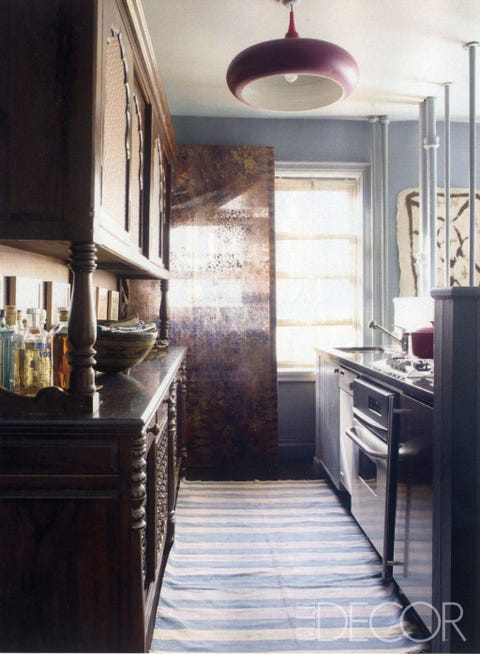 DESIGNER JOHN ROBSHAW'S NEW YORK HOME
The desk and chair in the study are by Richard Wrightman, the lamp is by Brunno Jahara, and the drum shade is by Broome Lampshades; the custom-made daybed is upholstered in a silk by Robshaw, the portrait and vintage rug are from India, and the window shades are of Cambodian silk.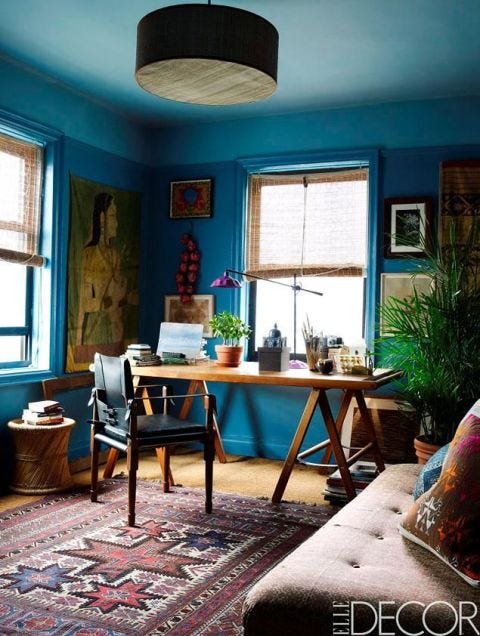 DESIGNER JOHN ROBSHAW'S NEW YORK HOME
The master bedroom's vintage cloth, painting, bed, and bedding are from John Robshaw Textiles, the lamps are by Christopher Spitzmiller, and the walls and ceiling are painted in Benjamin Moore's Kensington Blue and New Hope Gray.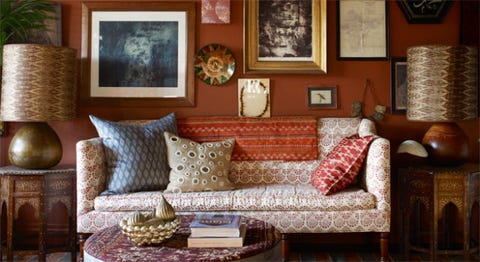 When he moved into the space, Robshaw had recently returned from Syria, where he was inspired by the decor of teahouses. He tried to re-create the look in his living room, installing banquettes rather than freestanding furniture. "It looked cool, but it was uncomfortable," he admits. Later, he asked another friend, decorator Sara Bengur, to make the space more livable. She replaced the banquettes with plush, upholstered pieces, which she covered in Robshaw's fabrics and vintage textiles.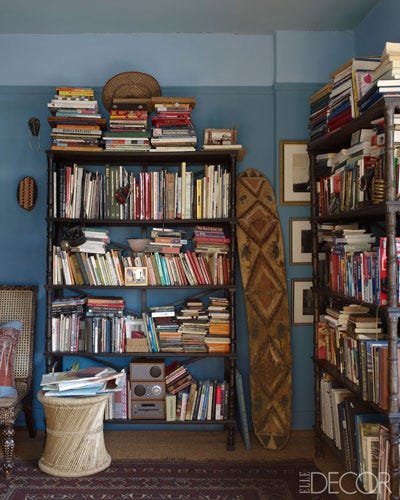 Robshaw had painted his home in varying shades of his favorite color, blue. Bengur retained the scheme but added a warming touch in the form of a terra-cotta wall in the living room. The bold shade also succeeded in uniting the diverse art and artifacts that Robshaw has collected over the years—from his own etchings to a cow sculpture purchased in a market in India. "John and I share a love of exotic cultures and of layering color, pattern, and texture," says Bengur, who grew up in Turkey. "We think this kind of decorating can be just as relaxing as a monochromatic interior."
Highly sociable, Robshaw counts many designers and artists among his friends and makes a point of incorporating their work into his home. The red pendant light in the kitchen is by Harry Allen, who was Robshaw's college roommate at the Pratt Institute in Brooklyn. Furniture designer Richard Wrightman created the campaign desk and chair in the corner study, while the ceramic bedside lamps (whose mottled, watercolor glaze was a color sample) are by Christopher Spitzmiller, a childhood friend from Robshaw's hometown of Buffalo, New York.
Since settling in, Robshaw has noticed a few signs of change—young professionals are moving into the Amalgamated Dwellings, while a gourmet cheese store recently opened nearby. Mind you, the view from his window—where a bathhouse in a 1904 Beaux Arts building shares the sidewalk with the A-1 Pizza shop—hasn't changed much at all. "There is always a Dominican picnic going on nearby, and Orthodox Jews heading to synagogue on Saturdays—all these different cultures interacting and doing their thing," Robshaw says. "It feels like a real New York neighborhood to me."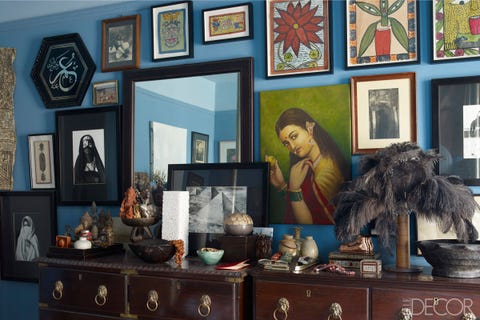 You may also like