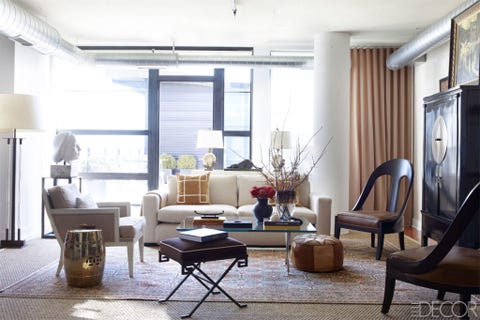 Diplomatic experience: Nestor Santa Cruz's Washington, DC apartment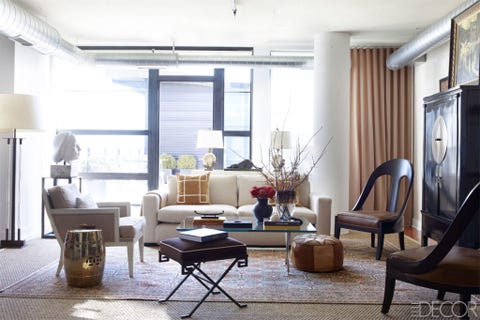 For most people, relocating from a 19th-century London mews house on a cobblestone cul-de-sac to a high-rise apartment in Washington, D.C., would require a leap of faith—not to mention a discerning interior designer to ease the transition.
When David Baumunk, an American business consultant who had lived abroad for almost three decades, looked around the loftlike condominium he bought in 2009 in the capital's historic-turned-hip U Street Corridor, he felt overwhelmed. The long, expansive spaces, 10-foot-high ceilings, exposed ductwork, and floor-to-ceiling windows were nothing like the small, cozy rooms in the two-story house near Hyde Park where he had lived for the previous 12 years. "I had this huge space that didn't lend itself to the way everything was arranged in my little mews house," Baumunk says. "I just didn't know where to put anything."
The living area of David Baumunk's Washington, D.C., apartment, which was designed by Nestor Santa-Cruz; the sofa is custom-made, and the bergère and stool are in the style of Jean-Michel Frank. The reproduction Khotan rug is layered on a custom-made sisal byJ Brooks Designer Floors.
You may also like