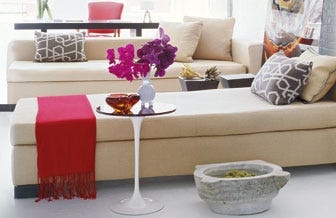 [Decor] Latin style Manhattan loft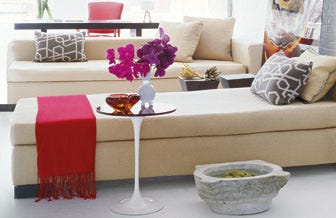 Even when cool winds whip down Manhattan's concrete canyons, a warm tropical breeze seems to waft through Juan Carlos Arcila-Duque's pied-à-terre in Tribeca. A South America–born decorator with offices and a home base in Miami, Arcila-Duque spends a few months each year up north, meeting with clients and soaking up New York City's energy. "There's a tremendous amount of visual information I assimilate every day just by walking around here," he says. "It keeps my work fresh."
His 1,250-square-foot loft in a 1920s building that was once a cheese warehouse is an intriguing mix of spare urban sophistication and Latin touches. It's a showcase for treasures he has collected on his travels as well as a comfortable place to invite friends for homemade seviche and his special mojitos. "I wanted it to be modern but warm—not like a rehab center," he says. "I didn't want anything formal, just somewhere that makes you instantly relax.
"Being brought up in Colombia in an environment of great style shaped me," continues Arcila-Duque, who spends winters there, splitting his time between a sleek apartment in Bogotá and a new house in Cartagena. His taste was deeply influenced by his father, a furnituremaker turned casino-industry entrepreneur. "His life was a very glamorous combination of design and business," the decorator says. "The image of him in his fabulous Panama hats still stays with me."
But although he's the author of the book Latin Style (Thomas Nelson, 2008), Arcila-Duque's eclectic Manhattan home defies expectations. "I let the space and the city speak to me," he says. When he bought the place a couple of years ago, the first thing he did was paint the exposed-brick walls white and epoxy the floors in an equally pale tone. "I decided if I was going to live in an old New York City loft, I wouldn't use a classic Latin palette," he says. "I would make it a vanilla box."
Not only did that lighten the interior, it instantly created a canvas for hallmarks of Arcila-Duque's personal aesthetic: clean-lined furniture in rich natural materials, dramatic photographs, and whimsical objects that reference his heritage. Nowhere is this look more on display than in the living area. Here, a striking image of the inside of a shell by Miami photographer Iran Issa-Khan leans against the wall between a pair of crisp linen-covered daybeds lit by a tripod floor lamp. Bookshelves hold his collection of pre-Columbian artifacts, and the floors are bare except for a small round rug crafted by an indigenous South American tribe. Vivid hues do show up here and there, such as on a cherry-red leather bank chair by the windows.
The decorator also decided to preserve some of the apartment's architectural quirks, including mechanical fittings from the former warehouse's industrial doors, which add depth and detail to the walls, and a shallow arched alcove now holding a life-size photographic nude that recalls Michelangelo's David.
Since Arcila-Duque works from home, one of his priorities was creating a space as functional as it is inspiring. "I'm a pajamas kind of a person," he says. "I like to wander around with my café con leche, coming up with ideas as I look at my things." Among his prized possessions are a ceremonial African Zulu hat woven of human hair, displayed atop a bronze pedestal, and an arrangement of new and vintage Panamas—a tribute to his father—resting on a George Nelson bench. Hanging above his desk is another favorite: a photograph by Horst P. Horst (the decorator curated a 2008 retrospective of the artist's work at the Forbes Galleries in Manhattan), one of many in his collection.
At night, Arcila-Duque frequently has friends—sometimes up to 50—over for a buffet supper. Eschewing hired help ("it's so impersonal with waiters"), he enlists pals to assist in setting up a feast arrayed on his white-lacquer-top Parsons-style dining table surrounded by bucket seats from CB2 and bent-plywood chairs by Norman Cherner. The gatherings often go late into the evening, with music ranging from Amy Winehouse and Black Eyed Peas to bossa nova. Guests lounge nearby on two large settees custom made in rusted steel and decked out with comfy cushions. "They burrow in there and don't come out the whole night," he says. "Sometimes I think I'll find them like that the morning after, asleep and smiling."
And this is the real definition of Latin style—"a casual enjoyment of life," Arcila-Duque explains. "I don't follow any rules. As a Colombian, I work with instinct, and what is key is a consciousness of what will make a home more welcoming."
You may also like