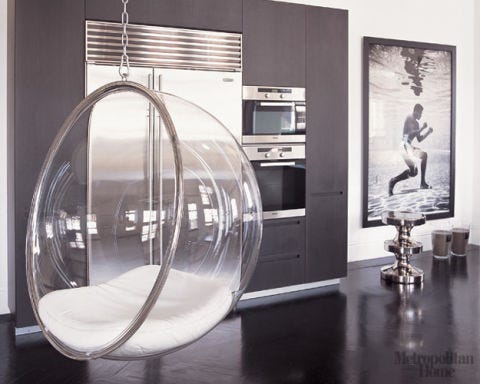 [Decor] KELLY HOPPEN at home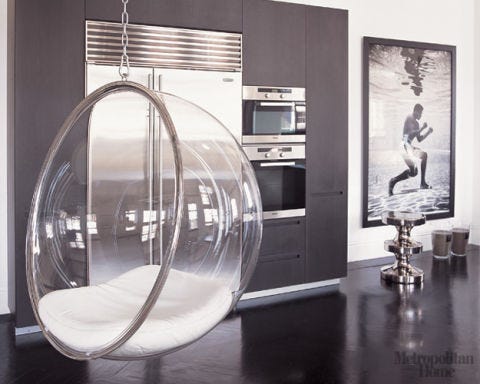 The iconic Bubble chair was originally designed by Eero Aarnio in 1968. A rare oversize Flip Schulke photograph of Mohammed Ali is from the Michael Hoppen Gallery.


Playing with symmetry, the slim-line, linear, cantilevered washbasin from London's Alternative Plans is juxtaposed with a wenge-wood shelf for everyday toiletries, while other necessities are concealed behind the custom cabinet by Paul Glover to Hoppen's design.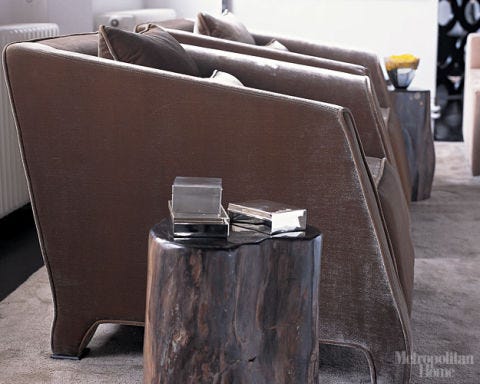 Hoppen is known for her use of organic materials. The petrified wood tree trunk side table, designed by Frank Lefebvre, complements the earthier aspects of the renovation. The '30s-inspired Martini chairs in the main living area are from Promemoria.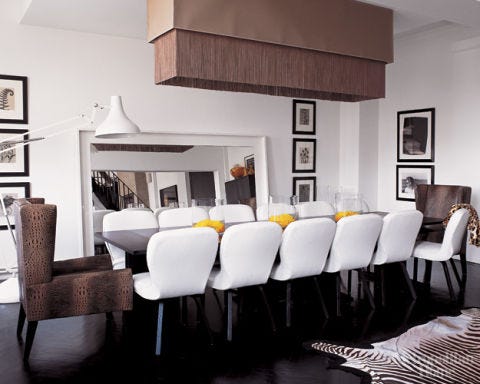 In the main dining room, the tropical flor morado-wood table seats 14—luxuriously. The table is from Hoppen's Century line, as are deco-inspired white leather dining chairs and the classic English wing chairs. Lighting includes Mat & Jewski's custom-size fringed pendant fixture and an oversize Anglepoise lamp, a witty take on a desk lamp that is a perfect scale match for the India Mahdavi mirror.


The living and dining area is divided by a graceful sisal-covered staircase. Hoppen had the original oak floor stained and lacquered for high sheen. She reupholstered a 1920s wing chair to add a flash of canary to the restrained light-and-dark neutral palette; the small side table is a vintage piece from the considerable collection Hoppen has assembled over the years.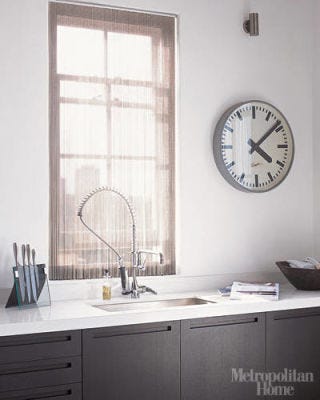 Kitchen window treatments are chain mail over cotton blinds.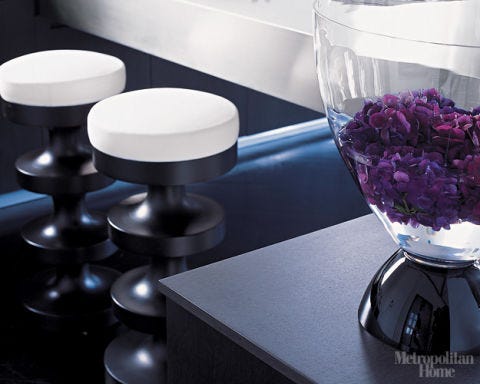 In the kitchen area, India Mahdavi's Bishop stools of dark iroko wood (African teak) pull up to the counter of the all-Boffi kitchen. The overscale vase is from John Carter Flowers.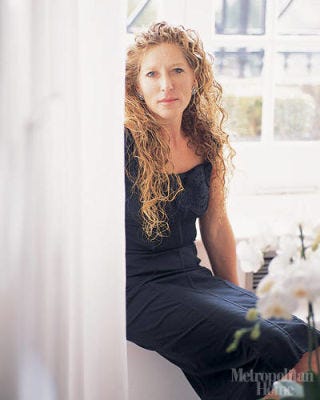 Designer Kelly Hoppen at rest.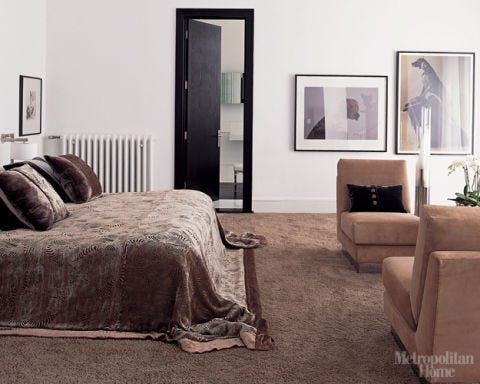 William Wegman prints, which Hoppen picked up in a New York City gallery, add to the muted tones of the relaxing master bedroom.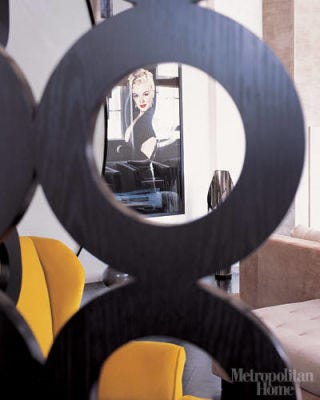 A huge Marilyn fan, Kelly Hoppen chose a limited-edition Gene Korman photo from brother Michael Hoppen's South Kensington gallery; the Monroe image is seen here through the rings of a screen that Hoppen designed as part of her line for Century.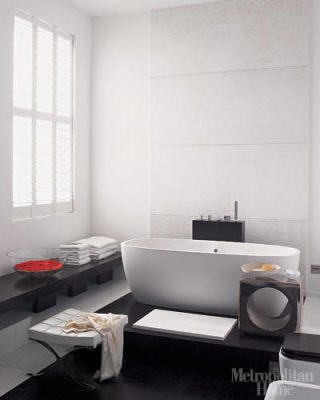 A bathtub designed by Andrée Putman is a white-on-white sculpture against a subtly gridded marble wall. An underlit cantilevered seating shelf creates the feeling of a Turkish steam bath. Stools are by Mies van der Rohe and India Madhavi.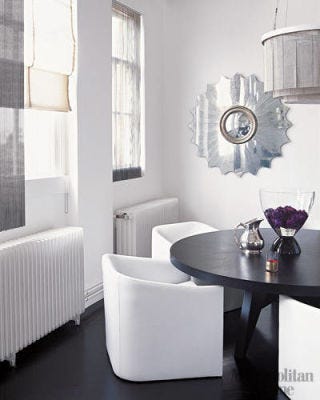 In the eat-in kitchen, white leather Plaza armchairs and a circular wenge-finish table from Modenature create a casual dining corner (the mirror is from Artemis, the pendant lamp shade by Ochre).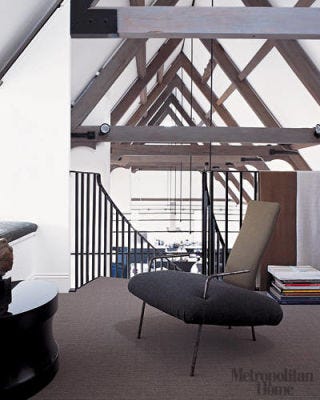 Natural sisal flooring adds texture to the gallery above the main living space. Welcome to Hoppen's chill-out room. A vintage chair of unknown provenance blends with the glossy black Christian Liaigre table.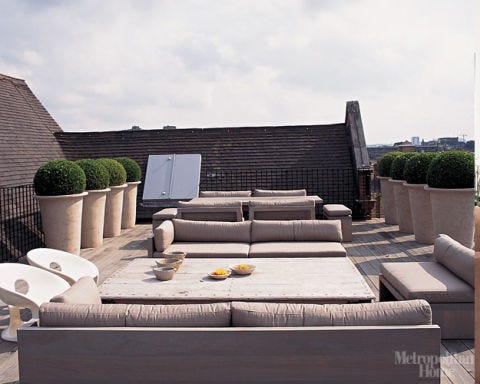 The 60-foot-long northwest-facing roof terrace is a new addition to the building, which dates from 1860. "I sometimes forget that I have it," says Hoppen, "because I've never had an outdoor space. You feel like Sex and the City up there, it's that extraordinary." Air-dried oak decking and Matthew Collins's gray-stained iroko furniture create a sun-bleached, Hamptons feel.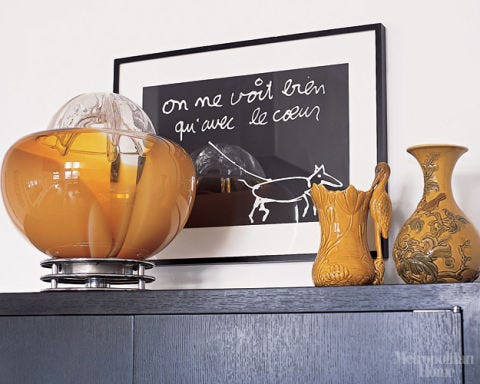 Hoppen is a master of sophisticated display. Here, an antique table light and a collection of Eastern-style vases bring color to the dining room beneath an anonymous piece of art that declares, "On ne voit bien qu'avec le coeur" ("One does not see that well with the heart").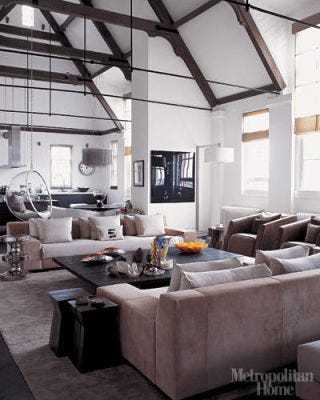 Hoppen anchored the living room's main seating area under the soaring ceiling gables with suede-covered Christian Liaigre sofas and a coffee table of her own design.
You may also like