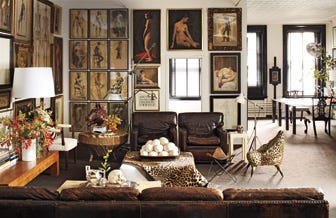 [Decor] GOOD BONES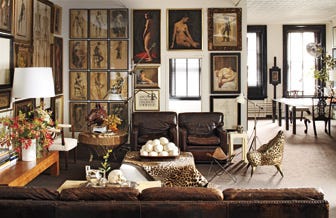 Skin and bones. For William Frawley, that's what it's been all about since he was a toddler. "According to my mother, I was drawing anatomically correct figures when I was three," the bespectacled fashion designer says with a laugh. "I once cut up a pair of her pale pink–kidskin opera gloves to make outfits for my sisters' dolls. Then I went at the fake-fur lining of one of her coats to make each one a stole."
Such precociousness with pencil and pattern led to a degree from New York's Parsons School for Design, followed by seven successful years with fashion designer Perry Ellis, who anointed Frawley "the next Roger Vivier" and promptly dispatched him to Italy to learn how to make shoes. "That was the great thing about Mr. Ellis," says Frawley. "He insisted that we know how to make whatever we designed."
That his boss had given him jurisdiction over the human foot, which makes up one-quarter of the bones in the body, could not have been more prescient. Today, Frawley is a sought-after fashion consultant and strategist whose chic shoe designs have won him a roster of clients that ranges from Oscar de la Renta and Isaac Mizrahi to Nine West and Liz Claiborne. For the past decade, he has been working out of a 1,700-square-foot studio in Manhattan's SoHo neighborhood that he also calls home.
To step through the door of the fourth-floor walk-up in a former chocolate factory is to be instantly implicated in Frawley's consuming passions. Visitors are greeted by a wall of shelves holding roughly 3,400 pairs of women's flats, pumps, wedges, and kitten heels, not to mention stacks of vintage handbags, all collected for creative inspiration. "I'll buy a pair because the stitching is beautiful, or the hardware is exquisite, or the shape is spectacular," he says, as if to defend the habit. "I have to watch my female friends like a hawk! When I have them over for cocktail parties, they go straight to trying on the shoes. I check their bags before they leave the apartment."
Just beyond the wall of shoes is another jaw-dropping collection. On virtually every square inch of available wall space, from the baseboards to the original tin ceiling, Frawley has hung nude studies and sketches, as well as anatomical charts and animal portraits he has amassed over three decades. "I'm drawn to works produced between 1898 and 1907 because the quality is generally very good, but I don't give a whit about provenance," he says. That he prizes the human physique, however, is evident in his work. "One of the most valuable lessons I learned in fashion is to start with the form," he muses. "Most people go straight for the material, but the shape is so much more important."
Like a 17th-century cabinet of curiosities, every surface in the open-plan space is an homage to horn, tortoiseshell, ivory, bone, or animal skins, all illuminated by photography-studio lamps—sometimes deployed in pairs—that recall the articulated arms and legs of a human. It's all very Teddy Roosevelt, though Frawley bagged most of his trophies at New York City's 26th Street flea market, which he religiously trolled every weekend for years, and supplemented them with finds from antiques shows and markets. When his favorite haunts fail to turn up something he likes or if a piece is too pricey, Frawley takes matters into his own hands, an impulse left over from his days at Perry Ellis. "I saw a version of the zebra mirror in my kitchen in a shop but it was so expensive I made one myself," says the inveterate DIYer, who refuses to pay retail for anything except clothing. Such a can-do attitude risks landing a guy with a blinding devotion to cheetah, zebra, and leopard prints into tacky territory, but the designer in Frawley seems to know just where to draw the line. "I really want to cover the living room table in zebra skin, but I'm afraid the room will look like a circus act. I'm a little too close to the edge as it is," he says, smiling.
Indeed, there have been periods of doubt. He once lived with bare walls for a year. "I loved it and hated it," he says. "White walls are more restful, but I missed looking at all of my art." Frawley likens the current frame-to-frame wall scheme to wallpaper. "I'm kind of itching to go spare and contemporary again," he says as he eyes a stack of prints awaiting frames. "But I'm chicken."
You may also like