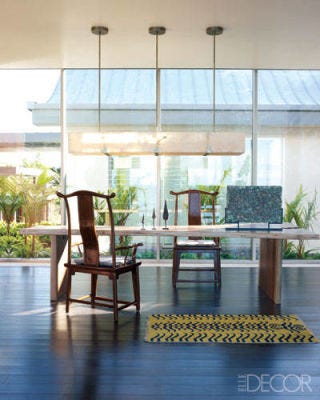 [Decor] Fantasy house on a tropical island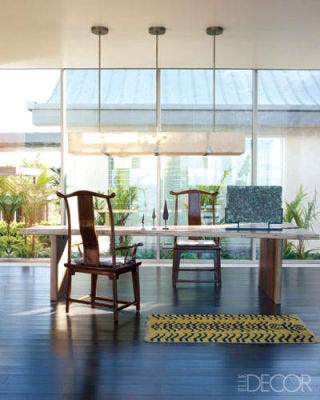 An alabaster light fixture is installed above a walnut table designed by David's nephew Anthony Bennett in the great hall; the chairs are 19th-century Chinese, and the antique rug is from Tibet.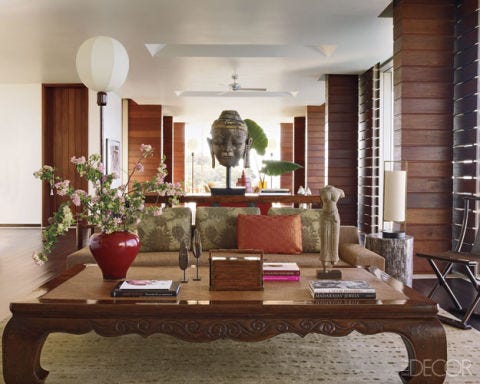 The great hall features a sofa by Christian Liaigre for Holly Hunt, a Chinese floor lamp from Charles Jacobsen, an antique Buddha fragment, and a petrified-wood side table by Hudson Furniture; a vintage Chinese kang bed serves as a cocktail table, and the walls are clad in indigenous vesi wood.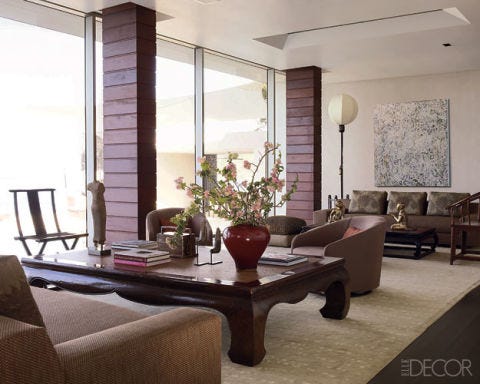 The armchairs are by Minotti from DDC, and the Tibetan rug is by Michaelian & Kohlberg.


A collection of 19th-century Fijian war clubs hangs next to vesi-wood shelving in the library; the sectional is by Minotti from DDC, the cocktail table is an antique Chinese kang bed, and the rug is by Beauvais Carpets.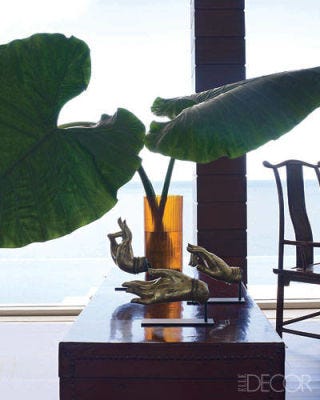 Tibetan Buddha hands are displayed in the great hall.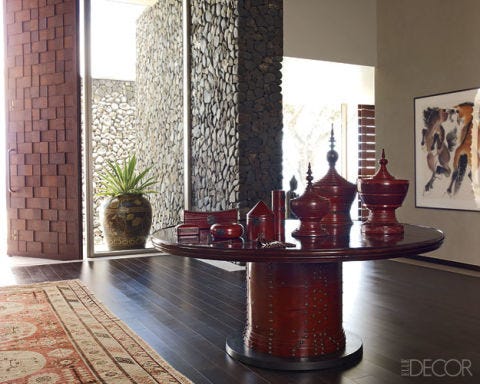 The foyer features a collection of Burmese lacquered vessels; the walls are sheathed in local stone, and the bamboo flooring is by Teragren.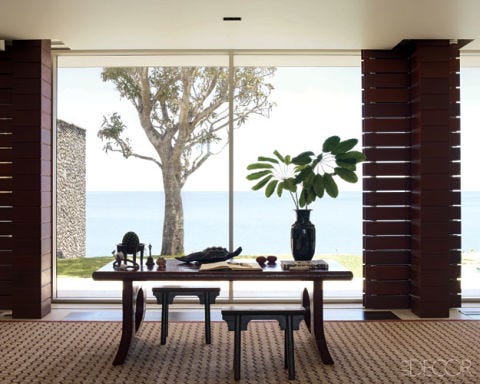 The Chinese table and stools in the library are antique, and the rug is by Michaelian & Kohlberg.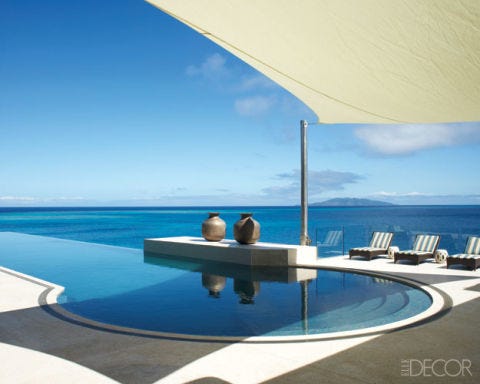 The infinity-edge lap pool is tiled with mosaics by Bisazza, the chaise longues are by Dedon from Janus et Cie, and the carved-marble garden stools are antique.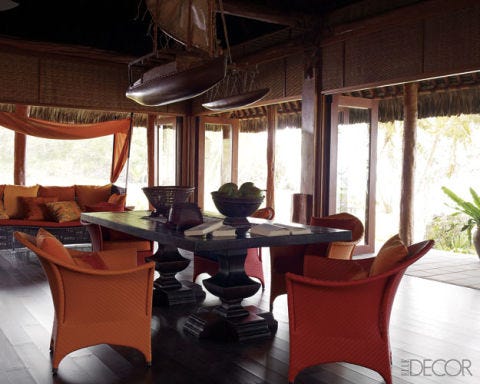 A mahogany dining table and Dedon armchairs from Janus et Cie in the beach pavilion; the boat model overhead was made by an island artisan.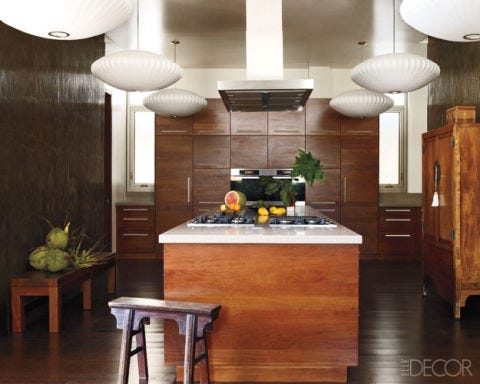 The cooktops and hood are by Miele, the light fixtures are by George Nelson, and the island of vesi wood is topped with DuPont Corian.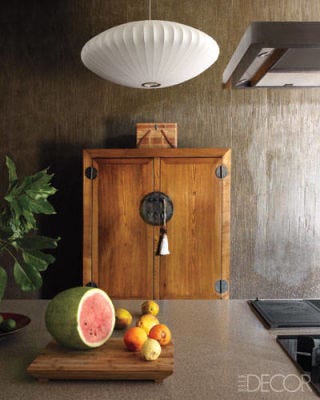 The kitchen's Korean cabinet is antique.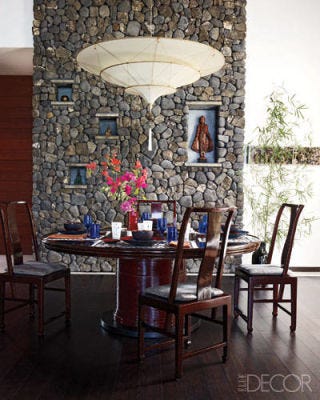 The dining area features a table with a fruit-barrel base, Chinese-elm chairs, a Fortuny light fixture, and a wall of local stone.


The walls of David's bathroom are sheathed in Bisazza mosaics, and the Inle tub features Kohler fittings.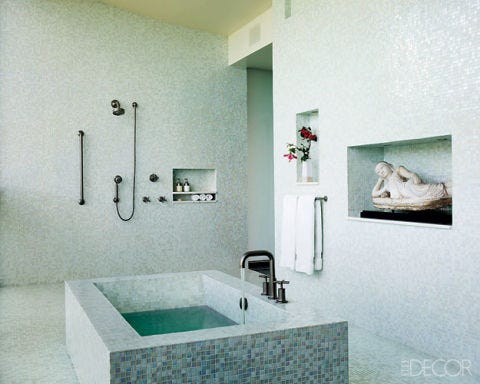 In Jill's bathroom, a niche displays an antique alabaster Buddha, the walls and tub are tiled with Bisazza mosaics, and the fittings are by Kohler.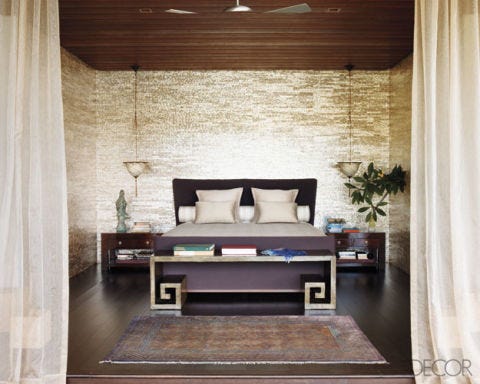 Maya Romanoff's mother-of-pearl wall covering creates a shimmering background in the master bedroom; the bed is by Ted Boerner, the scroll table is 19th century, and the curtains are of a translucent fabric by Pollack.


A chaise longue from DDC and an antique marble stool in the bedroom.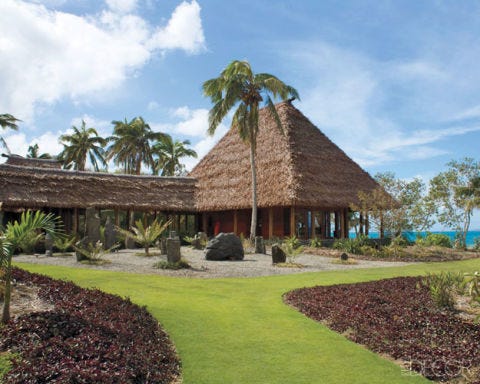 The beach pavilion.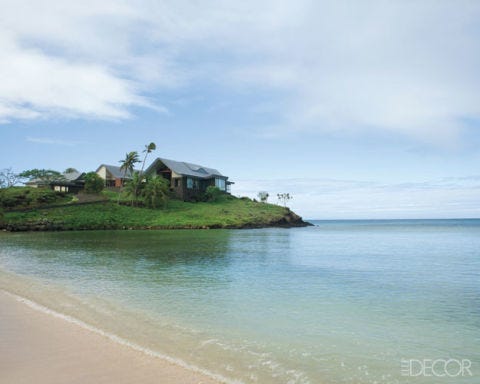 The house, inspired by classic Chinese forms and African tribal structures, overlooks the Koro Sea.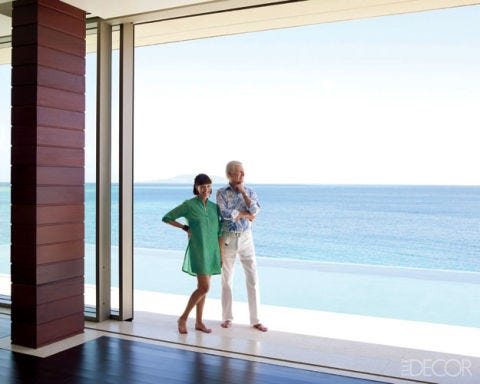 Jill and David Gilmour at Sega na Leqa, their home on a private island in Fiji; Jill Gilmour collaborated on the interior design with Kiki Dennis, and the architecture is by Tony Chi.
You may also like