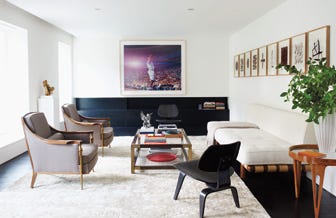 [Decor] Family-friendly minimalism in London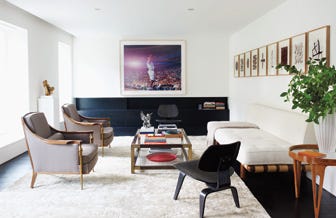 Richard Found is having a bad day. The London-based architect and his wife, Jane Suitor, have just returned home from Art Basel Miami Beach, the international art fair, and haven't finished unpacking. The place is, according to Found, who is busily putting objects back into cupboards, "a mess." As his laid-back wife well knows, things are not normally like this: Found is a neat freak. "I have to tidy the whole house before I can sit down," he explains. "In order to think clearly, I have to know the kitchen's clean."
The four-story home they share with their two children—Olivia, eight, and Oscar, three—is tucked into a mews in central London. Originally a pair of terraced houses built in the 1960s, it had been converted into a single property by previous owners. Found decided to gut it. He altered the ceiling heights, reconfigured the staircase, connected the ground floor to the back garden with sliding windows that span 26 feet, and topped the stairwell with a skylight because, as he explains, "I am obsessed with natural daylight."
He was also determined to create something radical and unexpected. From the outside, the house couldn't look more traditional. There are Georgian-style windows and a vine-covered brick façade. Step inside, however, and minimalism rules. The double-height entrance hall, illuminated with bright fluorescent lights, serves as a gallery for the couple's array of art, which is strong on contemporary paintings. The kitchen-cum-dining area is just as pared down—the only freestanding elements are a John Pawson cherry table, a set of Hans Wegner Wishbone chairs, and little Oscar's high chair. Found says, "People come by and ask us, 'Have you really got children?'"
Since becoming a father, Found claims to be growing tolerant of mess. "It's a greater challenge," he says, "when there are more people involved." Plus, he points out that the children are pretty much given free rein in the third-floor playroom. There, the walls are covered with their drawings, family photographs, and Olivia's music and ballet certificates. It is also home to a pair of new inhabitants—guinea pigs Chocolate and Vanilla. The kids are also allowed to play in the kitchen, but only with smaller toys that can be easily stored away. "They have to fit onto a shelf, which is 16 inches deep and 24 inches wide," says Found with an architect's precision.
If life in the Found-Suitor household sounds draconian, rest assured: Soft and inviting touches abound. The black granite flooring at ground level gives way to wood and plush carpeting above. The first-floor living room features stellar examples of 20th-century design, including a Robsjohn-Gibbings sofa, a pair of André Arbus armchairs, and '50s Italian wingback chairs upholstered in a botanical print, all of which came from the London antiques dealer Gordon Watson. As Suitor recalls, "He literally sent over a lot of stuff, and that was it."
Throughout, Suitor gave her husband carte blanche: "Richard's an expert in his field, and I trust him in terms of his design." Since establishing his private practice in 1997, Found has worked with such boldface names as model Claudia Schiffer (on her homes in both London and the English countryside) and has created commercial spaces for the accessories designer Anya Hindmarch and for the Hotel art gallery near Whitechapel. While his architecture bears the hallmarks of minimalism, that doesn't exclude the occasional quirky gesture. He once installed a bright-red ambulance as a conference room in the offices of a PR firm.
Before meeting Found, Suitor says she never gave much thought to her own interior style. She grew up in the London suburbs "amid Laura Ashley and Jane Churchill" and developed an interest in art as a teenager. Her own strong eye is prevalent throughout the house, which is filled with an eclectic mix of artwork that adds bold touches to the clean-lined surroundings. Her favorite, she says, is a silk-screen print in the master bedroom by Turner Prize–winner Jeremy Deller titled The History of the World (1998). The artist happened to take photographs at Suitor's 21st birthday party. "Who would have foreseen that he would become this great social commentator?" she wonders. She also gives special mention to a pair of paintings near the dining area by the New York–based artist Glenn Ligon: "They always bring a smile to my face."
Suitor deals with her husband's tidiness with humor and a shrug. She grins when she recalls cleaning up Play-Doh in their former house and managing to turn a white sink pink, and admits to impishly leaving cereal bowls scattered around the house. "Richard e-mails me photographs of them," she says with a laugh. Olivia has also found a way to make her own mark. She placed floral cushions on the window ledges in her room and requested that her bunk bed be hand-painted in bright colors. "It was much to my horror," Found says. "Still, I can always close the door."
You may also like