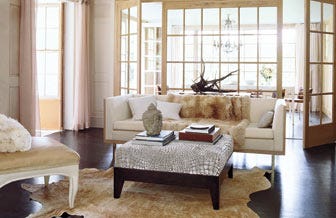 [Decor] Country house goes modern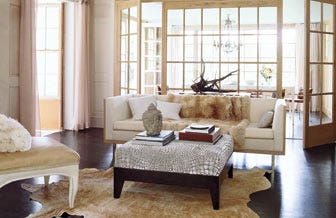 In the Washington, Connecticut, home where Linda Zelenko and Stephen Piscuskas live with their two daughters, the walls are paneled in ivory leather. "I hate to be in a room where if you're wearing a red blouse you feel that you clash," Zelenko says. "My grandmother, who was a costume designer in Hollywood in the 1940s, had a great influence on my sense of style. When I was in college, I visited her in my 1966 Dodge Dart, which had a black exterior and a beige interior. When my grandmother saw it, she said, 'Oh good, I can wear anything in this car!'"
Zelenko has roots in the glamorous world of midcentury modernism. Her parents, Marion and Harry Zelenko, were graphic designers who had an office in Mies van der Rohe's iconic Seagram Building. Their friends included Tavern on the Green owner Warner LeRoy, and Rudi Gernreich, who popularized unisex fashion and created a scandal with the topless bathing suit. Charles Addams, the New Yorker cartoonist, read bedtime stories to her. "I absorbed a lot growing up," she says. Piscuskas, too, has a lifelong creative streak. He has been interested in interior design since childhood, he says. "When I went to prep school, I used to redecorate my room every six weeks."
The couple began dating while she was studying industrial design at the Rhode Island School of Design and he was a fine-arts student at Brown University. They eventually landed in New York, where Piscuskas opened York Street Studio, a high-end custom furniture shop in Brooklyn's Dumbo neighborhood, and Zelenko designed sneakers for Adidas and Reebok. They married in 1991.
After the birth of their first daughter, Ana, they began to feel cramped in their apartment on Manhattan's Upper East Side. One day when Zelenko was leaving for a business trip, the driver who brought her to the airport told her about a spacious 1950s Cape Cod in the Litchfield County town of Washington (he was living in the guesthouse). When Zelenko and Piscuskas saw the house, they knew immediately they wanted to own it. In 1996, they relocated their family to rural northwestern Connecticut, taking York Street Studio with them.
They've been renovating the place ever since. Piscuskas did most of the work himself. "I never use the word gut," he says, "but the only thing left from the original structure is the fireplace." The couple expanded the building in nearly every direction, attaching a windowed mudroom to the front and remodeling a glassed-in side breezeway. "Stephen built every window himself," Zelenko says. Throughout the ground floor, French doors and banks of windows frame the woods and gardens outside. A full interior glass wall with doors divides the living and dining rooms.
Piscuskas installed a zinc-top island and concrete counters in the kitchen, constructing 14-foot-long windows over the twin sinks and a skylight above them. "You can look out at the huge hickory tree and see it above you too," he says. He spent several years felling trees and clearing land to build a swimming pool, an organic vegetable garden, and a putting green with real grass. "The whole reason we left the city was to experience the outdoors as much as possible," he says.
The house is almost exclusively furnished with pieces from York Street Studio, now located a few miles away. Zelenko became a full-time business partner in 2000, and in addition to furniture and lamps, the company now designs and manufactures leather-covered tiles as well as cabinetry hardware in leather, pewter, and brass.
York Street's sleek contemporary aesthetic and luxurious materials are happily compatible with the New England farmhouse vernacular of the family's home. The leather walls "provide a sense of architecture and tradition while also feeling modern," Piscuskas says. Fur throws and bolsters on the sofas are by York Street, as is a cowhide rug named Bessy and a crocodile-patterned velvet ottoman. A set of chrome-and-calfskin chairs originally designed by Zelenko's parents in the '60s for their offices surrounds the dining room table; York Street now makes reproductions.
The house is a chronicle of Piscuskas and Zelenko's creative relationship. The black-and-white marquetry cabinet in the living room was a present Piscuskas made for Zelenko before they married. "That was the beginning of our professional collaboration," she recalls. "Stephen couldn't find the hardware for the doors, so I designed pewter knots." Piscuskas made the gold-leaf-and-maple cocktail table in the sunroom in 1988. He also designed and built a pair of white-oak living room sofas, which Zelenko then upholstered in hardy, inexpensive muslin so Ana, now 17, and Sacha, 13, would have an inviting spot for reading.
"The house doesn't make a big statement," Zelenko says. "It doesn't dictate how we live. It lets us be."
You may also like