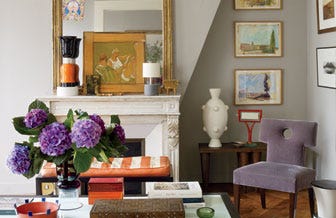 [Decor] Colorful Paris apartments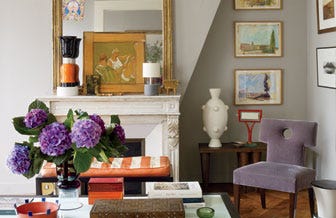 "I viewed the main core of this apartment like a Rubik's Cube," Olivier Gagnère says. "I kept turning it around in my head." Dressed in a navy-and-white-stripe shirt and jeans, the product/interior designer is standing in the archway between the two salons of his Parisian bachelor pad in a late-18th-century building. He is surrounded by exquisite ornaments that cover most surfaces, sofas draped in exotic textiles, a mismatched array of tables, chairs, and stools, and an abundance of artworks on the walls. "For a long time, I refused to do anything," he admits. "I was determined to find the right way to keep it eclectic and make it feel a little collage-like by having tiny discoveries in each corner."
Both rooms are high ceilinged, flooded with sunlight, and, despite looking out onto the busy Rue de l'Université, seem to define calm. "It's peaceful here, even when people honk their car horns," says ­Gagn­ère, who has designed porcelain for Bernardaud and crystal for Saint-Louis, and has crafted glass vessels on the island of Murano and ceramics in Vallauris.
Though he's internationally known, Gagnère is largely self-taught. True, his father was an antiques dealer who specialized in the 18th century, particularly bronze pieces. "My childhood gave me a culture and curiosity about furniture and objets d'art," he says. Nevertheless, training at the École des Beaux-Arts was never an option; Gagnère's parents insisted he study economics and mathematics—"subjects that really help me now," he says with a wry laugh.
At 28, he finally rebelled and began to create metal objects and scenery for movies. The former caught the attention of Ettore Sottsass, the renowned Italian designer and a founder of the Memphis movement, whom he now describes as a mentor. "Ettore could be cruel," Gagnère says. "But he pushed me to go to Murano and introduced me to their glassmaking techniques."
Glass remains one of Gagnère's favorite materials—"It's both line and color, and after 600 degrees Celsius, it becomes something"—yet his best-known creation is most likely a pistachio-and-white-stripe porcelain cup and saucer for Bernardaud. At first, the set was considered "too big for coffee and too small for tea," he recalls, but thanks to the American market, it was a hit and has been in production since 1992. Two years later, Gagnère's reputation was cemented with the opening of Café Marly, which he designed, at the Louvre. "The difficulty of a place like that is that it needs to last," he says, and, despite its eye-opening drama, it has.
Although his apartment is in the heart of the 7th arrondissement, one of the Left Bank's more sought-after areas, Gagnère was wary when he first contemplated moving there from the Île St.-Louis five years ago. "This neighborhood was where I spent my childhood, and I was keen to avoid it," he admits. "My father was an antiquaire on the Rue de Beaune when there was no one else." It was quite different then, and Gagnère vividly remembers the café charbon where people went to buy coal. "God, the dust of the coal," he says. "Who would have guessed then that all these antiques shops would be here now?" There are other attractions, as well. "I can walk everywhere," he adds. "The Musée d'Orsay is a few minutes away. There are terrific places to eat."
Gagnère seems instinctively to know how to juxtapose quirky and classic materials, brighten a place in an accessible way with vibrant color, and use sunlight to maximum advantage. He was able to exercise all three talents in his apartment—though it took him a while to settle in. "Ten trips to China during that period did not help," he says. But once he chose the silvery slate tiles for the bathroom ("They create a pretty reflection"), removed most of the doors ("To open up the rooms"), chose a Christian Dior–gray for the walls of the salons ("White would have required sunglasses"), and Farrow & Ball's Bible Black, a deep indigo, for the entrance room, and hung the numerous pictures and photos, "it started feeling together," he says.
The twice-married, now single, Gagnère likes to entertain and finds cooking "more pleasant" than exercising, but the original kitchen was hardly conducive to spending time there. "It was hideous," he says. "Imagine wall-to-wall white tiles and cheap-looking cupboards." Hence his decision to paint the room the same dark color as the entry ("It reminds me of ink") and to order custom-made cabinetry covered in black crocodile-embossed leather from artisans who often work for Louis Vuitton. "I wanted to do something original that would allow a kitchen to open onto the salon." He can't resist drawing attention to the leather-sheathed doors that hide the washing machine and refrigerator. "Look at the finish," he says, gliding his hand across the surface. "Not a single seam. " For a moment, Gagnère seems elsewhere, then he breaks into a smile. "I admire craftsmanship so much."
You may also like