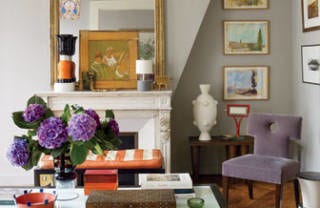 [Decor] Colorful Paris apartments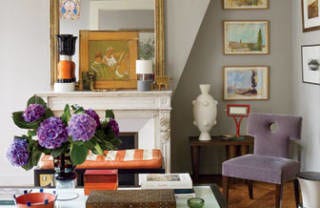 Gagnère lives in a late-18th-century building on the Left Bank.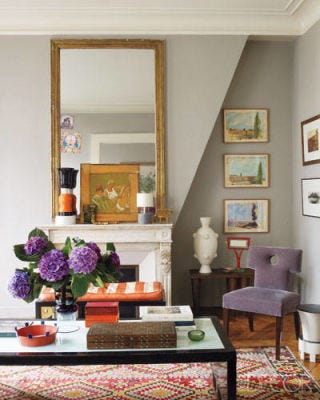 In one of the two salons, a side chair by Gagnère is upholstered in a Donghia mohair velvet, the trio of watercolors is by Pierre Faucher, the mantel holds a Sèvres-porcelain vase by Ettore Sottsass and an oil painting by Pierre Jacquette, and the kilim rug is from Turkey; the side tables, earthenware vase, and wrought-iron mirror are all Gagnère designs.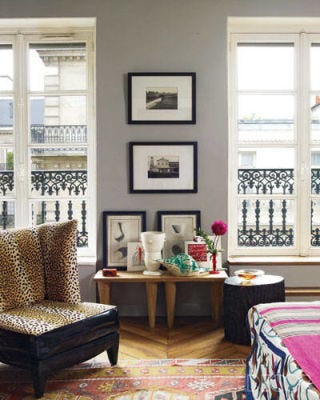 The oak side tables, earthenware lamp, and glass bud vase are Gagnère designs.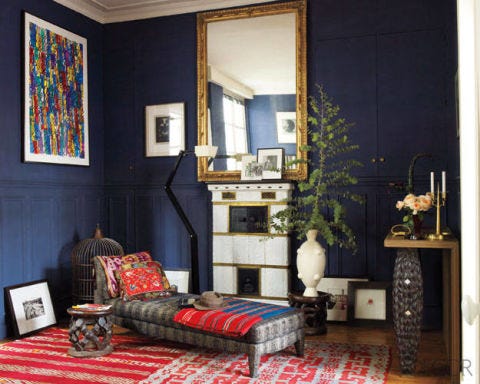 In the entrance room, the console sheathed in leather and mussel shells, and the chaise longue upholstered in a Donghia fabric are both by Gagnère; the pillows and throws are made from antique Pakistani fabrics, the stool is African, the lithograph is by Jean Cortot, the porcelain fireplace is late 19th century, and the walls are painted in Bible Black by Farrow & Ball.


Another salon features an oak bench by Gagnère that holds a Pierre Charpin platter, a concrete candelabra, and vases he designed; the floor lamp was found at Florence Lopez in Paris, and the chairs, Gagnère designs, are upholstered in vinyl and Lelièvre faux fur.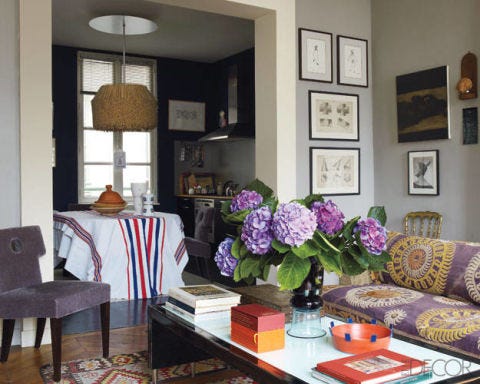 The sofa, topped with an antique suzani from Afghanistan, and the cocktail table of vinyl and enameled glass are Gagnère designs; the kitchen's pendant light has a cardboard shade, and the table is draped with a Basque cloth.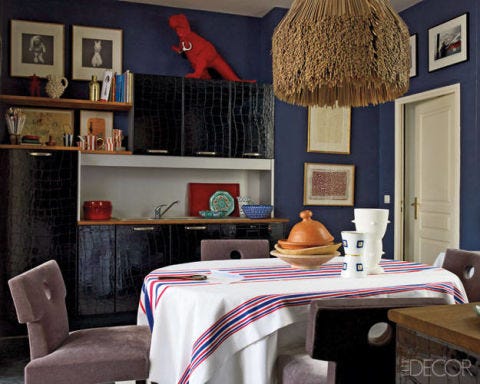 The kitchen cabinetry is covered in crocodile-embossed leather, the dinosaur sculpture is by Sui Jianguo, and the wall color is Bible Black by Farrow & Ball.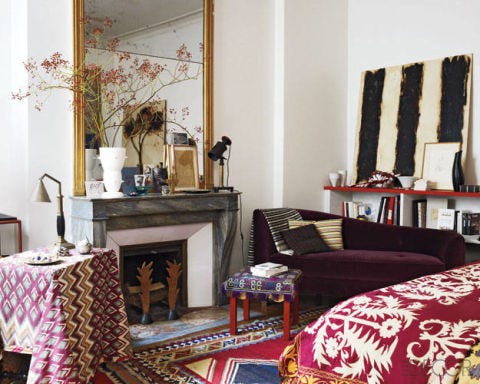 The sofa, originally designed for Café Marly, is upholstered in a Lelièvre fabric, the mantel is late 19th century, the andirons are by ­Gagnère, and the painting is by Vincent Scali.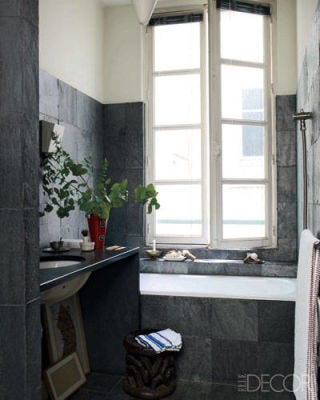 The bathroom walls are paved in slate tiles, and the porcelain vase was designed by Gagnère for Galerie Maeght.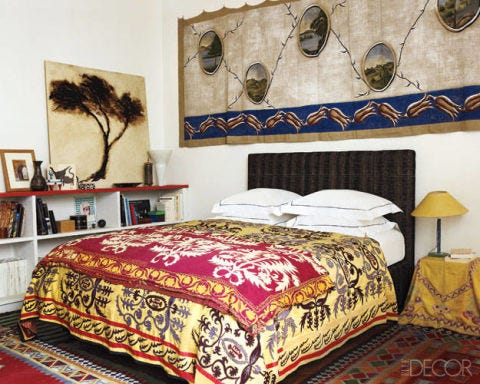 In the master bedroom, a painting by Marine ­Archang hangs above the bed, which is upholstered in a ­Donghia fabric and dressed with antique suzanis.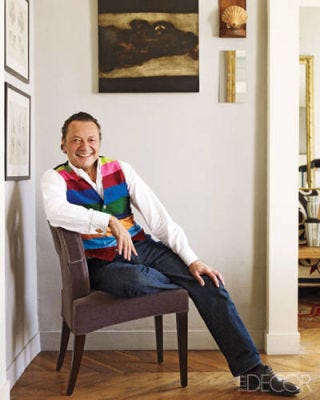 Designer Olivier Gagnère in his Paris apartment.
You may also like