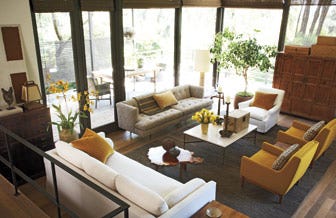 [Decor] California style with Asian style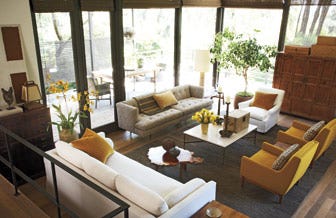 When designer Michael DePerno started his quest to find the perfect midcentury house in 2005, he was willing to push the boundaries—literally. Although he loved Sonoma's Russian River Valley, where he lived in a rambling 1930s cottage with his son, Nova, he was nagged by a sense that it was time for radical change. With the real estate bubble swelling, he wasn't sure he would be able to find the right house in Sonoma—or even California, for that matter. "I'd lived in older homes, and I just knew it was time for something simpler, cleaner, where it would be easier for Nova to ride his bike," DePerno says.
After losing bidding wars on two houses, DePerno—who modeled in Manhattan during the 1980s and '90s before moving to Los Angeles to open Ren Interiors, a popular design store—went as far afield as Chicago and Connecticut in search of a modernist home. But nothing was quite right. "I wanted something that had the warmth and depth of having been lived in. At the same time I wanted real architectural integrity."
One day, a Realtor friend from Sonoma called to tell him about a house in Santa Rosa, the busy county seat. The current owners had bought the place two years after it was built in 1964 and had lived in it for nearly half a century. They'd had a few attractive offers, but they didn't want to see the house, which sits on a secluded half acre abutting a nature preserve, go to just anyone. "They had lavished attention on it and they were determined to sell it to someone who would really appreciate it," says DePerno. It took only a few minutes for the couple to recognize that he had as much passion for the place as they did.
After a three-year renovation that DePerno oversaw both as designer and general contractor, the light-flooded four-bedroom home, with its flat roof and floor-to-ceiling windows, seamlessly blends earthy Northern California modernism with airy Asian influences. Although DePerno kept some of the original elements, including the cedar siding and painted V-groove-and-beam ceilings, much of the house is meticulously reimagined and custom fabricated—from the frames and hardware of the many glass doors to the fumed-oak floors, oxidized bathroom fixtures, and muted paint colors.
DePerno's interpretation of the midcentury aesthetic is warm and organic; he eschews the formalism and cool steel of the Bauhaus and isn't enamored of iconic pieces. "I don't get hung up on provenance," he says. "Either the lines are good or they're not." And Nova, he notes, is growing up to love clean, well-conceived design too. Unlike most teenagers, his room has a pared-down look. Says DePerno, "It's fun listening to him explain it to his friends."
The heart of the house is the living room, with huge windows and glass doors on three sides. It was a difficult room to furnish, the designer says, because there are so few solid walls. Instead of taking a minimal approach, as some designers might, he created a room that invites conversation, with vintage Danish armchairs covered in a sunny linen, a '50s Dunbar sofa upholstered in a Barbara Barry check, and a free-form Japanese table at a perfect height for cocktails.
In true California style, the deck is DePerno's other go-to living area, and where he frequently entertains. It's crafted from redwood, unstained and untreated so it will weather naturally. On warm nights, he serves friends grilled salmon with a salad from the garden.
While some kitchen renovations seem jarringly out of place in vintage homes, DePerno—whose recent projects include a film-production office in L.A. and a sea captain's house in Sausalito—went to great lengths to make a graceful segue from his to the rest of the house. He designed oiled-teak cabinets and installed poured-concrete countertops. "Even with the shiniest new appliances, I think you can bring real warmth into kitchens," he says.
Like the rest of the house, the master bedroom is aglow with sunlight. DePerno answers his e-mail from a handsome vintage desk that holds a sculptural lamp that once sat in the Beverly Hills estate that Samuel Marx designed for film director Mervyn LeRoy.
After such a rigorous renovation, DePerno takes pride in having retained the essential character and intention of the house. But he was not surprised to hear that the couple from whom he bought it—they now live in Silicon Valley—had no interest in seeing what he had done. Despite how careful they were to sell it to someone who would love it as much as they did, they stay away, and he knows why. "They want to remember the place as they made it, where they raised their family," he says. "When you put in so much effort and thought, it remains as much in your mind as it does in the real world. They told me they knew it would be beautiful and that I would make my own memories here. And that was enough for them."
You may also like