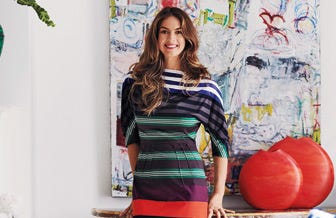 [Decor] Beginner's luck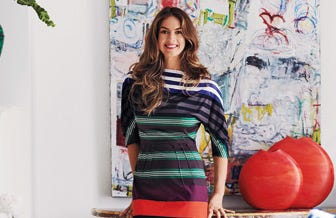 "I walked into this apartment on my second date with my husband," recalls Claiborne Swanson Frank of the first time she laid eyes on James Frank's Manhattan home. "He had bought it about a month before, and it was totally empty, not a thing in it. And I said, 'You really need a girlfriend or a wife.'"
Ten months later, after a whirlwind courtship, the couple were engaged and Claiborne moved in—to a construction zone. "One bathroom was done, and they had started work on the kitchen," she remembers. "But the rest of the apartment was plastic-ed off—we couldn't go in the kitchen, living room, or dining room. We lived through a cold New York winter in just one bedroom, which could really make or break a relationship. But it's how I knew I was marrying the right guy."
That guy not only gave her carte blanche to do what she wanted with the 1,300-square-foot, two-bedroom apartment, but he also offered up an excellent resource to aid in the process: his mother. Cynthia Frank—a design-world insider and ELLE DECOR's contributing editor at large—became both a fast friend and a decorating mentor to her future daughter-in-law. "I was new to the city, and Cynthia took me to auctions and showed me just where to shop for antiques," says Claiborne. She was just 26, had recently moved to New York from San Francisco, and was working as an assistant at Vogue.
Nonetheless, Claiborne was no stranger to interior design, having grown up in homes decorated by the legendary designer Thomas Britt, an old family friend (and her godfather). While she admits Britt's sense of scale, color, and texture is "ingrained in my spirit," she envisioned a less formal environment for her first apartment with her husband. "I grew up in beautiful spaces that were so chic you'd be afraid to sit down," she says with a laugh. "I wanted a place that you'd want to hang out in. This was a chance for me to experiment with my own tastes as an adult."
While another young woman might fall into the common trap of decorating in one fell swoop, Claiborne instead took her time and allowed the rooms to evolve naturally. During that time her professional life also evolved; she left Vogue to pursue a career in photography, and her first book, American Beauty: 100 Portraits of American Women, will be published by Assouline next spring. "Because I work from home, I wanted a comfortable and soothing space but also an environment that continually inspires me," she says.
It was not an easy task. The two largest areas in the apartment, the living and dining rooms, are not only open but also adjacent, creating one large space that had to accommodate both the couple's penchant for entertaining and Claiborne's tendency to spread out all her papers and work at the spacious oval dining table, an antique she had lacquered black. She focused on creating balance within and among the rooms. Perhaps appropriately for a photographer, color (along with strategic furniture placement) was her secret weapon. "I used some of my favorites—cobalt-blue and tomato-red—to achieve harmony with all the different patterns and textures. They are the colors in my photography, and what I gravitate to naturally," she explains.
Those striking hues are manifested in accessories and accent pieces, while larger furnishings were kept light and airy in both tone and materials, as a way to counteract the lack of natural light in the apartment. Her taste in furnishings is eclectic, sophisticated, and informed; Claiborne effortlessly mixes Régence and Art Deco furniture picked up at Christie's, Tepper, and other auction houses, with 1950s and '60s mirrors and lamps, flea-market finds from around the globe, piles of cocktail-table books, and Native American art.
In fact, her favorite works are a pair of paintings by Ira Yeager, a family friend, that presides in the dining room. "I was always obsessed with his portraits of Native Americans," she says. "When I was 18 I said if I could ever afford the paintings, I'd collect them. The artist gave me one for my wedding, and I bought the other shortly afterward.
"For better or worse, I am stubborn about what I love," she continues. "I wanted to find pieces that were special and made sense in the space. It takes a long time to find the right things."
In the end, it took about three years for Claiborne to finish her home. But, as is often the case with creative people, nothing is ever truly finished. The journey, as they say, is the destination, and she is still experimenting and tweaking. "My vision for this apartment grew as I grew, and I continue to reinvent it in small ways as my taste changes and develops," she says. "I was able to play for the first time with antiques, color, scale, and shape. And I absolutely love the result—it reflects my tastes and who I am. Instead of growing out of it, I find I grow more into it."
You may also like