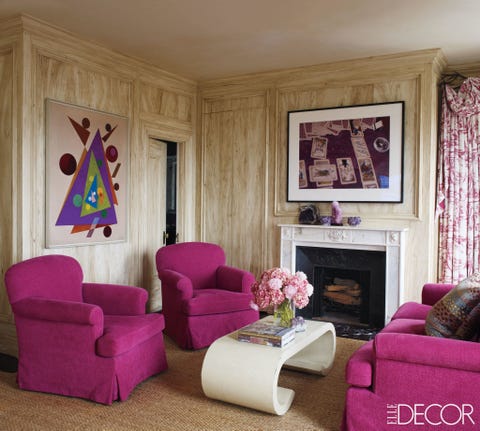 [Decor] All in the family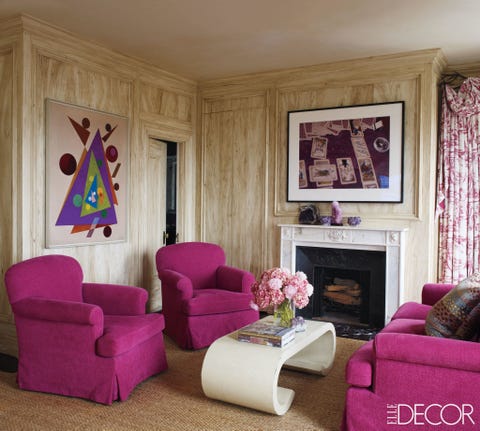 When Alexis and Trevor Traina bought their brick Georgian house—perched at the top of Pacific Heights, with sweeping views out over San Francisco Bay and the Golden Gate Bridge—they were sure they could transform the 107-year-old structure into a modern-day home and fill the rooms pretty quickly. "We were not even married yet, but we had an idea about how we could make it work," says Alexis, who partnered with her husband, three different decorators, an architect, several craftsmen, and a pair of garden designers on the project. "We moved in three years later, about two weeks before the birth of our second child."
The trick was making room not only for a young family, but also for Trevor's expansive art collection— including hundreds of photographs by the likes of Walker Evans, Robert Frank, Lee Friedlander, William Eggleston, and Garry Winogrand. "Most people who have this kind of art build a house around the collection," says Alexis. "With us it was more a case of how do you live with 300 works of art, a growing family, and dogs? We wanted to make the house live with us rather than the other way around." Indeed, many potential buyers had looked at the property—and ultimately backed away, unsure how they could make the place actually work—before the young couple finally bought it. "Everybody and their mother walked through the house and loved its charm," Alexis recalls. "But they couldn't get their heads around how to make it functional and practical for a modern family."
But the Trainas had a clear vision of how to meld their styles, eventually bringing the contemporary photography collection and the assorted tricycles and hobby horses together under one roof. It helped that they are old friends, having met back in 1985 when Alexis's family bought property in Napa down the street from where Trevor grew up. "We've known each other for so long," says Alexis, who, when she isn't chasing after her four-year-old son, Johnny, and two-and-a-halfyear- old daughter, Delphina, serves as the creative director of her family's Napa Valley Swanson Vineyards. "We did dream boards and soaked ourselves in inspiration," she explains. "We asked ourselves, 'What do we both love insanely?' And that's what we amplified."
The result is a kind of greatest hits of their respective childhoods growing up in beautiful surroundings. New York–based decorator Thomas Britt, who also happens to be Alexis's godfather, had decorated 12 different homes for her family, so his sense of dramatic flair was something very familiar to her. The late Michael Taylor, a dean of California design who had done two of Trevor's childhood homes, provided inspiration for many of the interior's classic references, such as the plush tufted sofas in the opulent living room.
For the bold accents of color and unusual fabrics, the Trainas worked with their neighbor and family friend Ann Getty, a prominent San Francisco decorator, who put her ateliers to work to create special pieces such as the tapestry of peacock-feather eyes that lines the curved wall of the library.
"We really learned so much from the great talents we worked with," says Alexis. "Thomas is a master of the stage set. We also wanted to incorporate the sense of California's natural elements and an overstuffed lusciousness. Our house is basically a sensory explosion of drama and romance."
For Alexis a love of textures and colors permeates the living room, where Britt covered both walls and furniture in claret-color, hand-blocked velvet by textile designer Sabina Fay Braxton. The miniature Kew Gardens–style conservatory, a favorite room for parties (Trevor sits on several boards, and the couple entertain frequently), is awash in bold strokes of green complemented with floor-to-ceiling plantings by local garden designer Flora Grubb.
In the master bedroom, Alexis married her traditional aesthetic with high-octane touches, mixing a magenta-and-white toile de Jouy with a wrought-iron bed and window valances designed by Andrew Fisher, who once worked with the legendary decorator Tony Duquette. To heighten the color quotient even more, Ann Getty added club chairs upholstered in a vivid magenta to the seating area around a fireplace.
Needless to say, renovating the sturdy Georgian, which had survived an earthquake or two, turned out to be a massive endeavor that coincided with the newlyweds' first year of marriage—the bloom of their marriage, as Alexis likes to say. "We couldn't get bogged down in choices because we were moving so fast," she adds. Indeed, in order to provide subterranean display areas for some of their art collection, they excavated deep into the granite beneath the house. Now many of the photographs are arrayed in true gallery-like spaces on two newly created underground levels. "Trevor had the amazing laser focus to see how to do this and to make the house function," Alexis says with wifely pride. "He really has the eye of an engineer. We were a great pair for that reason: He could transform, and I could embellish."
You may also like