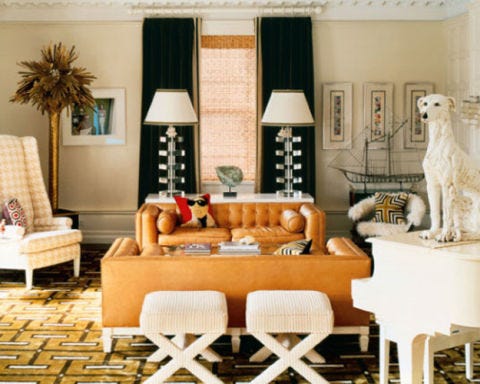 [Decor] Accept the accident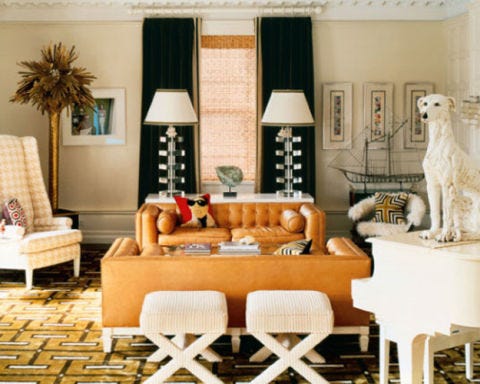 This living room by Jonathan Adler is pure fantasy: A life-size ceramic dog perches on a white piano, a wire model boat sets sail toward a window, and a bronze palm tree sprouts, impossibly, from a carpeted corner. Taken together, it's a room that few friends or family would get tired of exploring.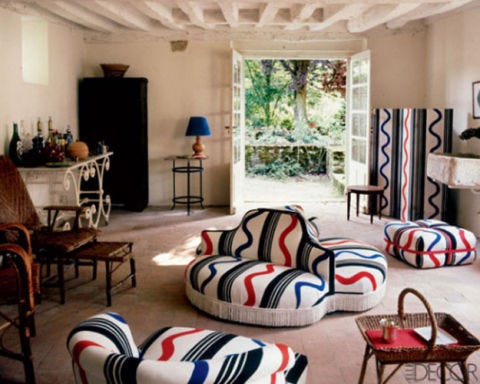 In this rustic country abode near Blois, France, Georges and Monique Bernier's classic space is given a playful touch with colorful squiggles snaking their way across the upholstery. The unusual fabric is a pattern by the artist Sonia Delaunay, who was known for her vivid use of color and geometric patterns, which was reproduced by the Paris gallery Artcurial.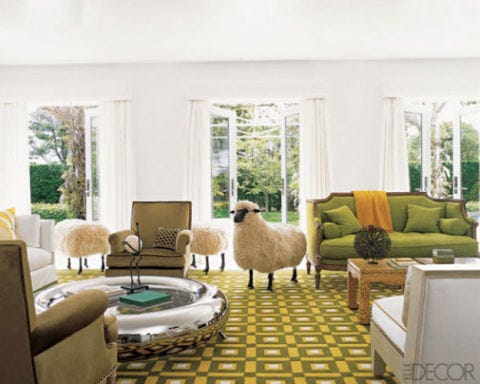 A flock of sheep residing in the living room—why, not? In the Southampton home of Reed and Delphine Krakoff, these furry animal-like ottomans, created by the surrealist sculptor François-Xavier Lalanne, appear to be forever grazing upon the green and yellow rug. This playful addition makes the sophisticated room more fun than formal.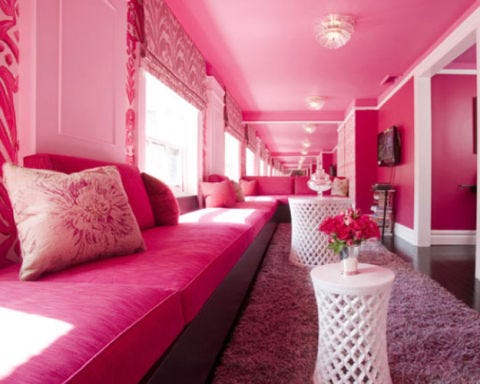 Proving that you don't necessarily need to use a multitude of colors to spice up a living room, this interior by Kirsten Brant makes a bold, monochromatic statement: Pink is perfect. With walls painted a bright fuchsia, paneling a lighter rosy hue, and patterned blinds and wall treatments that mix the two colors, the room offers total saturation. Meanwhile, wall-to-wall mirrors at either end of the room make the space look like it runs on forever.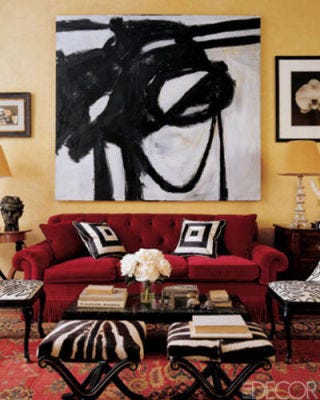 A large, graphic painting inspired by Franz Kline takes center stage in this living room designed by Miles Redd, on New York's Upper East Side. The furniture and accessories complement the painting's dramatic black and white lines—custom embroidered upholstery by Penn & Fletcher on the chairs, zebra ottomans, and black and white accent pillows on the sofa.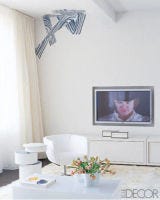 Time to raise the roof. This living room by Nina Seirafi puts art where you least expect it—on the ceiling. The work, Corner Splat, a painting on Mylar by Richard Artschwager, instantly draws eyes skyward. Added to the room's minimalist white design, it's a unique visual hit that enlivens the space.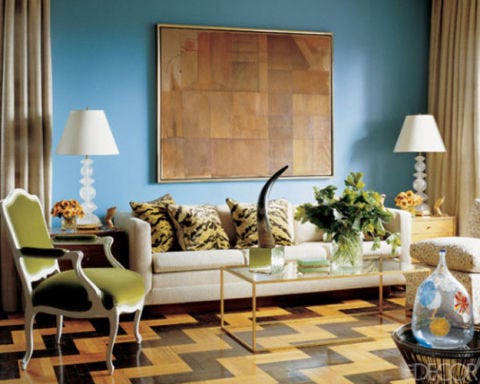 Creative floor treatments can add a dash of unexpected style to any room. In this Manhattan living room by Tony Fornabaio, a zigzag stenciled pattern makes an otherwise ordinary wood floor come to life. It's the perfect foundation for the room's classic furnishings and sky-blue walls.
You may also like