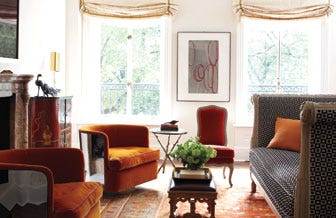 Dazzling Duplex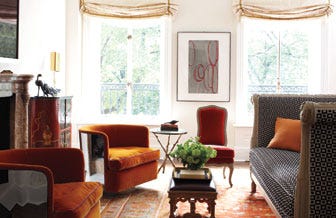 Long before she married celebrity hairstylist Frédéric Fekkai, Shirin von Wulffen spent her childhood in prerevolutionary Iran. Her parents, Germans who owned and worked on an Iranian farm, left the country after the 1979 revolution and moved to Virginia—but not before buying several Persian rugs from a family of venerable rug merchants, the Yaraghis. The last her parents had heard, the Yaraghi brothers had also fled Iran that year for New York City, where they opened a carpet business on Madison Avenue.
Later, when Von Wulffen moved to New York, her parents asked her to keep an eye out for the brothers' rug shop. One day she noticed Safavieh, a large home-furnishings store that deals in antique Persian rugs, and went inside to ask if anyone had heard of the Yaraghis. The man behind the desk looked up and addressed her without skipping a beat. "You must be Shirin," said Ahmad Yaraghi, one of Safavieh's owners, who recognized in the grown woman the four-year-old she once had been. "We still have a rug that belongs to your parents," he told her.
Three years later Safavieh's exquisite antique Persians anchor the decor in Von Wulffen and Fekkai's duplex apartment overlooking Central Park. Just as Von Wulffen has brought her past into their home, her husband has contributed an aesthetic shaped by growing up in antiques-filled houses in the South of France. Newly married, the couple turned to the French-born, New York–based interior designer Robert Couturier for help in fusing their tastes while giving their home a modern touch.
From the ruby silk-velvet wall covering above the library's fireplace to the Louis XVI–style dining chairs in citrine suede, the interior decoration is based on a color scheme of jewel tones that radiate warmth and glamour throughout the space. "There is such a tendency to do beige in New York," Fekkai says. "It's safe and beautiful. But growing up in France, we always had color. I wanted that same rich, cozy feel."
For Couturier, a home's palette is arrived at through a process of deduction. Here he sought out colors that would work with the urban architecture and bring life to the rooms in both winter and summer. He candidly admits he also searches for hues that will flatter a room's occupants—which posed a challenge in this case, since Von Wulffen's pale blond good looks are the yin to her husband's olive-skinned, dark-haired yang. "I believe that if a person doesn't look good in a certain color, then they won't be happy in their space," Couturier says. The apartment is one of seven two-story units in a small Upper East Side building. The manageable scale appealed to the couple, who have a one-year-old daughter, Cecilia (Fekkai also has a teenage son, Alexandre, from a previous marriage), and who also own a farm in Millbrook, New York, a house in Tuscany, and a 17th-century bastide in Provence. "We were looking for a townhouse but were concerned about the amount of time we spend traveling," Fekkai says. "So we found an amazing compromise: a duplex apartment with a townhouse feel."
Inspired by the layered look of Parisian apartments, the couple went on several trips to France to buy furniture and art. There Couturier and his team led them to a Jean Dubuffet painting for the living room (in Franco-American red, white, and blue), a modern Hervé Van der Straeten steel console for the hallway, and a 1960s Maurice Calka "boomerang" desk for the library, which doubles as Fekkai's home office. "Robert made the whole process fun," Fekkai says. "He invited us to collaborate and take part in creating the decor. And while he has a great sense of culture, he doesn't take himself too seriously."
Back in New York, Couturier mixed playful Pop Art–inspired furnishings with Louis XVI shapes. In the living room, an 18th-century daybed upholstered in a graphic black-and-white fabric faces a pair of steel-backed 1960s chairs recovered in orange silk velvet. "I think '60s furniture goes incredibly well with 18th-century French furniture," Couturier says. "Mind you, '70s furniture does not!" In the master bedroom, with its upholstered walls, mirrored pieces, and fanciful bed, a contemporary painting pops over the mantel. Meanwhile, a soft red antique Persian rug from Safavieh forms an elegant backdrop. For Von Wulffen it's this last detail, resonant with her family history, that makes the room speak so eloquently. "To me," she says, "it's a beautiful illustration of the invisible threads that bring people together."
You may also like