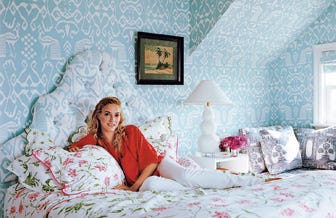 Colorful Hampton House
"We would love to be able to pack up this house and ship it to Florida every winter," says Veronica Swanson Beard of the bayfront home in Southampton, New York, where she spends weekends with her husband, Jamie, a real-estate developer, and their sons, two-year-old Clarke and newborn Halsey. With interiors inspired by Palm Beach—coral-pink walls, crocodile textures, tropical prints, acres of sisal—the property would certainly be a perfect fit amid white sand and palm trees. The casualness of the place is key. "I spent my childhood in formal houses where we couldn't sit in the living room," says Beard, who was shuttled between Florida and Northern California in her youth. "With this house, I wanted everybody to feel they could plop down anywhere in a wet bathing suit and just relax."
Her decorators, Chiqui and Nena Woolworth, share that sensibility—which should come as no surprise, since they are Beard's aunt and cousin, respectively. All three women have a particular affection for Palm Beach in the late 1960s, a time and place that proved seminal in the family history, since it was where fashion designer and society renegade Lilly Pulitzer introduced Beard's parents to each other. (Her father, frozen-food scion W. Clarke Swanson Jr., owns the award-winning Napa Valley winery Swanson Vineyards; her half-Cuban mother, Elizabeth, is "the CEO of my father," Beard says with a laugh.) That the septuagenarian, nearly-always-barefoot Pulitzer is one of Beard's idols is clearly reflected in the free-spirited verve of her Southampton home, where flora- and fauna-motif fabrics and snappy colors join forces with groovy vintage furnishings ('70s cocktail tables) and earthily evocative pieces (a twig chandelier, woven-rope planters). "I love everything about Lilly's early days," Beard says. "She created the first resort uniform with those little shift dresses. Bright colors; long, tan legs—it's so iconic."
Jamie Beard's side of the family has had a major influence on the house as well. Artist Peter Beard is his uncle, and several of his hand-illustrated photographs of African wildlife adorn the walls of the residence, their subjects echoed in the decor. An elephant-gray strié finish is painted on the walls of the entrance hall, antelope-spot carpeting bounds up the staircase to the bedrooms, and the red walls of the study are embossed with a crocodile-hide pattern. "We wanted to be playful with the animal theme," Veronica Beard explains, adding slyly, "After all, this place has a history of wildlife." Long before she and her husband built this home with Connecticut-based architect Kelly F. Faloon, the site was occupied by a well-worn cottage shared by 15 rakish bachelors known far and wide for hosting summer-weekend bacchanals. "It had been something of a party shack," Beard notes, describing a raucous atmosphere straight out of Animal House. Harking back to that era is a sassy caveat painted on a large piece of driftwood and proudly displayed in the entrance hall: IF WE GET DRUNK ON FRIDAY AND ASK YOU TO SPEND THE WEEKEND, WE DIDN'T MEAN IT.
These days, the property, located on a long, thin strip of land flanked by the Atlantic Ocean and Shinnecock Bay, is infinitely more peaceful. "I grew up watching the most magnificent sunsets over the water," Beard says. "In this house—because it has east and west exposures and massive windows—I've been able to reclaim that tradition." The setting sun drenches the living room in a pink-orange glow, an effect the Woolworths reproduced by painting the walls with a nuanced coral strié finish. Against this warm background are sofas clad in a crisp green-and-white zebra-stripe fabric and white rattan chairs with ebullient floral cushions. Potted ficus trees and white hydrangeas add to the civilized-jungle feel. The dining room shares the same views and color scheme, and has emblems of their families on full display: a Peter Beard photograph and a table built around a 400-pound grapevine. Upstairs in the bedrooms, it's flower power all the way, with complementary blooms splashed across walls, headboards, and beds dressed in D. Porthault sheets. "I can't get enough of those," the vivacious Beard says. "My mother has the most amazing collection of Porthault, and my sisters and I are always trying to steal shams whenever we visit."
As charming as the interiors are, the family tends to congregate on the porch, which overlooks a majestic swath of marshland. "For a good portion of the day, you'll find much of our property underwater," Beard says, pointing to a greenbelt that disappears with the tides. "Our Labrador retriever, Jake, spends most of his time out there." And while the dog is exploring the undergrowth, Beard, her husband, and their children spend their downtime barbecuing, walking to the beach, and zipping around town in a vehicle that would surely bring a sympathetic grin to the idiosyncratic Pulitzer: a battered old Jeep CJ-7 from the '70s that, Beard says, "looks like it belongs to a drug runner."
When asked what others must think of the car—after all, this is the Hamptons, where Hummers and sports cars abound—Beard just tosses back her blond hair and laughs. It's a reaction that perfectly encapsulates her engaging style: sunny, knowing, and devil-may-care.
You may also like