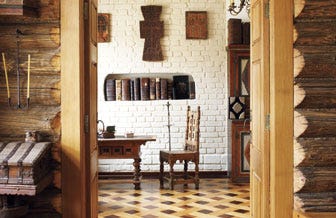 Cabin heat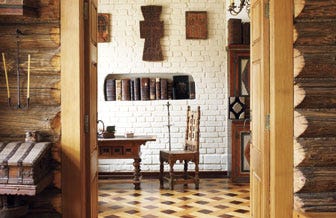 Across Russia, the traditional log cabin known as the isba is a staple of the countryside. These rough-hewn farm structures, built with simple tools, have walls of split tree trunks. It's hard to imagine such a rustic home existing in the center of a city. And yet an isba is precisely what Denis Perestoronin, an antiques dealer specializing in icons and Russian folk art, has created within the confines of his apartment in the middle of Moscow. "I didn't just want a Russian-style home," he says. "I wanted the real thing."
It was an immense undertaking. When Perestoronin purchased the apartment, which is housed in a dull residential building, he found a semiderelict space with fluorescent lighting, sliding-door closets, and drywall ceilings. Beneath the rubble, though, was treasure: The living room retained its early-20th-century decorative plaster moldings, while the dining room and bedroom still had their original parquet floors.
Perestoronin transported an entire wall from a 19th-century isba to Moscow and installed it in his apartment, where it now divides the living room—furnished with antiques and traditional icons—and the library, in which books are stored in wall niches inspired by 17th-century Russian dwellings. The two spaces are linked by a dramatic new parquet floor, which was designed by Perestoronin.
When he couldn't find just the right antique element for his apartment, this artistic homeowner often created it himself. He hand-painted doors and cabinet fronts for his kitchen to match a group of folk-art ones that he found. He built a dramatic arched window in the master bedroom, where he also installed a wood ceiling reconstructed from a village house.
In a home filled with such wonders as a rare 17th-century wood table and antiques in the Petrine Baroque style dating from the reign of Peter the Great, one of the highlights is that staple of every Russian country cottage—the tiled stove. The one in Perestoronin's living room doesn't disappoint: The 18th-century stove is covered in blue-and-white delft-style tile. He found this hearth dismantled, and spent years tracking down tiles to fill in the gaps and restoring it to working condition. Today, even on the coldest of Russian days, it keeps his urban isba warm. Originally published in ELLE DECORATION Russia.
You may also like