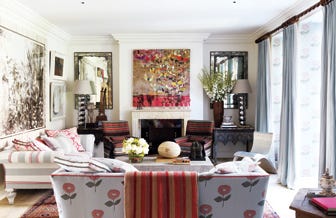 Bold and beautiful townhouse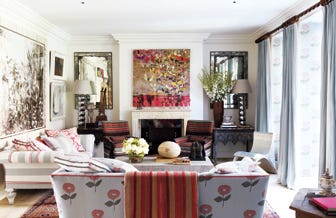 Tim Kemp gets around town on a yellow Lambretta scooter. His wife, Kit Kemp, wears miniskirts and go-go boots and commutes on a Serotta bicycle custom-colored in her favorite shades of orange, pink, and green. In London, where they have transformed the hotel scene with their six boutique properties, including the Haymarket and the Soho, this entrepreneurial pair turn heads with their mod personal style. "We look like a very 1960s couple," says Kit, a self-taught designer who does all the decoration for their hotels.
Americans got a taste of the Kemps' quirky English aesthetic—think urban sophisticate meets God Save the Queen—with the opening of their Crosby Street Hotel in New York's SoHo neighborhood in late 2009. Kit furnished the hotel, built from scratch on the site of a former parking lot, with eye-catching contemporary art, overstuffed chesterfields in colorful fabrics, and such Anglo-inspired necessities as a drawing room, afternoon tea, and numerous oversize portraits of dogs.
Kit is a self-professed decorating addict. "I'm just mad about interiors," she says. "It's a wonderful obsession." And nowhere is her eclectic flair more in evidence than in the couple's London townhouse. Located on a private square near Hyde Park, in the center of the city, the 1920s house is double fronted, with a hidden garden enclosed on three sides by a gray-brick wall. Kit jokingly refers to her home, its façade entwined with Virginia creeper, as "the Hammer House of Horror"—a reference to the midcentury film company known for its campy horror movies, many shot in English country houses.
But while the Kemps' arching bronze front door, which dates from the '50s, is suitably Gothic looking and mysterious, one step inside the entrance hall, with its funky Swedish grandfather clock ("falling to pieces but I love the shape," Kit says) and hot-pink floral wall, and it's clear this warm and vibrant home is no haunted mansion. "You come in and see straight through to the garden," Kit says, "and that big bubble of pink makes everything feel happy."
The Kemps bought the house a decade ago, when their three daughters still lived at home. But after the children grew up and moved out, the empty nesters decided to renovate. They love to entertain but tend to do it at their hotels. At home, they prefer to relax together and pursue their pastimes: Tim takes piano lessons, while Kit loves to cook. "We decided to take the best room in the house—the drawing room, which faces the garden—and make it the kitchen," Kit says. "It's changed our lives."
The reconfigured house revolves around this new barrel-shape kitchen, with limed-wood cupboards, bleached-white floors, and a bottle-green '50s Aga stove—"the only thing I can cook on," Kit says. While she prepares dinner, her husband joins her in the kitchen, relaxing in a wing chair upholstered in a patchwork of tea towels. An adjoining sunroom has a long refectory table and a view of the lush garden outside. This casual eating space is the closest thing in the house to a dining room, a formality the couple decided to forgo.
Some evenings, when it's just the two of them, the Kemps will take their meals on the faux-shagreen cocktail table in their living room, a newly created space open to the kitchen. Here, an artwork by the English textile artist Anna Raymond hangs above the mantel, flanked by a pair of antique Venetian mirrors. A sofa and the window recesses are covered in a painterly floral by the Japanese fashion designer Akira Minagawa. "I love fabric and texture and fabulous pieces of art, not necessarily expensive," says Kit, who has made this combination the hallmark of all her interiors. "Everything tells a story."
The Kemps' hotels are known for their guest rooms, each one unique. The bedrooms in their home are just as quirky. The master bedroom has an embroidered canopy based on an 18th-century textile, a small desk where Kit writes letters by hand, and a jewel box of a dressing room hung with funny hats. A daughter's room has a red polka-dot headboard, while a tiny guest bedroom is draped in black-and-white toile. "Everybody sleeps well in there," Kit says. "They feel secure and tucked up. I think that's important in a bedroom."
The grandest room in the house, the new drawing room, is not the one the couple uses most, although it does contain Tim's grand piano and a fireplace they love to stoke on cold winter nights. Rather, the room is a colossal canvas where Kit can express her all-out passion for decorating and collecting. Always evolving, the room is anchored by a large sofa and a pair of slipper chairs upholstered in bold red and white. The room is filled with Kit's finds, such as the unusual antique wood panels that she cleaned of their grime and paint and hung on the walls in strips. "It's somewhere else to put beautiful fabrics and flowers," she says. "Every time I get a new fabric, I stick it over the arm of a chair. It's always changing. It's a complete indulgence. And I'm all for indulgences."
You may also like