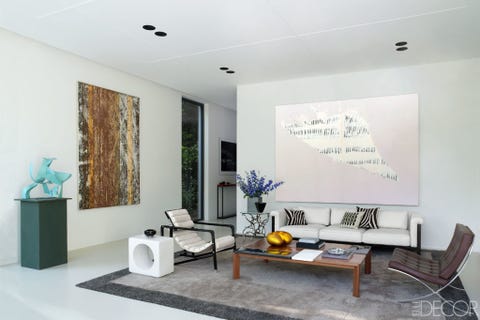 Beyond the box: modern residences in Brussels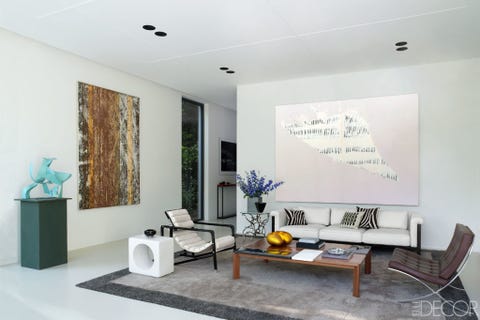 But don't judge this particular house by its cover. Though there are very few windows at the front, the first thing one notices on entering the narrow, two-story space is the abundant natural light. That's because the rear façade is filled almost entirely by a wall of windows that look out onto a hedge-lined garden with an expansive lawn, which was designed by noted Belgian landscape architect Erik Dhont.
In the living room, the chairs are by Eileen Gray, left, and Mies van der Rohe, and the sofa is a 1960s design by Jules Wabbes; the painting above the sofa is by Daniel Lergon, and the artwork at left is by Gregor Hildebrandt. The cocktail table is by India Mahdavi, the iron side table is by Casamidy, the rug is by Limited Edition, and the floors are resin.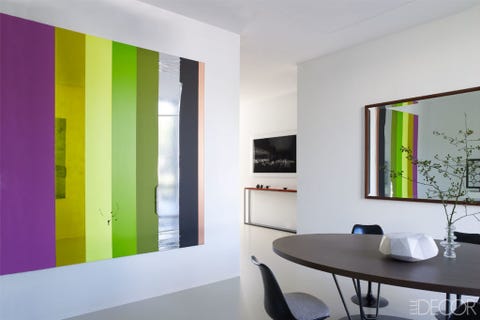 The many transparent surfaces effectively allow the eye to circulate from one room to the next. From the family room, for example, one can peek into the formal living room through the sleek two-sided glass fireplace that separates them. The living room exemplifies Alix's eclectic style: Chairs by Eileen Gray and Mies van der Rohe surround an India Mahdavi table; a vintage sofa is by Belgian designer Jules Wabbes; an Italian lamp is from the 1960s; and the whimsical side table with legs of metal branches was designed by family friends Jorge Almada and Anne-Marie Midy, founders of the company Casamidy, based in Belgium and Mexico.
Eero Saarinen Tulip chairs surround a table by Christophe Delcourt in the dining room. The painting is by Anselm Reyle, and the mirror is custom made.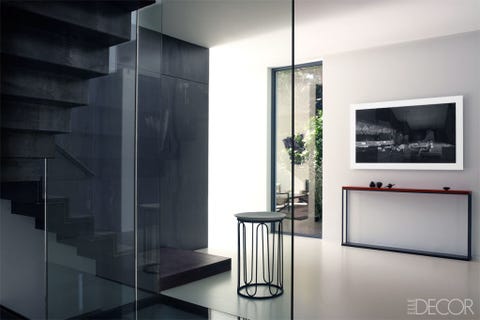 ENTRANCE HALL
The entrance hall features a steel wall, a staircase of steel and kambala wood, and a resin floor inlaid with glass; The console table is Delcourt, and the photograph on Plexiglas is by Hans Opde Beeck.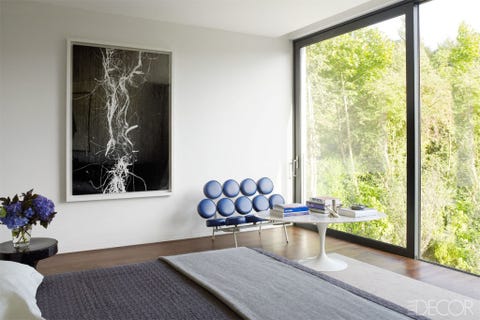 Although the second floor is more of a private space filled with minimalist bedrooms, spacious baths with glass-enclosed showers, and a corner office that the couple shares, even here there are several jewel-like details, such as the exposed metal beam under the sky roof, an Yves Klein–blue wall at the top of the stairs, and retro-patterned David Hicks carpet in the walk-in closet. All of these illustrate Alix's fascination with "dressing up" surfaces with original details.
The bed in the master bedroom is dressed with a Ralph Lauren cashmere throw, the side table is by India Mahdavi, and the artwork is by Gregor Hildebrandt; the vintage Eero Saarinen cocktail table was a flea-market find, and the George Nelson sofa was bought at auction.
You may also like