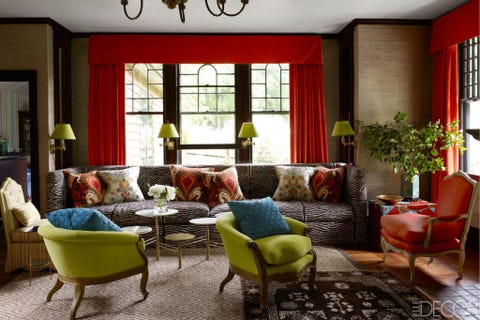 Any game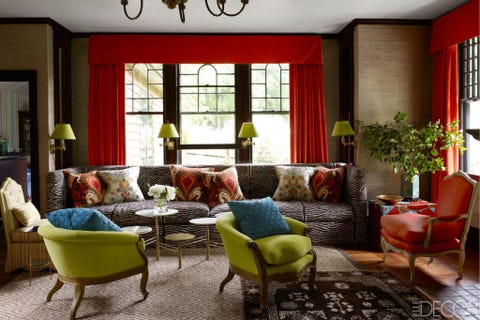 When Jeffrey Bilhuber was given the task of updating a Queen Anne manse in Tuxedo Park, New York, he faced more than one challenge. The first was the fact that the house had been in the client's family for three generations—she summered there as a child, and when she married, it had been a wedding gift from her mother. "We needed to bring the house forward without turning our backs on a history that had provided so much pleasure," Bilhuber says. "You have to acknowledge the contributions, but you have an obligation to set yourself free from your childhood and make your own story."
The living room of a home in Tuxedo Park, New York, decorated by Jeffrey Bilhuber; he combined two existing sofas to create one long one, with pillows covered in a Schumacher velvet ikat and a Vervain silk floral; a pair of antique bergères are upholstered in a Boussac cotton, the Louis XV fauteuil came from an auction at Doyle New York, and the cocktail table is by Antony Todd Home. The wallpaper, curtains, and rug are all original to the house.


"Some of the wallpaper might not have been my first choice," says the good-natured Bilhuber, drily. "But I thought, 'Let's give it a go.' I looked at it as an opportunity." Plus, there was "a wonderful accumulation of Continental furniture" that enabled him to connect to the house's own history, as well as the chance to delve into the history of Tuxedo Park, a hyper-exclusive enclave in New York's Ramapo Mountains. Founded by Pierre Lorillard IV as a private hunting and fishing reserve at the end of the 19th century, it served as a cool retreat to such storied Americans as J.P. Morgan and Dorothy Draper and gave us the word tuxedo (when a Lorillard descendant turned up at the annual Autumn Ball in a jacket devoid of coattails).
In the entry hall, the Louis XVI fauteuil is from Doyle New York, the stair runner is by Beauvais Carpets, and the walls are painted in Pratt & Lambert's Bleu Passe.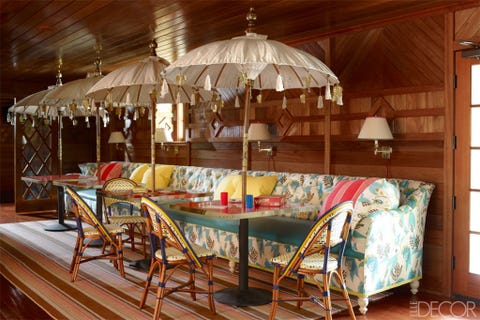 "Each generation had made their additions to the house with sincerity," Bilhuber says, adding that his role was to mesh the disparate components and give them "more than their fair share of CPR." In the end, the designer managed to infuse life into the stodgy bits, tone down the wackier additions, and accommodate the raison d'être of both the house and the community: "High, old-school society entertaining."
Woven cane chairs by Howard Kaplan Designs surround custom-made tables in the club room; the banquette is upholstered in an Osborne & Little linen with a faux-leather seat cushion, the umbrellas are from Lars Bolander, and the rug is by Beauvais Carpets.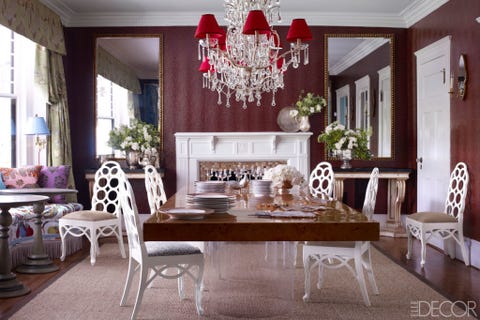 DINING ROOM
One of his first acts was to open up the spacious living room, which had been "shrunk" by a typical arrangement of a pair of sofas flanking the fireplace. ("It was as though," Bilhuber says, "a studio apartment had been dropped into this lovely room.") His trademarks include long, commodious sofas, so he simply carved off the ends of the existing pair and made them into one comfortable piece. This inspired bit of what Bilhuber laughingly dubs "Texas Chainsaw decorating" made room for two more distinct seating areas, a small group near the fireplace and another around a table for playing games.
Vintage Loop chairs surround the dining room table, a family heirloom. Bilhuber had custom lampshades made for the existing chandelier.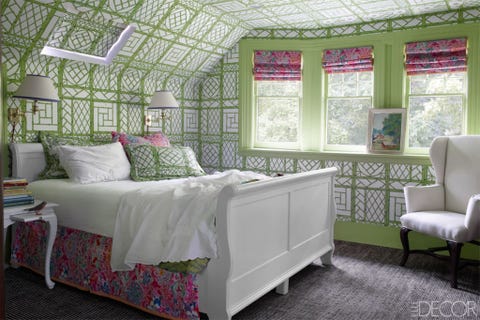 Bilhuber brought light into the main entrance hall by replacing the paneling's brown paint with varying shades of turquoise. In the dining room, he animated the circa-1970s brown snakeskin wallpaper with enormous pier mirrors, capped off the existing chandelier with Chinese-red shades, and surrounded the modern table with Frances Elkins Loop chairs. But in other rooms the goal was to modulate rather than amp up. In a bedroom overpowered by acid green–and- white bamboo wallpaper, he brought things down to earth with a chic brown-and-white carpet and "neutralized" the paper's fretwork with shades of a colorful but soft batik fabric.
The bedskirt and shades in a guest room are of a China Seas cotton, the carpet is by Shyam Ahuja, and the wallpaper is original to the house.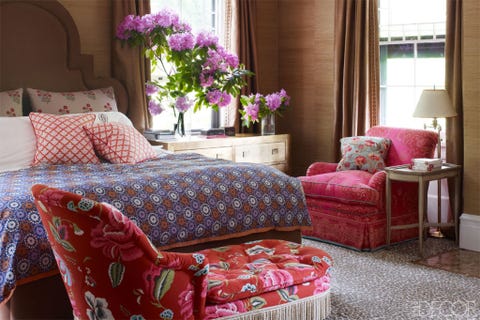 In the master bedroom, the existing brown silk curtains and grass-cloth wall covering were punctuated with splashes of cinnabar, pomegranate, and fire-engine red, a color scheme that was inspired by the experience of driving through Tuxedo Park's massive stone gates and into a landscape of deep green mountains and dark cascades. "Suddenly you see these brilliantly colored rhododendrons and mountain laurel," Bilhuber says. "I thought, 'There you go, that's that.' It told me exactly what the house wanted to be."
Indeed, shots of purple, magenta, orange, and fuchsia run throughout, lending narrative and uniting the occasionally mad mix in improbable—wonderful—harmony. Bilhuber points out that Tuxedo Park is itself "a symbol of great American country-house optimism." Now that this particular house has come into its own, it too becomes "a story about confidence, and clients who understand it."
In the master suite, a vintage chaise is upholstered in a Designers Guild floral, the custom-made chair is covered in a hand-batiked fabric from Hungry Palette, and the carpet is by Stark.
You may also like